Future Retail Group Debt Default comes as a Fresh blow to Franklin Templeton Investors
Future Retail Group Debt Default comes as a Fresh blow to Franklin Templeton Investors
Aug 6, 2020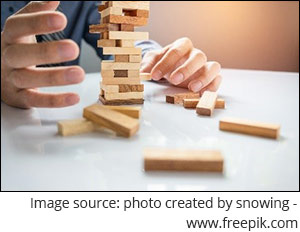 The recent default by Future Group of companies has brought the spotlight back on the deteriorating credit profile of India Inc. On July 29, 2020, Brickwork Ratings downgraded the non-convertible debentures (NCDs) of Rivaaz Trade Ventures (RTVPL), NuFuture Digital India (NDIL), and Future Ideas Co (FICL) to BB+. All these firms are part of the Kishori Biyani-owned Future Group of companies.
Notably, four of the six schemes of Franklin Templeton MF, namely Franklin India Credit Risk Fund (FICRF), Franklin India Dynamic Accrual Fund (FIDAF), Franklin India Income Opportunities Fund (FIIOF), and Franklin India Short Term Income Plan (FISTIP) which were wound up, have exposure to the NCDs of the said companies.
FIIOF has the highest exposure to the NCDs of RTVPL, NDIL, and FICL with a combined exposure of around 11%, followed by FISTIP, FIDAF, and FICRF.
--- Advertisement ---
Richa Agarwal's #1 stock pick for 2021 is out

It is a little-known company that is now tapping into a Rs 4 trillion opportunity...

Setting it up to potentially deliver huge gains in the years to come.

Now, this stock has already started to move...

As the word spreads, there's a chance that this stock could move up rapidly.

Hence the urgency to act now...

Here are the full details of the company I'm talking about...
------------------------------
According to a note from FT, the rating downgrade is due to the downgrade in credit profile of the credit enhancer Future Retail (FRL), on which these companies rely significantly for its income.
Table: Scheme-wise exposure details as on July 30, 2020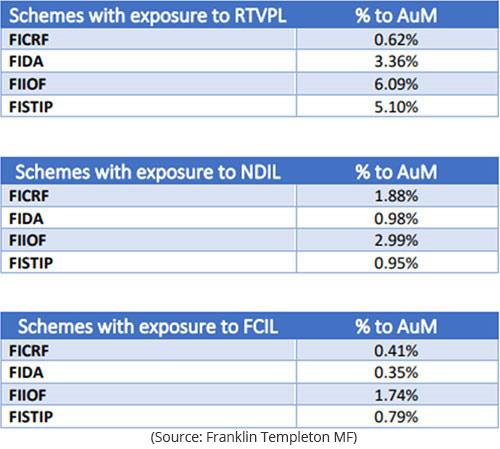 The standard haircut in such case is 25%, as recommended by AMFI. However, as FTMF had already applied a haircut of 25% to these NCDs in its schemes, there was no valuation impact resulting on account of downgrade on July 29.
On July 31, coupon/part payments were due to be paid by RTVPL, NDIL and FICL on various NCDs issued by them. While RTVPL met its payment obligation, NDIL and FICL were unable to do so. Due to this default, FTMF has now valued the securities of NDIL and FICL at zero.
Unlock Now: India's 3 Unstoppable Tech Stocks
However, this only reflects the realizable value and does not indicate any reduction or write-off of the amount repayable by these companies. Securities of RTVPL will continue to be valued at 75%.
As a result of the downgrade and subsequent mark down in values, the NAVs of four schemes with exposure to these NCDs dipped by up to 4.85% on July 31. FIIOF having the highest combined exposure was the most hit.
Table: Scheme-wise NAV impact attributable to valuation impact of NDIL and FICL holdings

Future Retail's path to recovery...
FRL has been grappling with a debt crisis for quite some time now. Its total debt soared to over Rs 7,000 crore as of February 2020. The pandemic-induced lockdown worsened the condition for the firm as many of its outlets remained closed. Consequently, FRL missed coupon payment on the $500 million dollar-denominated bonds due on July 22 and has availed grace period of one month for payment.
Media reports suggests that Reliance Industries is in final stages of negotiations to buy a controlling stake in Future Group's retail business and a deal could be announced soon. FT is of the opinion that such a deal could potentially benefit all three issuers (RTVPL, NDIL and FICL) held in the scheme portfolios.
Way ahead for investors in wound up schemes
While FT has ramped up its recovery process in the wound up schemes through maturities, pre-payments and coupon payments, its investment in high credit risk papers continues to haunt it and could affect the payout to investors.
Meanwhile, there is no update on the voting process which has been stalled due to legal proceedings against the fund house. The fund house can initiate monetization and distribution of assets to unitholders only after successful completion of the voting process.
What should debt fund investors do?
Debt market conditions have improved in the past few weeks. However, there are still challenges, especially for low-rated securities, given the economic uncertainty and bleak outlook. Therefore, prefer safety of capital over returns by staying away funds undertaking high credit risk.
It would be prudent to stay away from funds with high exposure to private issuers. Invest in debt funds that have predominant exposure to government bonds or quasi-government papers because these can offer better safety and liquidity.
[Read: Why You Need To Be Extra Careful While Selecting Debt Mutual Funds Now]
To select a scheme, essentially assess your risk appetite and investment time horizon, plus factors such as:
The portfolio characteristics of the debt schemes
The average maturity profile
The corpus & expense ratio of the scheme
The rolling returns
The risk ratios
The interest rate cycle
The investment processes & systems at the fund house
In the current scenario, where interest rates seem almost bottomed out, you would do better going with low duration funds such as pure Liquid Fund and/or an Overnight Fund that does not have high exposure to private issuers.
At PersonalFN, we arrive at top rated funds using our SMART Score Model. If you wish to select worthy mutual fund schemes, I recommend that you subscribe to PersonalFN's unbiased premium research service, FundSelect.
Additionally, as a bonus, you get access to PersonalFN's popular debt mutual fund service, DebtSelect.
If you are serious about investing in a rewarding mutual fund scheme, Subscribe now!
Author: Divya Grover
This article first appeared on PersonalFN here
Join Now: PersonalFN is now on Telegram. Join FREE Today to get 'Daily Wealth Letter' and Exclusive Updates on Mutual Funds
PersonalFN is a Mumbai based personal finance firm offering Financial Planning and Mutual Fund Research services.
Disclaimer:
The views mentioned above are of the author only. Data and charts, if used, in the article have been sourced from available information and have not been authenticated by any statutory authority. The author and Equitymaster do not claim it to be accurate nor accept any responsibility for the same. The views constitute only the opinions and do not constitute any guidelines or recommendation on any course of action to be followed by the reader. Please read the detailed Terms of Use of the web site.
More Views on News
Sep 18, 2020
Everyone seems to be excited about buying smallcaps now...but is it the right thing to do? What do the charts tell us? Find out in this video...
Sep 18, 2020
PersonalFn briefly outlines the newly launched NFO note HSBC Corporate Bond Fund.
Sep 18, 2020
Let the markets take a breather before you jump in.
Sep 17, 2020
In this video I'll answer a question I get asked often: How much capital do I really need to trade the markets for a living? Let's find out...
Sep 17, 2020
Rahul Shah discusses whether the SEBI circular is the perfect time to start investing in good quality small caps
More Views on News
Most Popular
Sep 11, 2020
This is how you can apply the greed and fear cycle in the market to pick stocks.
Sep 7, 2020
Things are not often what they seem in the market and how you can take advantage of this.
Sep 7, 2020
The discovery of Softbank pushing up prices on the NASDAQ will cause volatility in the market. Stay alert!
Sep 11, 2020
Here's why I think this month could be a great for auto stocks.
More