Things Investors Need to Do to Ensure Their Financial Independence!
Things Investors Need to Do to Ensure Their Financial Independence!
Aug 14, 2019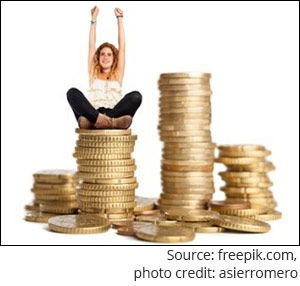 Every year on 15 August, India commemorates the day of our nation's independence from British rule in 1947.
This 73rd Independence Day is special as the age-old dispute over Jammu & Kashmir has been finally settled to include it in our country. With the decision to revoke Article 370, even the valley of Kashmir has been liberated from the throngs of incessant disputes and extensive shootouts.
But, individually are we truly independent?
For instance, are we financially independent?
I have met several people and realised that we are not financially independent as we haven't attained financial freedom.
Financial independence comes from financial freedom, which represents the ability to earn a livelihood that enables you to live a comfortable lifestyle. However, the notion of financial freedom is subjective and not defined only by earning a substantial income.
Special: How To Become A Crorepati From A Single Stock
More importantly, financial freedom paves the way for financial independence.
[Read: 8 Key Lessons On Financial Freedom From 'Rich Dad, Poor Dad']
And financial independence is the capability to be self-reliant, completely debt-free, and enables you with the power to fulfil the envisioned financial goals ---buying a house, a car, travelling abroad for leisure, providing for your child's education needs and future wedding expenses, handle exigencies, and sorted about your own retirement so that you do not have to depend on anyone.
Now a point to note is, while financial freedom is psychological and unquantifiable, financial independence is quantifiable and, therefore, can be planned.
Urgent: Why 3 Tiny Companies Could Be On The Verge of a Rebound...
In today's times, it is extremely important for every individual (man and woman -- teenagers, married, single, separated, widowed, divorced) to be financially independent irrespective of their economic life cycle.
Everyone aspires for financial independence, but seldom does one manage to attain it.
So how can you attain financial independence?
One can achieve financial independence with prudent financial planning and acting on it.
Let me reiterate, how to go about with it. . .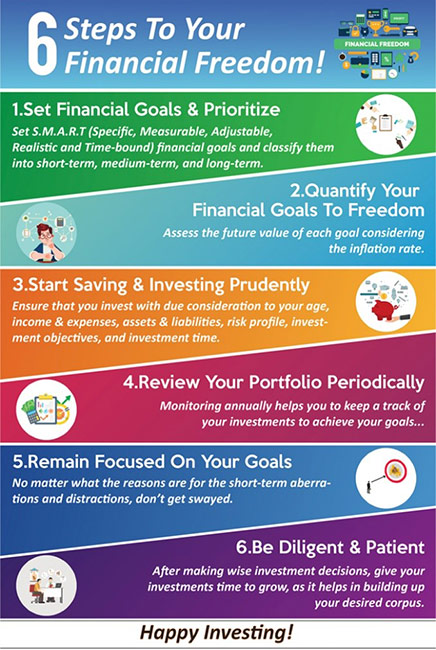 Remember, financial independence empowers you.
"Financial security and independence are like a three-legged stool resting on saving, insurance, and investments." - Brian Tracy (the Canadian-American sales & marketing guru, motivational speaker, and author).
--- Advertisement ---
Urgent Announcement: AN EXCLUSIVE SPECIAL BROADCAST

We very rarely do this at Equitymaster: Conducting a Mega Summit to reveal the details of a one high potential stock.

You see, our Head of small cap research, Richa Agarwal, has found potentially the best money-making opportunity of the decade...

This opportunity is so BIG that she has decided to do an EXCLUSIVE SPECIAL BROADCAST at 5 pm on 22nd August to reveal the details of this once in a lifetime opportunity...

The great news is that if you act now, you can get access to this special broadcast for FREE.

All you need to do is register and block your seat for right now...

We are expecting this to be the biggest event in Equitymaster's history...

In fact 4,000 people have already claimed their seats for this special broadcast!

So, make sure you do not miss out on this very rare opportunity...

Join 4000+ people and block Your Free Seat for the One Stock Crorepati MEGA Summit Now!
------------------------------
Financial independence gives us the freedom to utilise our hard-earned money the way we desire. It is important to lead a respectable life and to be financially prepared for any unforeseeable circumstances as well.
Note these points if you want to lead a financially independent life:
Start saving and investing early
Save to invest for a long term, carefully invest as per your financial goals, risk appetite and investment horizon
While investing, do consider inflation, as it erodes the purchasing power of your hard-earned money
Do your own research and do not follow neighbour/family/ friend's investment advice
Believe in value investing
Invest prudently in businesses that you understand and create a diversified and robust portfolio in a systematic manner
Choose a promising investment avenue for wealth creation like mutual funds. Mutual Funds diversification allows you to invest across various assets at a nominal cost and is well managed by professionals
Create an optimum investment strategic portfolio that will help you attain your goals faster and save for retirement
Do not wait for the 'right' opportunity to invest but invest systematically (preferably via SIPs in mutual funds)
Do not get swayed by your emotions
Don't forget to indemnify risk to life, health, and property
Seek advice and guidance from a personal finance adviser
Financial independence is within your reach if you save and invest diligently with small amounts via SIP and avoid tiptoeing. Wealth building is a gradual process, so don't be taken in by the fancy of structured products.
If you can't devote time for comprehensive research and lack the necessary skills, seek guidance, approach a financial planner. Reach out to a certified financial guardian who is a mark of trust and respect, who exemplifies high fiduciary standards at all times.
A professional who handles your hard-earned money with an unbiased and an independent approach, where the recommendations are backed by rationale and scientific study, as much as they would manage his/her own personal finances.
Hence, with able guidance, you can take the right steps leading towards attaining your financial independence.
PS: Consider PersonalFN's flagship premium mutual fund research service-FundSelect if you want insightful guidance and recommendations on some worthy funds with high growth potential in the years to come.

If you haven't subscribed to FundSelect yet, you can do it now!
Happy Independence!
Author: Aditi Murkute
This article first appeared on Certified Financial Guardian.
PersonalFN is a Mumbai based personal finance firm offering Financial Planning and Mutual Fund Research services.
Disclaimer:
The views mentioned above are of the author only. Data and charts, if used, in the article have been sourced from available information and have not been authenticated by any statutory authority. The author and Equitymaster do not claim it to be accurate nor accept any responsibility for the same. The views constitute only the opinions and do not constitute any guidelines or recommendation on any course of action to be followed by the reader. Please read the detailed Terms of Use of the web site.
More Views on News
Aug 16, 2019
PersonalFN briefly explains the importance of necessary discipline when planning for your retirement.
Aug 16, 2019
PersonalFN highlights the need to strategically build your SIP portfolio.
Aug 16, 2019
While fear grips the markets, super investors are not panicking but are rather increasing their allocation to stocks.
Aug 14, 2019
PersonalFN explains if fixed deposits should be your preferred choice in turbulent markets.
Aug 14, 2019
This smallcap stock could help you ride the great aerospace and defense wave.
More Views on News
Most Popular
Aug 5, 2019
Credit growth is likely to accelerate in India in the next decade. Here's how you can benefit from this megatrend.
Aug 8, 2019
This debt-free, well-managed company is all set to soar.
Aug 7, 2019
As markets continue to rattle amid earning season, upcoming elections, volatile crude price and US China trade war, it's a great idea to add some stability to your portfolio by adding dividend stocks.
Aug 12, 2019
My experience at the recent AGM of this smallcap company which has financials of any FMCG major.
Aug 9, 2019
Qatar has turned around after the Saudi embargo. This is good news for India.
More