How To Select Worthy ELSS For Tax Saving This Year
How To Select Worthy ELSS For Tax Saving This Year
Sep 12, 2019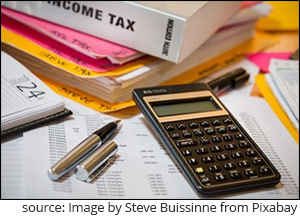 We are almost half-way through the financial year 2019-20 and the stock market continues to take investors on a roller coaster ride.
While there are many factors causing market turbulence, the most prominent ones are economic slowdown, FPI outflows, liquidity crisis in NBFCs, as well as some international factors such as US-China trade war and other geopolitical tensions.
The losses are unlikely to reverse soon as the factors impacting market conditions are not expected to be resolved in the foreseeable future.
In such an environment, it is easy for investors to fall prey to the negative sentiments and ignore the bigger (long term) picture. However, challenges in the economy do not mean that everything is gloom and doom - there is light at the end of the tunnel.
--- Advertisement ---
Ex-Swiss Investment Banker Reveals His Biggest Investment Strategy in 4 Free Video Classes

Rahul Shah, ex-Swiss investment banker and Co-Head of Research at Equitymaster, is hosting a series of 4 free video classes for his readers, where he will reveal the details of something he's been working on for years…

The Double Income Project…

Rahul will show his readers, step-by-step, how to dramatically increase their income, potentially even double it…in what he believes is the earliest amount of time possible. a few short years.

For instance, if you make Rs 50,000 a month…Rahul's goal is to show you how to take it to Rs 100,000 in the long run.

Or if you make Rs 100,000…Rahul will show you how you could potentially increase it to Rs 200,000 in the long run.

This is different from anything Rahul Shah has ever done before – there's nothing to pay, no service to subscribe to and no forms to fill to attend these classes.

Just click here to sign up for the free video classes.
------------------------------
[Read: Why You Should Not Avoid Investing in Equity Mutual Funds Now...]
The correction in the market offers investors a good opportunity to invest with a decent margin of safety. In other words, now is a good time to invest in stocks trading below their intrinsic value but have the potential to grow in the future.
Chart: Valuations of Nifty 50 and Nifty MidCap 100 in the last one year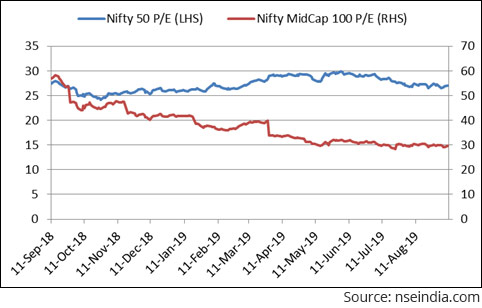 As can be seen in the table above, the P/E of Nifty MidCap 100 has declined sharply in the last one year. During the same time frame, the P/E of Nifty 50 has retained its level within a similar range.
The Double Income Project: The Lazy Man's Guide to Doubling Your Income in The Long Term
[Read: Why You Should Not Ignore Worthy 'Value Funds' Now]
Large caps have the potential to grow despite the challenges and provide stability to your portfolio at the same time. Whereas, mid and small caps have the potential to generate high returns, though the risk involved is higher too. To get the benefit of stability and higher returns, investors can look to invest in funds following a multi-cap approach.
Furthermore, with around 6-months remaining before the end of the financial year, smart investors would know that it would be imprudent to wait till the end moment to start tax-planning.
[Read: Should You Be Investing in ELSS At The Beginning Of The Financial Year?]
If you are a moderately-high risk taker with an investment horizon of more than three years, you can consider Equity-linked Saving Schemes (ELSS) as a tax saving avenue. ELSS provide the dual benefit of tax-saving along with the potential to generate higher returns with investments in a diversified portfolio of equities.
Investments in ELSS qualify for tax exemption up to Rs 1.5 lakh for the financial year under Section 80C of the Income Tax Act. However, one should not invest in ELSS just for the tax benefit. Before investing, you must assess how this investment would fit in your overall asset allocation.
Every ELSS follows a different approach. Some schemes are large-cap biased, while others focus on mid and small-caps. Similarly, some schemes prefer to have a compact portfolio, while some have a large portfolio size.
--- Advertisement ---
Watch this Video Now And You Will Stop Worrying About Money...

If you are concerned about money, then you MUST watch this exclusive video right now.

Because in this video, Richa Agarwal, Head of Small Cap Research, talks about stocks that have made a select group of people Crorepatis.

They invested in just one stock and ended up becoming Crorepatis in the long run.

In this video, Richa also reveals her unique formula to identify such potential RARE stocks.

Plus, she also discusses her special report, 'One Stock Crorepati: How to Get Rich With This Little-Known Indian Stock'.

This video is now available for your viewing...

This video could be taken down any time soon. So, hurry…

Click here to watch the video right away…
------------------------------
Regardless of the nature of the portfolio, you should invest in ELSS with a long-term view. Many investors tend to sell their investment in ELSS after the 3-year lock-in period.
Ideally, you should continue with your investment even after the lock-in period if you have invested in a worthwhile scheme. This is especially true if your fund has mid-cap and small-cap bias, as these stocks require a longer time horizon to show their true potential.
You can opt for the SIP route to mitigate the volatility and to get the benefit of rupee-cost averaging and compounding of wealth.
Table: Top performing ELSS on a 3-year return basis
Data as on September 10, 2019
(Source: ACE MF)
*Please note, this table only represents the best performing Equity Linked Saving Schemes based solely on past returns and is NOT a recommendation. Mutual Fund investments are subject to market risks. Read all scheme related documents carefully. Past performance is not an indicator for future returns. The percentage returns shown are only for an indicative purpose. Speak to your investment advisor for further assistance before investing.
Despite volatile markets in the past one and a half year, some ELSS schemes managed to perform well and rewarded investors with reasonable gains. Mirae Asset Tax Saver Fund, Axis Long Term Equity Fund, and Motilal Oswal Long Term Equity Fund were the top performers on a 3-year return basis. On a 5-year return basis, some schemes managed to deliver satisfactory returns, though the returns were not impressive enough.
On the other hand, some schemes delivered below-par performance and could not reward the investors even during the longer 5-year time horizon.
Since, ELSS come with a lock-in period, you will not be able to exit or switch to other schemes if your fund underperforms during this period. Remember that every SIP instalment is subject to a lock-in period of three years. This emphasises the importance of prudently selecting the right ELSS.
[Read: How SIP-ping Into Unworthy Mutual Fund Scheme May Cost Your Financial Wellbeing]
To select the right ELSS for your portfolio, you need to evaluate the performance of the schemes based on various quantitative and qualitative parameters. Then shortlist the one that has performed consistently better than the benchmark and category peers across market phases and has delivered superior risk-adjusted returns.
If you are holding other equity schemes in your portfolio, it would be beneficial if the investment style and strategy of the ELSS you wish to invest in differs from your existing schemes.
However, ELSS should not be part of your Core portfolio. Your core portfolio should consist of large-cap fund, multi-cap fund, and value style fund.
Editors' note: Do you want to know the best mutual fund schemes to SIP into, ELSS for tax saving this year, and schemes that have the potential to provide BIG gains?
Subscribe to PersonalFN's three premium mutual fund research reports at a price of one.

Get the benefits of tax saving, super investing, and wealth building NOW!
Author: Divya Grover
This article first appeared on PersonalFN here.
PersonalFN is a Mumbai based personal finance firm offering Financial Planning and Mutual Fund Research services.
Disclaimer:
The views mentioned above are of the author only. Data and charts, if used, in the article have been sourced from available information and have not been authenticated by any statutory authority. The author and Equitymaster do not claim it to be accurate nor accept any responsibility for the same. The views constitute only the opinions and do not constitute any guidelines or recommendation on any course of action to be followed by the reader. Please read the detailed Terms of Use of the web site.
More Views on News
Sep 20, 2019
In investing, as in everyday life, buying more of the same quality product is a good strategy.
Sep 19, 2019
PersonalFN explains whether actively managed funds can outperform passively managed funds.
Sep 19, 2019
Is the auto sector down with cancer or is it just a mild fever which will go away soon?
Sep 19, 2019
The India we knew is changing. Here's how you can benefit from this change.
Sep 18, 2019
The positive side of technological disruptions and rebound opportunities in blue-chip stocks.
More Views on News
Most Popular
Sep 12, 2019
News headlines predict gloom and doom for India these days. You should ignore them.
Sep 10, 2019
Usually, the typical horizon period for my smallcap recommendations is 3 to 5 years. But if you ask me, this could be one business that you could own and pass on to future generations.
Sep 16, 2019
The stock market today is throwing up a great opportunity to pile on quality stocks.
Sep 11, 2019
How financial inclusion provides a big runway for this stock recommendation.
Sep 13, 2019
These 10 auto stocks should be in your watchlist for the next 32 months. Paste them on your workstation NOW.
More