Here's Why Slowdown Is The Best Time To Invest In Actively Manage Equity Mutual Funds
Here's Why Slowdown Is The Best Time To Invest In Actively Manage Equity Mutual Funds
Sep 19, 2019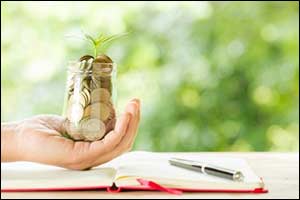 Passively managed funds are in the news again. As per latest media reports, assets in passively managed funds in the US surpassed those in the actively managed funds in the month of August 2019.
In India, assets under passively managed funds (index funds and ETFs) are rising steadily as well.
Though actively managed funds continue to dominate the mutual fund industry, investments in passively managed funds have been gaining traction since 2015, after employee provident funds started investing in ETFs.
--- Advertisement ---
"We Just Gave a Go Ahead to a Very Controversial Summit…"

We predict that a lot of people out there will NOT like us revealing the idea of "Rebirth of India".

And in the process, We fear that this MEGA SUMMIT initiative is likely to generate its fair share of controversy.

But…We have decided to go ahead with it anyway.

And that's because Senior Analyst and Co-head of Research, Tanushree Banerjee, has solid evidence that makes is very clear that…

The "Rebirth of India" is happening right now…

And here's why this is very urgent…

If you don't hurry up now, you stand to miss out a once-in-a-generation opportunity to potentially make a massive fortune.
------------------------------
Graph 1: Rise in AUM of passively managed funds in the last one year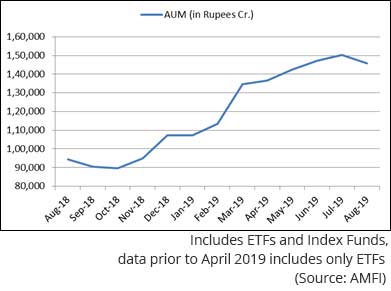 In 2018, various macro-economic conditions caused the markets to remain volatile. Hence, many funds, across categories failed to outperform their benchmark. This could be a reason why investors are now looking at passively managed funds.
[Read: Are Your SIPs Giving Negative Returns? Here's What To Do...]
Besides, SEBI's guidelines on mutual fund classification reduced the funds' flexibility to invest across market capitalisation, which in turn affected the returns on actively managed funds.
--- Advertisement ---
Our Latest Report… (Download Free)

We at Equitymaster have just published this report…

Rebirth of India: The First Step to the Biggest Investment Opportunity of Your Lifetime

…it's perhaps the most important work we have published ever, yet.

We strongly urge you to download it…and read it right away.

After all, it has the potential to dramatically change your life…for the better.

Here's an additional benefit…

As soon as you download, we will also automatically block a seat for you at the Rebirth of India MEGA SUMMIT.

At the Summit, Senior Analyst and Co-head of Research, Tanushree Banerjee, will reveal full details about Rebirth of India… including specific opportunities to profit from it.
------------------------------
Does this mean that investors should switch to passively managed funds?
Let's look at how actively managed and passively managed funds have performed over the years.
Table: Top 5 actively and passively managed funds
Data as on September 18, 2019
(Source: ACE MF)
The average returns of actively managed funds lagged behind the average returns of passively managed funds as well as the S&P BSE 500 - TRI index in the 1-year and 3-year period. However, in the longer time horizon of 5 years, the average returns of actively managed funds outpaced average returns of passively managed funds and the index.
In fact, returns of the top 5 actively managed schemes on a 5-year returns basis beat the returns of the top 5 passively managed funds by a remarkable margin.
A time horizon of less than 5 years is too short a period to accurately gauge the performance of equity schemes. Thus, the poor performance of actively managed funds in the short run should not be a cause of worry as long as it manages to provide meaningful returns in the long run.
Since the fund managers of actively managed schemes take active calls based on the changing market conditions, the recent correction in the equity markets provides them a valuable opportunity for alpha generation. They will now be able to pick beaten down stocks that have the potential to rise in the coming years.
[Read: Why You Should Not Ignore Worthy 'Value Funds' Now]
Markets are expected to remain volatile in the near term as a result of the on-going slowdown in the economy. To tide over the volatility, you can opt for the systematic investment plan route (SIP) that offers you the benefit of wealth-compounding and rupee-cost averaging.
According to the latest CRISIL-AMFI report, if you opt for the SIP route, the instances of negative returns decline as the investment horizon increases. Further, the probability of wealth-creation rises as the tenure of SIP investment increases. One must note that investments in ETF do not offer the SIP facility.
Graph 2 and 3: SIP option can prove fruitful in the long run

Low cost of investment is one of the reasons why many advisers suggest investing in passively managed funds.
Although the cost of investing is relatively expensive in equity-oriented schemes, if you, as an investor, select a worthy equity mutual fund scheme and opt for the Direct Plan, the benefits (the returns) can outweigh the cost of investing in the long run.
An actively managed equity fund amidst the turbulent times can display its ability to generate 'alpha' (multiply wealth in the long run) if the fund manager handles the portfolio astutely -- and provided you, as an investor, are researching enough to prudently select such an actively managed diversified equity scheme/s.
[Read: Why Bet On High Alpha Funds In This Gloomy Market]
It may not be the best time to park hard-earned money in a passively managed fund because all you would clock is returns close to that of the benchmark index with a beta of close to 1.0.
Notably, India's mutual fund AUM as percentage of GDP is just 11% as compared to the world average of 62%. Thus, there is ample scope for the mutual fund industry to grow. Therefore, India is unlikely to run out of alpha-generating potential of actively managed funds any time soon.
Given that market valuations have corrected from earlier highs and there's a sufficient margin of safety, it creates the right climate for active fund managers to do value hunting with a number of stocks trading lower compared to their 52-week high. So, if you wish to multiply your investment returns in the volatile times, build an equity mutual fund portfolio with Alpha Funds.
What are Alpha Funds?
Alpha Funds are "winners amongst the winners".
Alpha Funds make the rest of the winners shy of their performance. When the winners might rake in double-digit returns, the Alpha Funds are the ones that have the potential to rake in TRIPLE digit returns in the long term! That's why they are, in a sense, super-special in their own right.
Editor's note: To help you find the best equity funds with high alpha-generating potential, PersonalFN has developed a 'SMART Alpha Score' model.
In our latest exclusive - The Alpha Funds Report - 2019, we have identified five high alpha generating funds that are 'high risk-high reward' investment opportunities in the Modi 2.0 regime.

Author: Divya Grover
This article first appeared on PersonalFN here.
PersonalFN is a Mumbai based personal finance firm offering Financial Planning and Mutual Fund Research services.
Disclaimer:
The views mentioned above are of the author only. Data and charts, if used, in the article have been sourced from available information and have not been authenticated by any statutory authority. The author and Equitymaster do not claim it to be accurate nor accept any responsibility for the same. The views constitute only the opinions and do not constitute any guidelines or recommendation on any course of action to be followed by the reader. Please read the detailed Terms of Use of the web site.
More Views on News
Oct 17, 2019
PersonalFN explains whether SIP investment can lead you accurately to achieve your goals.
Oct 17, 2019
PersonalFN explains how the merger of Bank of Baroda and BNP Paribas' asset management units impact investors.
Oct 17, 2019
These 5 stocks will gain big time when the markets begin rising.
Oct 17, 2019
The top down and the bottom up implications of investing in a recommendation like HDIL.
Oct 16, 2019
Apurva Sheth shows 5 auto stocks which are in the greed phase.
More Views on News
Most Popular
Oct 14, 2019
This is once in a decade opportunity to make a killing from smallcap rebound.
Oct 7, 2019
Here's what every individual investor must know about Yes Bank...
Oct 10, 2019
There are rare periods in markets when you get good quality stocks at attractive valuations. Is this one such period?
Oct 4, 2019
The secret to multibagger is not big businesses, but great managements... Here's how to find them to make the most of once in a decade rebound opportunity.
Oct 11, 2019
Now is the time to put money in these 5 stocks to take advantage of the recovery in the economy and the markets.
More