Here's Why Indian Equity Markets Will Remain Choppy And Here's How You Could Ride The Tide
Here's Why Indian Equity Markets Will Remain Choppy And Here's How You Could Ride The Tide
Sep 25, 2018
Panic selling has rocked the Indian equity markets. Will the markets continue to take breath-taking turns in 2018 and rekindle buried memories of the 2008 market mayhem experience?
The sudden fall in January 2008 caught investors off guard when the markets locked into the lower circuit.
Many investors have failed to cope with the topsy-turvy market movements.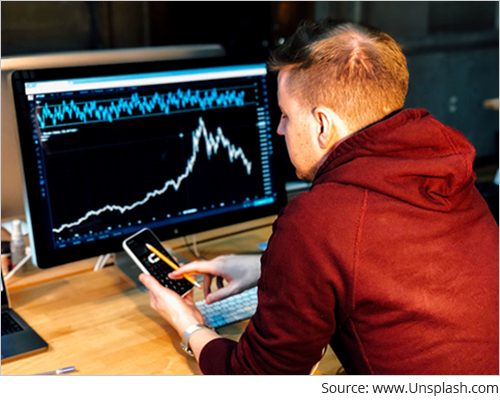 Was that just a knee-jerk reaction?
Sure, time will tell. And in the meanwhile stay tuned for PersonalFN's coverage on this.
Fact 1 - Mood swings of the markets will always be unpredictable.
Ready to give more jitters?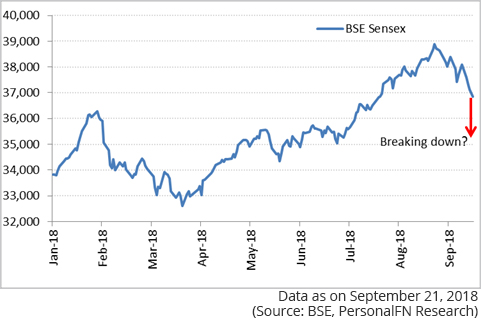 If you leave out Friday's (September 21, 2018) market frenzy, the S&P BSE Sensex has generated 14.6% returns as on September 19, 2018 on Year-on-Year (Y-o-Y) basis. You would be surprised to know that it moved in a range of 24.8% over the last one year.
From its January highs, markets shed about 10% in just two months. From its March lows, India's bellwether index bounced back around 12.5% by September.
Has your mutual fund portfolio performed well?
Over last one year, only a handful of schemes have generated market-beating returns while others have underperformed the benchmark indices considerably.
Should that worry you?
Depends on why your mutual fund schemes underperformed.
Several factors have resulted in underperformance out of which two are prominent:
One major cause of the up-move in S&P BSE Sensex that's happened over the past 2-3 months is linked to a few index-heavy stocks, the ones with higher weightage on the index. The diversified nature of mutual funds made it difficult for the fund managers to outperform under such circumstances.
Following the implementation of the mutual fund categorisation norms by the capital market regulator, the mid cap and small cap stock universe witnessed a broad-base sell off. This has dragged down the performance of many mutual fund schemes, especially in the mid cap and small cap universe. To an extent, this has affected multi-cap funds as well.
[Read: Should You Invest In Multicap Funds Now? Know Here...]
From the last week of August, the S&P Sensex has been losing ground consistently. Markets are likely to be more volatile in months to come and that's started worrying investors a lot.
Some experts say we are likely to be in a sideways market for a considerable time.
Others say the present bull-run may end shortly and we might face a 2008-like market meltdown.
Weakness depicted by some of the strongest index heavy-weights recently looks ominous.
Anxiety of investors is clearly visible too. The net monthly inflows pure of equity-oriented mutual fund schemes dropped for the fifth consecutive month in August 2018.
Will there be any respite to mutual fund investors?
Unlikely, at least in the near future.
It means, mutual fund investors will have to brass up for heightened volatility
Here's why markets are likely to remain choppy...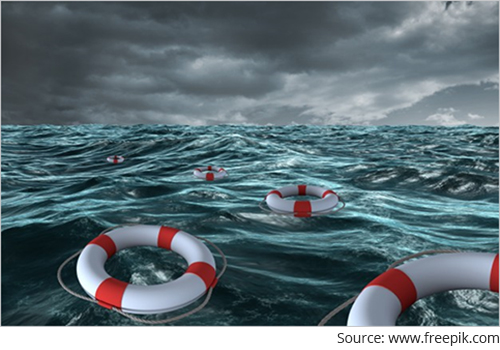 India is vastly impacted by what happens globally. At present, there's a substantial risk to the global growth emanating from the worsening geo-political situation and economic conflicts among some of world's most influential nations. With backstory, the global growth looks tiring and many fragile economies are likely to crumble under pressure.
Trade war may become a full-blown crisis
World's two most powerful economies-the U.S. and China have locked horns over the bilateral trade issues. After the U.S. made it clear that it is going to impose fresh tariffs on the import of Chinese goods worth US$ 267 billion, China retaliated by threatening to slam fresh tariffs on the American exports to China worth US$ 60 billion.
There have been several rounds of such tit-for-tat actions. And now tensions between these two nations are likely to cause a widespread contagion which might rock the world economy in the coming quarters.
Crude oil prices may escalate over Iran issue...
In exchange of Iran giving up its high-level nuclear enrichment programme, six nations had made a deal with it in 2015 to offer a relief from trade sanctions which had shackled the Iranian economy. The U.S. gave its allies the November ultimatum to cut all trade ties with Iran.
If the Iran deal falls apart, the crude oil prices may increase hyperbolically piercing all resistances.
According to Bloomberg, the average crude oil exports from Iran in the first two weeks of September were just 1.6 million barrels a day (mbd) against 2.5 mbd in April. Some importing nations such as South Korea have stopped shipping Iranian crude to their countries; while others such as Japan and India have been cutting back Iranian crude oil imports sharply. Higher crude oil prices will dent India's resistance to inflation as it imports crude equivalent to 80% of its demand.
Emerging market currencies have been under pressure
As the Federal Reserve in the U.S. has been hiking interest rates steadily, the world's largest economy has become a strong magnet attracting global capital flows. As a result, Dollar Index (DXY) has been gaining strength and emerging market currencies are losing strength. Countries such as Turkey, Venezuela, and Argentina have been facing severe financial crisis.
Falling currencies and deteriorating fundamentals outside the U.S. have been pushing bond yields up globally. This trend might adversely affect the emerging equity markets including those in India.
Deteriorating macroeconomic factors back home
Factors such as rising crude oil prices, falling currency and widening Current Account Deficit (CAD), and the fiscal deficit have been making India less attractive for global investors. Rising inflation on account of rising fuel prices may leave lesser discretionary income in the hands of households, thereby sending savings southwards.
So far, the flow of domestic savings through mutual funds and insurance schemes has firmly supported the market.
If crude oil prices rise higher and currency continues to depreciate, the RBI might hike interest rates, which may eventually discourage economic growth.
Growing Non-Performing Assets (NPAs) and deteriorating condition of the financial sector has been another matter of concern.
Market valuations are not cheap
S&P Sensex quoted at a Price-to-Earnings (P/E) multiple of 23.85 as on September 19, 2018. Compared to the historical valuations, the S&P Sensex is trading at higher multiples. And in the past, whenever multiples have become rich, we have witnessed deeper market corrections.
The forward P/E, a variant in a P/E ratio that takes into account market valuations vis-a-vis forecasted earnings, is also around 20. This means, the market is factoring in a good deal of potential growth in corporate earnings.
As compared to other emerging markets, Indian markets are expensive and thus, if other emerging markets were to recover, India might underperform them. However, some experts are hopeful that Foreign Portfolio Investors (FPIs) will be attracted to India since markets are now off their highs and the Rupee has depreciated around 13%-14% over last one year.
Speculations about state and Lok Sabha elections may exacerbate the market volatility
On the backdrop of rising crude oil prices and falling Rupee, it's expected that the ruling NDA government and BJP ruled states will open elections in the face of some wrath and public anger. Political instability might make India's market valuations look even more expensive.
To keep voters happy and negate the impact of rising petrol and diesel prices, the government might hand out several populist measures, which may eventually hamper India's macroeconomic prospects.
Will there be positive surprises?
Yes! There can be. Here's what they will look like
World's leading trade partners re-negotiate deals and trade war fears ebb
The U.S. strikes a last-minute deal with Iran averting a possible deadlock for importers of Iranian oil
Oil supply rises to match the demand
Brexit happens smoothly without many trade and immigration implications Earnings growth in India surprises investors on the upside
Election outcomes don't throw up any negative surprises and India gets a stable government
Rupee finds a bottom and starts trading in a range
Inflation stays under control in India
If the aforesaid factors transpire, Indian equity markets could move up and the dark clouds of fear might disappear quickly.
It's noteworthy that market volatility isn't a measure of loss. Volatility only means market returns might deviate largely from their average returns. In other words, investors need to have a high risk appetite to invest in markets when volatility is expected to rise.
How to beat the prevailing market conditions?
The best answer is by opting for Systematic Investment Plans (SIPs).
Thankfully, many of you know this answer.
As on July 31, 2018, the industry has recorded a rise in mutual fund accounts for the 50th month. Moreover, investments through SIPs also increased. Data from the Association of Mutual Funds in India (AMFI) suggests that on an average 9.92 lakh new SIP registrations were activated every month (upto July) in FY 2018-19.
SIPs allow you to buy more units when markets are down without requiring you to time the market movements.
Before you start an SIP
Identify your financial goals
Set a time horizon to achieve financial goals
Chalk out a personalised asset allocation plan
Consider your risk appetite
Invest according to your asset allocation plan
Find out amount you would need in future to fulfil them
And after you've invested, review your portfolio once in a while and make sure you are on-track to accomplish the envisioned financial goals.
Selecting a right mutual fund is crucial
Starting an SIP? Oh, you have one running already?
Awesome!
But SIP in a right fund that makes a difference.
You should ideally invest in a mutual fund scheme that comes from a process-driven fund house. It should satisfy quantitative and qualitative performance parameters; more importantly, the objectives and the risk appetite of the scheme must be suitable to your profile.
It need not be a popular fund, but a performing one with a lot of potential.
Editor's note:
Do you know unusual and lesser-known funds are capable of generating big gains for you, the investor?
But, any small sized fund will not do. After all, you do not want to pick lesser-known funds that have delivered a one-off performance.
And over the long-term, poor quality funds can lead to disappointing returns. So, you need to find and invest in the 'right' ones.
Recognize hidden gems before the crowd discovers them.
If you think, you don't have the time and skills to do this on your own, don't lose heart. Want to know which are these 'Undiscovered' funds? Click here to read more...
PersonalFN's brand new research report: 5 Undiscovered Equity Funds - With High Growth Potential is just meant for you.

Happy Investing!
Author: PersonalFN Content & Research Team
This article first appeared on PersonalFN here.
PersonalFN is a Mumbai based personal finance firm offering Financial Planning and Mutual Fund Research services.
Disclaimer:
The views mentioned above are of the author only. Data and charts, if used, in the article have been sourced from available information and have not been authenticated by any statutory authority. The author and Equitymaster do not claim it to be accurate nor accept any responsibility for the same. The views constitute only the opinions and do not constitute any guidelines or recommendation on any course of action to be followed by the reader. Please read the detailed Terms of Use of the web site.
More Views on News
Apr 19, 2021
This is how the Nifty can hit 16,000.
Apr 19, 2021
Why I believe the best days lie ahead for Equitymaster and for you.
Apr 16, 2021
A look at what India's top equity mutual funds bought and sold in March 2021.
Apr 16, 2021
PersonalFN's analysis on the features and performance of Kotak India EQ Contra Fund.
Apr 16, 2021
Those who don't learn from financial history are doomed to lose their money.
More Views on News
Most Popular
Apr 13, 2021
Ajit Dayal on how India's vaccine strategy will impact the markets.
Apr 6, 2021
Rather than predicting the market, successful investing is more about preparing well and placing your bets accordingly.
Apr 15, 2021
Narayana Murthy was one of the first unicorn founders to get the backing of this entity...
Apr 13, 2021
In this video, I'll you what I think is the real reason behind yesterday's market crash.
Apr 12, 2021
This ignored sector could deliver big short-term profits.
More