Do Banking and Financial Service Funds Look Attractive in a post-COVID-19 Era?
Do Banking and Financial Service Funds Look Attractive in a post-COVID-19 Era?
Nov 9, 2020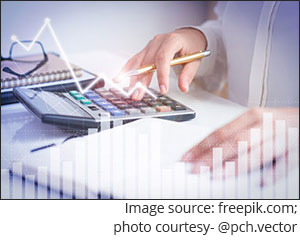 Ever since the coronavirus pandemic outbreak, the banking and financial sector has grossly underperformed the broader markets. 'Financial' is an index-heavy sector which accounts for 35.5% of the Nifty 50. The overhang of the moratorium and the Reserve Bank of India's (RBI's) cautious commentary on Non-Performing Assets (NPAs) had dampened the investor sentiments. Nevertheless, things appear to be changing for the better now.
During the Q2FY21 earnings season, which is presently underway, 'financials' have pleasantly surprised investors. Many private sector banks and the frontline Non-Banking Finance Corporations (NBFCs) have reported an all-round performance: rise in the Net Interest Income (NIM), healthy deposit growth, and improvement in the asset quality, among others.
If you remember, the RBI in its Financial Stability Report released in July 2020, had estimated that COVID-19 pandemic may push sector's NPA to 12.5% in by March 2021. However, Q2FY21 earnings of the banking and financial sector suggest that the situation may not be as gloomy as thought earlier.
--- Advertisement ---
These 3 Stocks are the Dark Horses of the Stock Market

The mainstream media mostly ignores them.

Mutual funds and hedge funds can't buy them in bulk.

Stock brokers rarely cover them.

These stocks are the dark horses of the stock market.

They only come in limelight after they have rallied by hundreads of even thousands of percent.

Our head of smallcap research, Richa Agarwal, has a knack for identifying such stocks before they begin their rally.

Over the years, she has spotted such stocks which have gone on to offer triple and even quadruple digit gains for investors. (* Past performance is no guarantee of future results)

Today, when the markets are near all-time high... and some investors are thinking of booking profits... Richa has spotted 3 such stocks which are set for a massive rally.

She will reveal the details of these 3 stocks on 28th January at her free online summit.

Click here to sign-up instantly. It's free.
------------------------------
Most of the leading private-sector lenders and the largest public sector bank --- the State Bank of India (SBI) --- have projected two different NPA scenarios: one considering the Supreme Court of India's interim order dated September 3, 2020, refraining banks from classifying borrower account as NPAs till the final order is out; and two, by classifying NPAs for the sake of argument.
And these two do not paint a very terrifying picture as of now. In fact, certain large lenders have raised capital during the pandemic time to tackle potential stress.
Of course, the clear picture may emerge only in the coming quarters, but the going has been good so far.
Graph: A lot to catch up for the Bank Nifty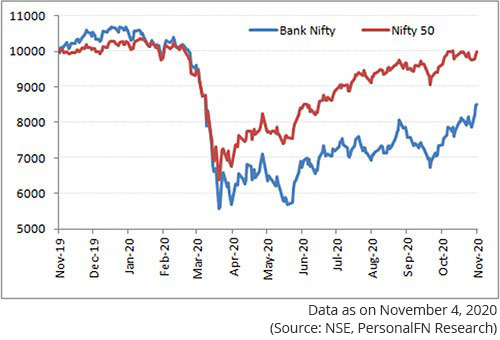 Currently, a lot of banks and Non-Banking Financial Companies are making the best use of digitalisation to grow, gain a bigger pie of deposits and advances, and functioning with more sophistication.
On this backdrop, many of you might be wondering if the prospects of the Banking and Financial Services Funds have changed for the better and whether you should invest in them at this juncture.
BREAKING: Full Details of the #1 Investment of the Decade...
What might work in favour of the banking and financial sector?
Well, here are a few points that will work in favour:
Healthy regulatory oversight and responsive policy action.
Enhanced spending on infrastructure, speedy implementation of projects and continuation of reforms - all of which may provide further impetus to growth in the banking sector.
The initiatives taken by the government as regards financial inclusion and delivery of Digital Financial Services with Aadhaar linking.
The banking and financial sector investing in better technology to enhance the customer experience.
Increasing working population and growing disposal income, which would raise the demand for credit.
If banks continue to walk a tight rope on asset quality; the positive surprises cannot be ruled out. The profitability of banks shall improve and in turn, the Bank Nifty will fare better.
--- Advertisement ---
Top 3 Stocks for 2020 and Beyond

We've uncovered 3 high-potential tech stocks after years of research.

These 3 cutting edge tech stocks could potentially create a wave of Indian millionaires.

First one is present in the sector which is expected to GROW over 300 times by 2030.

Second one is one of the leading players in Artificial Intelligence technology.

And the third one is involved in putting up a global safety net to save the world from cyber criminals.

These 3 tech stocks have the potential to offer life-changing gains in the long run.

Click here to get the details...
------------------------------
And what may work against the banking and financial sector?
An unforeseen rise in NPAs.
Potential lockdowns if India witnesses the second wave of coronavirus, similar to the one witnessed by Europe.
A prolonged lull in the economy.
Historically, the sector hasn't disappointed investors. However, its performance being linked to that of the economy, the banking and financial services sector has been quite cyclical. Menace of NPAs in the aftermath of the 2008 financial crisis and the lacklustre economic performance post demonetization did negatively impact Banking and Financial Services Funds.
Table: Report card of Banking & Financial Services Funds
Direct Plan and Growth Option considered
Data as of November 2, 2020
(Source: ACE MF, PersonalFN Research)
As exhibited by the table above, only a few of banking sector funds have outperformed Nifty Bank-Total Return Index (TRI) and Nifty Financial Services-TRI across time frames. The strong outperformance of Nifty Financial Services over Nifty Bank-TRI denotes that some NBFCs and insurance companies have added a zing to the performance of the index and also to the mutual fund schemes investing in them intelligently.
Should you invest in Banking and Financial Services Funds?
Looking at the present trends it appears that the frontline banks and NBFCs, especially in the private sector, may continue to have an edge over others. As you may know, top-5 stocks of Bank Nifty make up approximately 88% of the index; of which 4 are private sector banks. The same set of banks accounts for approximately 64% of Nifty Financial Services. Therefore, irrespective of any benchmark a banking sector fund may follow, it's likely to be compelled to hold a concentrated portfolio.
The pace of economic recovery will play a crucial role in the overall performance of the banking sector. A strong second wave of COVID-19 in Europe has vastly affected economic activities in several countries there. If new COVID-19 cases resurge during the winter months in India, it could force the government to restore several restrictions to contain the spread of the deadly pathogen, and that, in turn, may weigh on the economic growth, impair the asset quality of banks, NBFCs, and performance of Banking and Financial Services Funds.
Given that the most of equity diversified funds can give you adequate exposure to banking and financial services sector; it would be wise to skip the idea of having a Banking and Financial Services Fund in your investment portfolio.
If you want to benefit from the current market upswing and the rally in the financial services sector without compromising on your long term goals and risk appetite, follow a unique 'Core and Satellite' investment strategy.
'Core and satellite' investing is a time-tested strategy followed by some of the most successful equity investors.
[Read: Your Guide To Build An All-Season Mutual Fund Portfolio]
The 'Core' component should comprise of long term holdings that give stability to your portfolio, whereas the term 'Satellite' applies to the strategic portion that would help you accelerate returns across market conditions. Moreover, the 'Satellite' portfolio provides the opportunity to support the 'Core' by taking active calls based on extensive research.
Your 'core portfolio' should consist of a large-cap, multi-cap, and a value style fund, while the 'satellite portfolio' may include funds from the mid-cap category, a small-cap and/or a Hybrid Equity fund.
At PersonalFN, we believe the 'Core' holdings should account for 60% of your mutual fund portfolio and the rest 40% should consist of 'Satellite' holdings.
Following are the six benefits of 'Core and Satellite' approach:
It facilitates optimal diversification
Reduces the need for constant churning of your entire portfolio
Reduces the risk to your portfolio
Helps you benefit from a variety of investment strategies
Aims to create wealth, cushioning the downside
Offers the potential to outperform the market

That said, it is important to select well-researched mutual fund schemes that offer you stability at the core and the satellite portion helps you accelerate the return.

If you wish to invest in a readymade portfolio of top recommended equity mutual funds based on the 'Core & Satellite' approach to investing, I recommend that you subscribe to PersonalFN's Premium Report, "The Strategic Funds Portfolio For 2025 (2020 Edition)". This premium report will help you build your optimum mutual funds portfolio for 2025 without any effort on your part. If you haven't subscribed yet, do it now!

Happy Investing!

Author: Rounaq Neroy

This article first appeared on PersonalFN here

Join Now: PersonalFN is now on Telegram. Join FREE Today to get 'Daily Wealth Letter' and Exclusive Updates on Mutual Funds

PersonalFN is a Mumbai based personal finance firm offering Financial Planning and Mutual Fund Research services.

Disclaimer:

The views mentioned above are of the author only. Data and charts, if used, in the article have been sourced from available information and have not been authenticated by any statutory authority. The author and Equitymaster do not claim it to be accurate nor accept any responsibility for the same. The views constitute only the opinions and do not constitute any guidelines or recommendation on any course of action to be followed by the reader. Please read the detailed Terms of Use of the web site.

More Views on News

Jan 25, 2021

Here's how to not miss 10 best days for your portfolio returns.

Jan 25, 2021

In today's video, I'll show you why it's not a good idea to blindly support the bullish consensus prevalent in the market these days.

Jan 25, 2021

Is the valuation for this 5-bagger running ahead of its fundamentals?

Jan 25, 2021

PersonalFN explains whether you should invest in top performing mutual funds of 2020.

Jan 22, 2021

Rahul Shah discusses which group of stocks performed the best in 2020 and its implications for your portfolio.

More Views on News

Most Popular

Jan 15, 2021

In this video, I'll show you why it might be the right time to take money of the table in pharma stocks.

Jan 15, 2021

The pandemic failed to thwart Richa's investing success formula for 2020.

Jan 12, 2021

The budget is just a few weeks away. Which stocks can you expect to move? Find out in this video.

Jan 12, 2021

Select smallcaps hold a great potential to become the multibaggers of tomorrow. Here's how you could get in early into these stocks.

More