ICICI Prudential Mutual Fund Bharat 22 ETF: Important Facts You Must Know
ICICI Prudential Mutual Fund Bharat 22 ETF: Important Facts You Must Know
Nov 16, 2017
In August 2016, the government set the ball rolling with an announcement that it proposed to launch a new Exchange Traded Fund. A year later, the new ETF known as the 'Bharat 22 ETF' will be open for retail subscription on November 15, 2017.
The Bharat 22 ETF has a similar mandate to the CPSE ETF launched in March 2014, however, many aspects differ. In the chart below, we have listed the key differences between the Bharat 22 ETF and the CPSE ETF
CPSE ETF v/s Bharat 22 ETF
| CPSE ETF | Bharat 22 ETF |
| --- | --- |
| Tracks NSE's NIFTY CPSE Index | Tracks the S&P BSE Bharat 22 Index |
| Managed by Reliance Mutual Fund | Managed by ICICI Prudential Mutual Fund |
| 10 stocks in portfolio | 22 stocks in portfolio |
| 5% discount on NAV during initial offer period | 3% discount on NAV during initial offer period |
| Loyalty bonus of one free 'bonus' unit for every 15 units held for 1 year from allotment | No loyalty bonus announced |
As you can see, the CPSE ETF was intended to attract retail investors with its higher discount and loyalty benefit. The Bharat 22 ETF, though devoid of the perks, offers investors a more diversified portfolio of 22 stocks. With better diversification, returns are expected to be less volatile.
Let's take a look at the constituents of the Bharat 22 ETF:
Portfolio of Bharat 22 ETF
Basic Materials
1
National Aluminium Co Ltd.
5.1
Total
5.1
Energy
2
Oil & Natural Gas Corp Ltd.
5.5
3
Indian Oil Corp Ltd.
5.0
4
Bharat Petroleum Corp Ltd.
4.5
5
Coal India Ltd.
3.7
Total
18.8
Finance
6
State Bank of India
7.3
7
Axis Bank Ltd.
7.8
8
Bank of Baroda
1.2
9
Rural Electrification Corp Ltd.
1.2
10
Power Finance Corp Ltd.
1.0
11
Indian Bank
0.2
Total
18.7
FMCG
12
ITC Ltd.
14.3
Total
14.3
Industrials
13
Larsen & Toubro Ltd.
16.9
14
Bharat Electronics Ltd.
3.5
15
Engineers India Ltd.
1.4
16
NBCC (India) Ltd.
0.7
Total
22.5
Utilities
17
Power Grid Corp of India Ltd.
7.7
18
NTPC Ltd.
7.1
19
Gail India Ltd.
4.3
20
NHPC Ltd.
1.1
21
NLC India Ltd.
0.3
22
SJVN Ltd.
0.2
Total
20.6
Data as on September 29, 2017
(Source: Scheme Information Document, PersonalFN Research)
The state-owned companies or Public Sector Units (PSUs) that are part of CPSE as well as the new ETF include ONGC, IOC, BPCL, Coal India, Gail Bharat Electronics, REC, PFC, and Engineers India. The other central public sector entities on the list are, Engineers India, NBCC, NTPC, NHPC, SJVNL, GAIL, Power Grid, and NLC India.
Unlike the CPSE ETF, the holdings are not entirely PSUs. But, includes the government's strategic holding in Axis Bank, ITC, and L&T held through the Specified Undertaking of Unit Trust of India (SUUTI).
While the portfolio may seem to be diversified, sector-wise, it is skewed to the top holdings. The top five holdings of the Bharat 22 ETF include Larsen & Toubro, ITC, Axis Bank, Power Grid Corp of India, and State Bank of India. These five stocks have a total exposure of 54%. L&T and ITC together account for over 30% of the portfolio. Hence, a higher portion of the portfolio returns will be induced by the performance of these few stocks.
How does the portfolio construction influence performance? We compare the performance of the S&P BSE Bharat 22 Index with the 20-stock S&P BSE Sensex.
10-year Performance: S&P BSE Sensex v/s S&P BSE Bharat 22
From the trends in the chart above, you can see the returns on the Bharat 22 Index (Total return index considered) over the past decade have been far better than that of the Sensex (Total return index considered). The Bharat 22 index delivered a compounded return of 12% versus 8% of the Sensex. The Bharat 22 did better mainly because of the presence of stocks such as ITC, Axis Bank etc. These stocks generated a return of 15% and 13% compounded, respectively. The high dividend pay-out of PSU stocks added to the returns on the Bharat 22 index.
However, over the past five years, the returns of the two indices have not been that different.
5-year Performance: S&P BSE Sensex v/s S&P BSE Bharat 22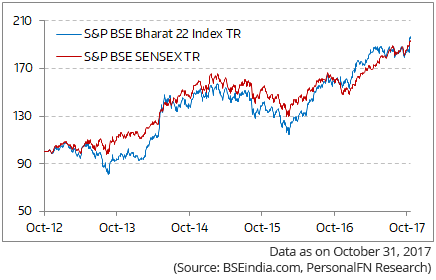 Over the past five years, the movement of both the indices has been neck to neck. The compounded returns have worked out to 14% each. But if you look at the chart closely, notice how volatile the Bharat 22 index has been compared to the Sensex. When the market correction took place, as seen prior to August 2013 and February 2016, respectively, the Bharat 22 index dipped by a greater extent than the Sensex.
Over the past one year, the Bharat 22 TR index has generated a return of about 23%, while the Sensex TRI came in slightly lower at 20%.
Should you invest in the Bharat 22 ETF?
In terms of past performance, the Bharat 22 index has delivered reasonable returns. It's long-term returns have been better than the Sensex, no doubt. But apart from past performance, you need to focus on the outlook of the underlying PSUs that form a bulk of the portfolio.
There is no doubt that the underlying stocks such as L&T, ITC, Axis Bank, Power Grid, etc. are fundamentally sound, but how these stocks perform majorly depends on government reforms.
As the stable Government in the centre has helped kickstart the reforms process, especially in PSUs like mining, oil & gas, and other infrastructure sectors, almost all companies of the CPSE index in that space were beneficiaries of the Government's initiatives on the reform process, so far. This has helped CPSE Index as well as CPSE ETF to deliver superior returns in the initial 1-2 years post its launch.
Since the pace of government reforms has decelerated over the past year, the Nifty CPSE has generated a return of merely 14%, compared to the 20%+ returns of the Sensex. It is noteworthy that the long-term returns of CPSE Index have been far below the S&P BSE 200 Index.
PSU stocks are still available to investors at decent valuations. Incentives such as 3% discount on purchase price further makes this ETF a diamond-in-the-rough opportunity for investors.
But as with all sector and thematic funds, the fund may incur heavy losses when the sector hits a rough patch. Most of the stocks constituting the PSU ETF belong to sectors such as Energy, Financial Services, and Industrials.
Being infrastructure oriented, these sectors can be hit hard by the prevailing lull in the economy. Changes in the government policies can heavily affect the growth of these sectors. During such times how the PSEs play their business strategies, needs to be watched and closely align the fortune of CPSE ETF.
Though the underlying portfolio of Bharat-22 might be well-positioned to take advantage of the opportunities created by recent government reforms, this does not make it better than those of the well-managed diversified equity funds.
Hence, PersonalFN advocates that investors, who have not created a diversified investment portfolio to meet their financial goals yet, would be better-off avoiding the Bharat 22 ETF due to the risks involved. At present, they should fund their goals though Systematic Investment Plans in top rated mutual funds.
Experienced fund managers of top mutual funds can take exposure to companies that are expected to be beneficiaries of economic reforms without exposing you to any elevated risk of concentration associated with Bharat-22 ETF. Do not fall for the discount and the past returns of the Bharat 22 index.
Rule of thumb, focus on long-term wealth creation before you select a fund.
If you need research-backed recommendations to select the best mutual fund schemes for your portfolio, you can access 7 high-performing, time-tested readymade portfolios with a decade-long market-beating track record. PersonalFN's model mutual fund portfolio service 'FundSelect Plus' has completed a decade and we are offering subscriptions at a massive 75% discount!
PersonalFN's track record speaks for itself, as all three portfolio have comfortably achieved above their respective benchmarks. Subscribe now!
This article first appeared on PersonalFN here.
PersonalFN is a Mumbai based personal finance firm offering Financial Planning and Mutual Fund Research services.
Disclaimer:
The views mentioned above are of the author only. Data and charts, if used, in the article have been sourced from available information and have not been authenticated by any statutory authority. The author and Equitymaster do not claim it to be accurate nor accept any responsibility for the same. The views constitute only the opinions and do not constitute any guidelines or recommendation on any course of action to be followed by the reader. Please read the detailed Terms of Use of the web site.
More Views on News
Mar 22, 2018
Certain blue chips hold the potential of delivering returns comparable to small-cap stocks. With these stocks, you can get the best of both worlds.
Nov 29, 2017
Stocks that could beat Sensex returns in the long term.
Aug 14, 2018
PersonalFN explains how you should go about planning your financial freedom this Independence Day.
Aug 14, 2018
PersonalFN explains why you cannot solely rely on star-ratings to pick the best mutual funds, and the approach one should follow.
Aug 14, 2018
Between June 2017 and June 2018, bad loans of 19 out of 21 public sector banks, has gone up by 20%, on the whole.
More Views on News
Most Popular
Aug 3, 2018
In a time when stocks recommended by so-called 'gurus of the market' are crashing, let Kunal Thanvi guide you to the best gurus...and their best stocks.
Aug 3, 2018
This price pattern can help you identify stocks on the verge of a turnaround.
Aug 3, 2018
To what extent have foreign flows influenced Indian stock markets? How do we see it panning out now?
Aug 2, 2018
Although positioned as a small cap fund, Franklin India Smaller Companies Fund has been investing a significant portion of its assets in mid-caps along with a nominal exposure to large caps.
Aug 9, 2018
Though popular, HDFC Equity Fund is not among the best performers anymore. Here is the reason behind its underperformance that has left investors disappointed.
More