Axis Midcap Fund: Focusing on Emerging Sectors/Businesses
Axis Midcap Fund: Focusing on Emerging Sectors/Businesses
Nov 20, 2020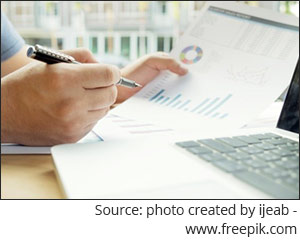 Visibility of green shoots of economic recovery has enthused investors about the growth prospects of the mid cap segment. The government's Make in India push, boost to MSME loans, among other measures could play a crucial role in driving corporate earnings of companies in this segment.
Recently, rating agency Moody's upgraded India's GDP estimate for CY 20 and CY 21 on the back of fiscal stimulus package announced by the government, which were aimed at manufacturing, infrastructure, job creation, credit supply, and stressed sectors of the economy. Mid cap stocks tend to do well when the economy is recovering and thus, the segment could turn out to be the outperformer in the medium to long term.
However given the volatile nature of mid cap stocks, it is important to invest sensibly through a well-managed and diversified equity mutual fund.
Axis Midcap Fund (AMF) is an actively managed mid cap fund that invests in a diversified portfolio of stocks and sectors to manage the risk.
--- Advertisement ---
The Smallcap Revival Summit

Join us on the evening of 28th January to learn,

• Why despite rallying over 100% since March-2020 lows... small-cap stocks are set for a massive rally over the coming months and years
• Details of our top 3 stocks to capture potentially huge gains from this upcoming small-cap rally
• And how to spot opportunities, even in the current market, with potential to generate 200%, 400%, and even 900% long-term gains

Plus there is a lot more that we are going to cover.

The summit is free to attend for Equitymaster readers.

But since there are limited seats, we would recommend you to register at the earliest.

Click here to register. It's free.
------------------------------
Graph 1: Growth of Rs 10,000 if invested in Axis Midcap Fund 5 years ago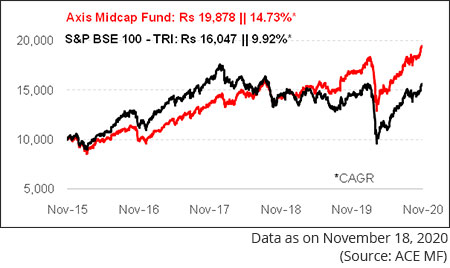 AMF is a growth oriented mid-cap biased fund that follows the bottom-up approach to stock picking. This offering from a process-driven fund house focuses on investing in high quality stocks in the mid and higher mid cap segment having potential to grow cash flows over the medium to long term. Unlike its peers that hold 60-70 stocks in the portfolio, AMF typically holds a compact portfolio of around 35-50 stocks, staying invested in known quality names where there is earnings visibility. Notably, AMF's performance slipped in CY 2016, where it significantly underperformed the benchmark and many of its category peers. Nevertheless, the fund has recovered well despite huge correction in the mid cap space, thus making up for its underperformance. Over the past 5 years, AMF has rewarded investors with a CAGR of around 14.7%, as against 9.9% CAGR delivered by its benchmark S&P BSE Midcap - TRI index.
BREAKING: Full Details of the #1 Investment of the Decade...
Table: Axis Midcap Fund's performance vis-a-vis category peers
Returns are point to point and in %, calculated using Direct Plan - Growth option. Those depicted over 1-Yr are compounded annualized
Data as on November 18, 2020
(Source: ACE MF)
*Please note, this table only represents the best performing funds based solely on past returns and is NOT a recommendation. Mutual Fund investments are subject to market risks. Read all scheme related documents carefully. Past performance is not an indicator for future returns. The percentage returns shown are only for indicative purposes.
AMF has shown a noticeable turnaround in performance over the last couple of years. In the last one year, the fund has managed to generate an absolute return of around 18.7% as against 11.5% return registered by its benchmark S&P BSE Mid-Cap - TRI Index. During the corrective phase, when most of its peers were found to be struggling, AMF managed to restrict the downside. On a longer time periods of 3-year, 5-year and 7-year, the fund has managed to keep a clear lead over its benchmark and the category average.
On risk return parameters, AMF has encountered much lower volatility when compared to its category peers and the benchmark. The fund's superior outperformance over the last couple of years has helped it recover in terms of risk adjusted returns as well. Its Sharpe ratio is currently thehighest in the category.
--- Advertisement ---
Top 3 Stocks for 2020 and Beyond

We've uncovered 3 high-potential tech stocks after years of research.

These 3 cutting edge tech stocks could potentially create a wave of Indian millionaires.

First one is present in the sector which is expected to GROW over 300 times by 2030.

Second one is one of the leading players in Artificial Intelligence technology.

And the third one is involved in putting up a global safety net to save the world from cyber criminals.

These 3 tech stocks have the potential to offer life-changing gains in the long run.

Click here to get the details...
------------------------------
Investment strategy of Axis Midcap Fund
AMF is mandated to invest a minimum 65% of its assets in mid-cap stocks. It aims to select larger midcap companies, which are flexible, innovative, and have high growth potential along with the proven management and liquidity. Axis as a fund house is biased towards playing long-term growth stories and holds stocks with a long term view.
Following a combination of top down and bottom up approach of stock picking, AMF invests in a fairly diversified portfolio of about 35-50 stocks, limiting exposure to single stocks within the 5% mark. Through bottom up stock picking, the fund focuses on company fundamentals and ignores the broad macro-economic trends. Although AMF follows a buy-and-hold investment strategy, it is nimble in its approach and does not hesitate to churn a small portion of its portfolio to capture attractive opportunities in the mid cap segment.
Graph 2: Top portfolio holdings in Axis Midcap Fund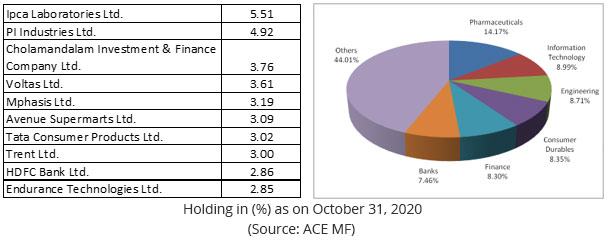 As on October 31, 2020, AMF held a fairly diversified portfolio of 50 stocks. The top-10 stocks accounted for around 35.8% of its assets. Ipca Laboratories topped the list with an exposure of around 5.5%, followed by PI Industries, Cholamandalam Investment & Finance Company, Voltas, Mphasis, Avenue Supermarts, Tata Consumer Products, and Trent having an allocation in the range of 3% to 5% each.
The fund manager's conviction on stocks like Ipca Laboratories, Info Edge (India), PI Industries, Mphasis, Divi's Laboratories, Avenue Supermarts, among others has benefitted the fund in the last one year. On the other hand, companies like City Union Bank, Bata India, Bajaj Finance, The Indian Hotels Company, etc. turned out to be major laggards in the portfolio.
In terms of sector holdings, AMF's portfolio is majorly exposed to Pharma stocks with an allocation of about 14.2%, followed by Infotech at 9%. The fund's other core sectors include Banking & Finance, Engineering, Retail, Consumer Durables, Retail, Fertilisers, Consumption, Cement, and Auto Ancillaries. These sectors collectively account for around 85% of its assets.
Suitability
Even though AMF has a penchant for churning its portfolio, it has shown a lot of patience with many of its stocks and sectorial bets which have paid off its investors in due course. Such approach may work in favour of the fund in the long run. As AMF avoids benchmarking the index, the investments in stocks are made typically at the conviction of the fund manager, irrespective of their weightage in the index. Thus, the performance of the fund may deviate significantly from the benchmark.
The current fund manager - Mr Shreyash Devalkar has done well to turn around the fortune of the fund and regain its top position in the mid-cap space. However, the fund's aggressive mandate makes it prone to high volatility. AMF is suitable for investors with high-risk appetite and investment horizon of at least 5 years.
Editor's note: The last few years have not been among the best for equity mutual funds. While most funds have underperformed or are struggling to match the returns of the benchmark, there are few funds that have the potential to constantly generate alpha for its investors. And we have identified five such high alpha generating funds, in our latest report 'The Alpha Funds Report 2020'. Do not miss our latest research finding. Get your access to this exclusive report, right here!
Note: This write up is for information purpose and does not constitute any kind of investment advice or a recommendation to Buy / Hold / Sell a fund. Returns mentioned herein are in no way a guarantee or promise of future returns. As an investor, you need to pick the right fund to meet your financial goals. If you are not sure about your risk appetite, do consult your investment consultant/advisor. Mutual Fund Investments are subject to market risks, read all scheme related documents carefully.
Author: Divya Grover
This article first appeared on PersonalFN here.
Join Now: PersonalFN is now on Telegram. Join FREE Today to get 'Daily Wealth Letter' and Exclusive Updates on Mutual Funds
PersonalFN is a Mumbai based personal finance firm offering Financial Planning and Mutual Fund Research services.
Disclaimer:
The views mentioned above are of the author only. Data and charts, if used, in the article have been sourced from available information and have not been authenticated by any statutory authority. The author and Equitymaster do not claim it to be accurate nor accept any responsibility for the same. The views constitute only the opinions and do not constitute any guidelines or recommendation on any course of action to be followed by the reader. Please read the detailed Terms of Use of the web site.
More Views on News
Jan 21, 2021 | Updated on Jan 21, 2021
The BSE Sensex is trading at its all-time high of 50,051 (up 0.5%). Among the top gainers in the BSE Sensex today are BAJAJ FINANCE. In the meantime, the NSE Nifty is trading at 14,728 (up 0.6%).
Jan 21, 2021
An inside look into what happens behind the scenes in my trade recommendations.
Jan 21, 2021
PersonalFN analyses the features of PGIM India Balanced Advantage Fund and explains the potential this fund has to offer to its investors.
Jan 21, 2021
Our ace stock picker is ready to capitalise on a big growth opportunity.
Jan 20, 2021
What happens if the world starts to move towards a truly digital financial system? Find the answer here...
More Views on News
Most Popular
Jan 8, 2021
The smallcap rally has enough steam left in it. If you haven't joined yet, it is still not too late.
Jan 8, 2021
The charts are telling the bulls to be cautious.
Jan 11, 2021
Were you shocked that bullion prices hit lower circuits on Friday on the MCX? Find out why it happened...
Jan 11, 2021
Our ace stock picker is ready to capitalise on a big growth opportunity.
More