Want To Earn Alpha During Market High? Here Is How You Can Achieve It...
Want To Earn Alpha During Market High? Here Is How You Can Achieve It...
Dec 12, 2019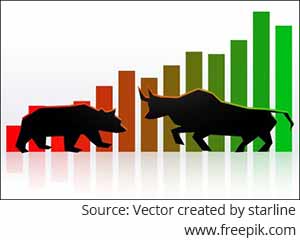 The Sensex is ending the year on a high note, despite being volatile for most part of the year. The index has been trading above the 40,000 mark for close to a month without any major slide.
The encouraging Q2 corporate results, hopes of US-China trade deal, softening crude oil prices, and sustained buying in some of the index heavyweights along with hopes of further economic reforms were some of the factors that lifted the market.
It is noteworthy that the rally in benchmark indices may not always mirror on your mutual fund portfolio. Some schemes may underperform their benchmark index even during market high.
[Read: Mutual Fund Portfolio Under Performing During A Market High? Here's What To Do...]
This makes it important to invest in well-managed funds that can efficiently utilise the opportunities during market high and generate alpha for investors.
Most of the actively managed diversified equity funds primarily aim to generate alpha by not mirroring the index. However, not all funds are successful. In fact, in the last few years generating alpha has been a real challenge for most of the active fund managers.
When a fund generates alpha, it means more returns for the investors at a reasonable level of risk, cohesive with its investment style and strategy.
An alpha fundamentally depends on the expertise and ability of the fund manager in taking the right call at the right time and reward investors, irrespective of the market's movement.
--- Advertisement ---
New FREE Guide: Find the Next Crorepati Stock in this Futuristic Industry

Tanushree Banerjee, the co-head of research, just released her new guide:

Find the Next Crorepati Stock in this Futuristic Industry

And she has agreed to make it available for free for a limited time.

If you've not claimed your free copy, then do so now. It might not remain free for long. One more thing…

Tanushree has also discovered one stock from this futuristic industry… which she strongly believes has the potential to make you a crore or more.

She'll reveal more details about this stock in her first-ever 'One Stock Crorepati MEGA Summit'

We expect this to a huge event… with more than 10,000 people attending it LIVE.

You simply can't miss it.

Click Here to Download the Guide & Block Your Seat Now. It's Free.
------------------------------
Points to remember...
As the economy is currently facing weakness, the on-going rally is not broad based and is only being led by a handful of stocks. Unless there is growth in consumption demand, rise in employment rate and improvement in manufacturing and agricultural output, most stocks may continue to be under pressure.
But on the brighter side, the government has taken various measures to revive the slumping economy back to health. Moreover, the RBI has cut policy rate by 135 bps so far in the current calendar year to boost growth.
When these measures start to show results many stocks across market capitalisation are likely to benefit. Thus, there may be many more opportunities to generate alpha going forward.
Are valuations favourable?
While the Sensex and Nifty 50 have been rising in the current year, the slowdown in economy has gravely impacted smaller size companies.
Graph: Valuation in large and mid-cap space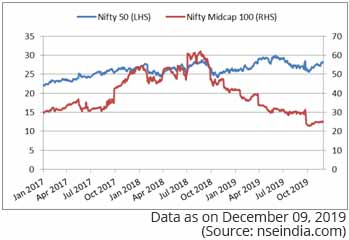 The P/E of Nifty 50 is currently trading around 28x mark, while Nifty Midcap 100 is trading around 24x. As we can see in the chart above, while the large caps continue to trade higher, the mid-caps have sharply corrected, making it a good entry point for fund managers to pick quality stocks.
This provides a window of opportunity for investors, who can handle short-term volatility, to step up their equity exposure. In due course of time, the broader markets may bounce back and reward investors for their patience.
--- Advertisement ---
A One Stock Gift in 1990 is Now Worth Rs 130 Crores. Here's The Full Story...

In 2017, Ravi made headlines by calling into a leading business news channel with a surprising announcement – his grandfather had left him 20,000 shares of only one stock.

And on the day of his call – these shares were worth Rs 130 crore.

Can you guess which is this company?

It's MRF.

Ravi's story is one of the amazing stories of becoming Crorepati from a single stock.

But the question is, how to find that one stock that could make one a crorepati?

To find the answer to this million-dollar question, join our 'One Stock Crorepati' MEGA summit on 20th December, where we will reveal details of what we call a 'crorepati' stock...

We expect this to be the largest ever public event in the history of Equitymaster…

Register NOW and Block Your 'Crorepati' Seat…
------------------------------
Mistakes to avoid during market high
a. Redeeming investment
Often investors tend to book profits when the markets rise. But, by doing so you may forego any potential growth in the future, thereby limiting the opportunities to earn higher alpha.
Furthermore, untimely redemption can prove to be a hurdle in realising your targeted financial goals as per the time horizon you set. Redeem your investments only if:
You have achieved your desired corpus for a financial goal.
The scheme underperforms consistently.
The fund objective changes.
The fund risk profile changes.
In case of a financial emergency.
b. Ignoring asset allocation
While mid-caps are expected to grow in the coming years, one must remember that they are highly risky. Therefore, stick to your personalised asset allocation regardless of market condition to avoid taking undue risk. Invest in mid and small cap funds only if you can bear short-term underperformance and volatility.
c. No proper research
You may be tempted to add more number of schemes to your portfolio swayed by the optimism in the equity market. However, investing in a large number of schemes can do more harm than good. Invest in schemes only after evaluating your needs, financial goals, risk appetite, and investment horizon. Select the schemes that fare well on quantitative and qualitative parameters as compared to its benchmark and category peers.
[Read: The Special Care to Select the Best Mutual Funds in 2020]
Going forward, bouts of high volatility cannot be ruled out and patience of several investors could be tested. In volatile times, it is important to continue investing through the systematic investment plan (SIP) mode.
If you wish to multiply your investment returns in the volatile times through equity mutual funds and build an alpha portfolio, make sure you have an investment time horizon of at least 5-7 years.
Volatility is the very nature of the equity market. It's how we use it to our advantage, perceive the situation sensibly, and devise an efficient strategy that decides our investment success. SIP is a worthy mode of investing that will help mitigate the risk involved with its rupee-cost averaging feature while you endeavour to compound your hard-earned money.
However, remember that selecting schemes prudently will play a crucial role even when you decide to SIP into mutual funds.
At PersonalFN, our latest S.M.A.R.T. Alpha Score Model helps us identify the Alpha funds. We call these funds `winners amongst the winners'; these are ones that make rest of the winners shy of their performance.
The current market scenario is a great time to invest in equity through some well-managed high alpha generating funds.
Editor's Note:
To find the best funds with high alpha generating potential, we have developed a 'SMART Alpha Score' model. It has an additional categoriser on top of our popular 'SMART Score' process.
With optimum weightage to each parameter, which we consider important in identifying fundamentally strong funds with the potential to generate alpha, this model helps us zero in on quality names that have the ability to trump the benchmark and generate alpha returns for its long term investors.
And in our latest exclusive - The Alpha Funds Report - 2019, we have identified five high alpha generating funds selected through PersonalFN's special 'SMART Alpha' methodology.
Happy Investing!
Author: Divya Grover
This article first appeared on PersonalFN here.
PersonalFN is a Mumbai based personal finance firm offering Financial Planning and Mutual Fund Research services.
Disclaimer:
The views mentioned above are of the author only. Data and charts, if used, in the article have been sourced from available information and have not been authenticated by any statutory authority. The author and Equitymaster do not claim it to be accurate nor accept any responsibility for the same. The views constitute only the opinions and do not constitute any guidelines or recommendation on any course of action to be followed by the reader. Please read the detailed Terms of Use of the web site.
More Views on News
Dec 13, 2019
Apple, Titan and Balkrishna Industries have shown, crorepati stocks have some key traits.
Dec 13, 2019
Why was nobody on TV bearish on the Bank Nifty like I was?
Dec 13, 2019
My outlook for the Nifty for the rest of December.
Dec 12, 2019
PersonalFn explains about the upcoming NFO BHARAT Bond ETF, it is the first of its kind to be launched in India.
Dec 12, 2019
Many stocks are quite low in the current market and these stocks can offer you big gains.
More Views on News
Most Popular
Dec 10, 2019
What to do after every trade.
Dec 12, 2019
A high probability trade that worked to perfection for my subscribers.
Dec 5, 2019
This corner of the market could provide more returns than blue chips in 2020.
Dec 3, 2019
Even amid a gloomy economic scenario, there are smallcaps that have grown earnings over last one and a half year and I believe these could be the strongest candidates for a smallcap rebound.
Dec 2, 2019
2019 will be remembered as the year of great money-making IPOs...
More