How To Check Aadhaar Authentication History Online And Prevent Misuse
How To Check Aadhaar Authentication History Online And Prevent Misuse
Dec 29, 2017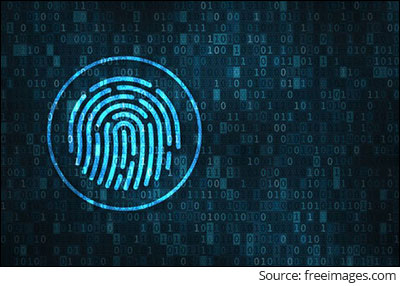 Last year, you had to stand in long queues to withdraw cash from your bank account. Demonetisation was a dreadful experience for most.
This year, if you don't link Aadhaar to your bank account or various other financial services, your accounts may be blocked. Another terrifying experience in the making.
Imagine not having access to your bank account or not being able to redeem your mutual fund units or being restricted from buying and selling equity shares. The liabilities can be unimaginable.
Indian citizens are getting frantic as the deadline to link Aadhaar to important documents and services is just around the corner.
While online facilities are available in most, imagine the woes of those who are not very tech savvy such as senior citizens or those who do not have access to the internet. Many cooperative banks, stock broking firms and insurance companies too, do not provide an online facility. Individuals will need to take leave from work to get their Aadhaar linked to these services.
In response to the Supreme Court, the government has said it is ready to extend the Aadhaar linking deadline to March 31, 2018. As per the latest government notification, with amendments to Rule 9 of the Prevention of Money Laundering (Maintenance of Records) Rules 2005, the deadline to link Aadhaar has now been kept open-ended. The new rule now states that individuals need to 'submit the Aadhaar number, and Permanent Account Number or Form No. 60, by such date as may be notified by the Central Government'.
Further to this, the government notified "31st March, 2018 or six months from the date of commencement of account based relationship by the client, whichever is later, as the date of submission of the Aadhaar Number, and Permanent Account Number or Form 60 by the clients to the reporting entity." Thus, March 31, 2018 is the new deadline for linking Aadhaar to all other financial services such as bank accounts, insurance, credit cards, demat, PPF, etc.
On December 8, 2017, the Central Board of Direct Taxes (CBDT) has extended the deadline to link the Permanent Account Number (PAN) with the 12-digit biometric Aadhaar to March 31, 2018.
The deadline to link your mobile with Aadhaar is February 6, 2018.
Given this frenzy to link Aadhaar, there will be a significant rise in fraudulent activity as well. Phishers are on the prowl to gain your demographic information that is linked to your Aadhaar card number.
Phishing is the obtaining of sensitive information with the intention to commit identity frauds. The culprits are known as phishers.
Thus, you need to check the authenticity of a website before you submit your Aadhaar details online. Check the URL of the website and whether the website is secured. This is denoted by a green padlock sign near the URL.

Even when you submit physical copies or scan copies of your Aadhaar, do mention the date and purpose for which the Aadhaar copy is being used; so that, photocopies of the documents cannot be misused. In the past, there have been cases where mobile numbers were procured by such identity thefts.
Given the privacy concern over the usage of Aadhaar, which stores your biometric and demographic information, the Unique Identification Authority of India (UIDAI) has introduced a service that tracks when your Aadhaar details have been accessed from their servers.
Through this service, you can verify when an agency has gained authorisation to access Demographic, Biometric, and One-Time Passwords (OTPs). UIDAI provides the Aadhaar authentication history of the past six months only.
If you notice any misuse, the UIDAI also provides an option to lock or secure the biometrics linked to the Aadhaar number. You can lock and unlock the Aadhaar biometrics as and when required.
PersonalFN will now outline the steps through which you can view your Aadhaar authentication history online.
There are just two prerequisites. You require your:
12-digit Aadhaar number
Mobile phone to receive the OTP on your registered mobile number
Check Aadhaar authentication history in 3 simple steps
Step 1: Visit the Aadhaar website -
https://resident.uidai.gov.in/
The option to view the Aadhaar authentication history is available under Aadhaar services.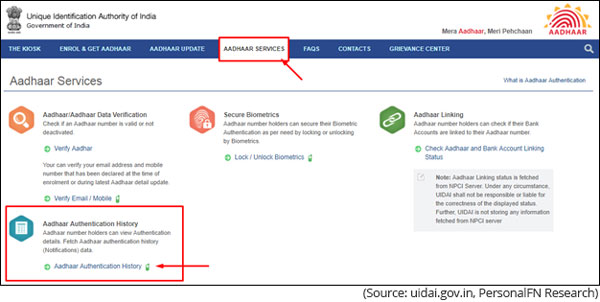 Click the link for Aadhaar Authentication History. You can also access the page directly here: https://resident.uidai.gov.in/notification-aadhaar
Step 2: Enter Aadhaar number to generate OTP
First, enter your 12-digit Aadhaar number or UID in the field provided. After which, you have to enter the security code, and click on the "Generate OTP" button.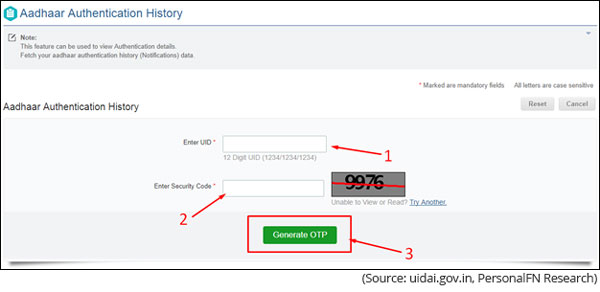 Within a few minutes, you will receive a message on your phone from UIDAI with the OTP. You will need to enter this on the page shown in the next step below.
Step 3: Enter OTP and details of Aadhaar authentication records required
This is the final step. After generating the OTP, you will be redirected to a page as below: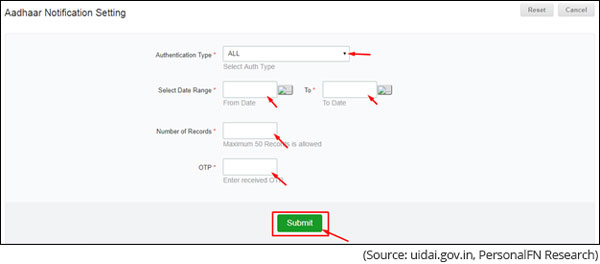 In the first field defined as 'Authentication Type', you need to select from a dropdown as below: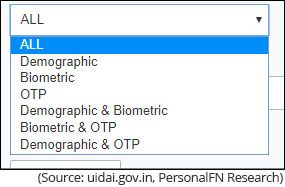 You can choose to view all authentication types pertaining to Demographics, Biometric or OTP, or a single option or a pair. If you are unsure which option to choose, select 'All'.
After this, you need to define the date range. You can pick a range within the past six months only. If you are using this service for the first time, you may choose the entire six months period.
The maximum records are limited to 50. Here again, if unsure, set '50' as your requirement. If you have more than 50 records in the past six months, you can modify the date range or authentication type to view all records.
Enter the OTP received and click 'Submit'.
On successful verification of the OTP, you will be provided with the Aadhaar Authentication history as below: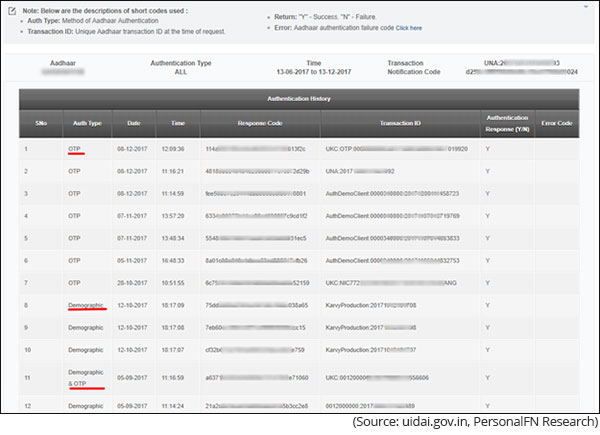 Though the information is cryptic, the transaction ID provides the name of the service provider in some cases. By checking the date and time too, you will have an idea if the authorisation for Aadhaar was given or not. If you see an authentication failure along with an error code, you may view the details of the error code on page 27 of this document: https://uidai.gov.in/images/FrontPageUpdates/aadhaar_authentication_api_2_0.pdf. Authentication may have failed due to mismatch in biometric data, invalid OTP, Biometrics locked or some other technical reasons.
In case you find any misuse of your biometric information, or if you wish to prevent possible misuse, you can do so as below:
Lock Aadhaar Biometrics in 3 simple steps
Step 1: Visit the Secure Biometrics service under Aadhaar Services
Direct your web browser to the page for Aadhaar services - https://resident.uidai.gov.in/aadhaar-services. Choose the option to secure biometrics (Lock / Unlock Biometrics), or visit the link: https://resident.uidai.gov.in/web/resident/biometric-lock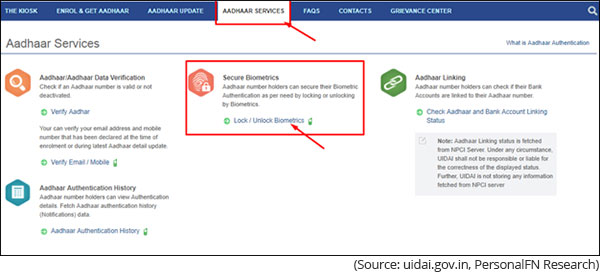 Step 2: Enter Aadhaar number to generate OTP

Enter your 12-digit Aadhaar number and Security code. Then, click on 'Send OTP' in order to receive the OTP on your registered mobile number. Once the OTP is received, enter this number in the field provided on the right hand side. And click 'Submit'
Step 3: Enable Aadhaar Biometric Lock
On successful authentication of the OTP, you will be given the option to enable biometric locking for your Aadhaar number. All you need to do is enter the security code and click on 'Enable'.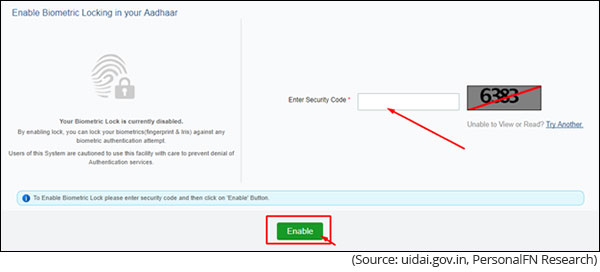 By enabling Aadhaar Biometric locking, your biometrics (use of fingerprint & iris) will be locked against any biometric authentication attempt. Once done, you will receive a confirmation message as below:

Do note, once enabled, you will be unable to authenticate your identity using your fingerprint or iris. You can unlock biometrics temporarily for any authentication requirements. You can also disable the Locked Biometrics. But before that, you will be required to login using your Aadhaar.
To conclude...
Many are stressed with the Aadhaar linking process, especially for financial intermediaries where there is no online facility. Many financial service providers are yet to provide a system for online linking of Aadhaar. What is more cumbersome, is that the process differs from one to the other.
Had the government put in more thought and consulted all the stakeholders to ensure a better implementation, the entire process could have been streamlined to prevent an additional burden to individuals.
Just like demonetisation, where the costs outweighed the benefits, the Aadhaar linking project, aimed to prevent money laundering, seems to be headed in the same direction. At the end of it, the aam aadmi suffers, while the businesses have to bear the costs of implementation.
As the government makes the laws, Indian citizens need to comply or risk being debarred access to their own money.
Linking your Aadhaar is just a temporary phase. Those concerned with Aadhaar misuse, can keep a tab on when and where their demographic information has been accessed. You can even go a step further to secure your biometrics as highlighted in the article.
At PersonalFN, we are committed to providing you unbiased and honest views and opinions on various personal finance issues that can affect your investments and finances. We have been providing personalised Financial Planning solutions to our clients in India as well as to NRIs so as to help them meet their financial goals and objectives.
Check out our financial planningservices here.
This article first appeared on PersonalFN here.
PersonalFN is a Mumbai based personal finance firm offering Financial Planning and Mutual Fund Research services.
Disclaimer:
The views mentioned above are of the author only. Data and charts, if used, in the article have been sourced from available information and have not been authenticated by any statutory authority. The author and Equitymaster do not claim it to be accurate nor accept any responsibility for the same. The views constitute only the opinions and do not constitute any guidelines or recommendation on any course of action to be followed by the reader. Please read the detailed Terms of Use of the web site.
More Views on News
Mar 22, 2018
Certain blue chips hold the potential of delivering returns comparable to small-cap stocks. With these stocks, you can get the best of both worlds.
Nov 29, 2017
Stocks that could beat Sensex returns in the long term.
Jul 20, 2018
PersonalFN brings to you a real-life case of how husband and wife engaged in a sensible money-talk post-marriage to build a solid mutual fund portfolio.
Jul 20, 2018
Bill Bonner talks in detail about US president been accused of treason, biggest debt default in China, the problem of growing inflation and the trade war.
Jul 20, 2018
Here's is a business in small cap space that is asset-light and yet profitable - A serious contender for the list of future blue chips.
More Views on News
Most Popular
Jul 20, 2018
While the attack on the bad corporate governance is an overhang in the near term...this can be a game-changer in the years to come.
Jul 10, 2018
If you're worried about the markets - you are on the wrong track. This is opportunity - put your wealth-building hat on, instead - Richa shows you how...
Jul 11, 2018
The price signals that MSP sends out, creates its own set of problems.
Jul 11, 2018
PersonalFN explains how ICICI Prudential Mutual Fund flouted the norms of related party transactions while subscribing to the IPO of ICICI Securities.
Jul 10, 2018
PersonalFN highlights the key points of distinction between PPF and mutual funds.
More