Where is the Market Headed in January 2020?
Jan 3, 2020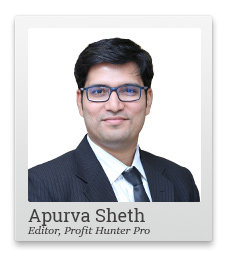 If you want to make money in the markets then you must keep an eye on what professionals do. They are the ones who feed on poor retail investors.
Professionals actively participate in the cash market but the real game is played in the futures market. That's where big money is made and lost.
If you want to be one step ahead of the crowd then you must keep an eye on what professionals are doing in the futures and options (F&O) market.
We concluded the Futures and Options (F&O) expiry last week. At Breakout Profits, I analyse the data every month after the expiry and track what the professionals are up to. Today, I am sharing this update with you.
Let's begin with the rollover data...
Rollover refers to traders shifting their future contracts positions from the December (M1) contract to the January (M2) contract.
A lower than average rollover normally signals uncertainty while higher rollovers show that sentiment is strong.
We track the Nifty futures rollover since it is the benchmark index and most widely traded futures contract.
Open interest is the total number of open futures or options contracts held by market participants at any given point. It is the net number of long or short positions. You can read in detail about open interest here.
| Date | M2 | M1+M2 | Rollover | OI (M2+M3) |
| --- | --- | --- | --- | --- |
| 26-Sep-19 | 14,783,775 | 20,490,900 | 72% | 15,489,375 |
| 31-Oct-19 | 14,310,900 | 17,138,775 | 84% | 14,947,800 |
| 28-Nov-19 | 14,240,700 | 17,996,700 | 79% | 14,696,325 |
| 26-Dec-19 | 11,326,650 | 16,472,175 | 69% | 12,261,450 |
Source: nseindia.com
The Nifty rollovers stood at 69%, which is lower than the previous three-month average of 78%. The Open interest (OI) has decreased to 1.22 crore contracts from 1.46 crore in the previous expiry. This is the lowest OI in six years.
Low rollovers indicate uncertainty even as the index tests new highs with each passing day. The OI being at multi-month lows also suggests that traders refrained from carrying over large positions to the next month.
Now, let us check out the options data and figure out the crucial levels to watch out in the index.
On the options front, call writers have concentrated their activity on the 12,200 and 12,500 strike.
The highest put open interest concentration remains fixed at 12,000 strike for third consecutive month. The second highest put concentration is at 11,500 strike.
The call and put open interest concentration suggests strong support around 12,000 levels for the month of January. Resistance is placed around 12,200 and 12,500 levels.
--- Advertisement ---
One Stock to Buy Now in the Times of Uncertainty

This little-known technology stock comes from a futuristic industry.

The technology from this industry has been a life-saver in the fight against coronavirus in China and South Korea.

Tanushree Banerjee, the co-head of research, is confident that this stock has the potential to emerge as a big winner of tomorrow.

Now after the coronavirus crash, this stock is available at a very attractive price. And the returns from this price could be mind-boggling... Potentially Rs 1 crore or more in the long run.

The window of opportunity to buy this stock is open today. Because as soon as the fears of coronavirus abate, we could see a massive rally in the price of this stock.

Click here for more details...
------------------------------
The Christmas season is almost over now. The trading volumes tapered off exactly as per expectation as market participants, mostly FII's go on holidays. We will see trading volumes pick next week onwards as they come back. This could also flare up some volatility in the markets. India VIX index which is measure of volatility is also at an all-time low.
Now let's check out Nifty's daily chart...
The index was forming a bearish wedge and the RSI was also displaying bearish divergence after last expiry which led to a fall till 11,800 levels.
I wrote to you on 11 December that Nifty could bounce back. It moved exactly as per my expectations and even hit a new high.
--- Advertisement ---
This Lockdown Become a Pro Investor...FREE

We have great news for you.

For the duration of the lockdown – we are giving everybody completely free access to our two most popular learning courses.

Equitymaster's Secrets– an online course that will reveal the complete process behind our own stock–picking strategy.

DeriVantage – an online course that will teach you to trade derivatives – and develop your own trading strategy to create short–term and long–term wealth.

This is a one–time opportunity...with no strings attached. Access is absolutely free – no credit card required.

Just click below and we will instantly activate your free access to either or both courses.

Click Here for Free Access: Equitymaster's Secrets | DeriVantage
------------------------------
Now the index is trending higher in a rising channel. However, the bearish divergence in RSI persists. This means you should remain cautious even though there aren't any signs of reversal yet. You never know what might lead to a sudden fall.
I believe there are three things which could lead to a fall in Nifty in the month of January. I have recorded a video on the same. You can watch it here.
To sum up
The rollover data from December to January expiry indicates weak rollovers and low open interest which suggests traders avoided carrying over long positions in the new expiry.
Options activity suggests Nifty could find support around 12,000 levels and resistance around 12,200 and 12,500.
Technical charts suggest bulls are in control but we must keep our eyes open and run for the door before music stops.
Thus, the bulls are in control as of now and have scope of adding a few hundred points to the Nifty.
But traders must not get complacent and avoid reckless buying as index hits new highs.
Warm regards,

Apurva Sheth
Editor, Breakout Profits
Equitymaster Agora Research Private Limited (Research Analyst)
PS: Have you seen Tanushree's video about her #1 stock recommendation for 2020 and beyond? If you haven't, then I strongly recommend you don't delay. Watch this video NOW.
Recent Articles