Here's Why Smallcaps Could Be Your Best Investment in 2021
Jan 12, 2021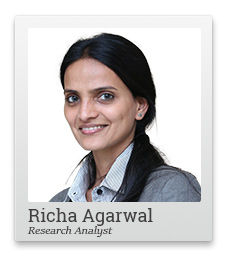 Over the last few months, you have been hearing my views on the rally in the smallcap index.
In the post covid run up, smallcap index has already surged 100%. It has left the Sensex behind.
But this could just be the beginning of the next mega run up in smallcaps?
And I'm not counting on global liquidity for this belief.
Just like my bottom up approach of picking stocks, it is backed strongly on fundamentals and valuations.
Let's talk about the valuations first.
The Sensex is currently trading above a P/E ratio of 30x. This is compared to a median of 20x. There is little margin of safety in valuations of the so called bluechips.
But how about smallcaps? Doesn't investing in them post the same challenge?
--- Advertisement ---
These 3 Stocks are the Dark Horses of the Stock Market

The mainstream media mostly ignores them.

Mutual funds and hedge funds can't buy them in bulk.

Stock brokers rarely cover them.

These stocks are the dark horses of the stock market.

They only come in limelight after they have rallied by hundreads of even thousands of percent.

Our head of smallcap research, Richa Agarwal, has a knack for identifying such stocks before they begin their rally.

Over the years, she has spotted such stocks which have gone on to offer triple and even quadruple digit gains for investors. (* Past performance is no guarantee of future results)

Today, when the markets are near all-time high... and some investors are thinking of booking profits... Richa has spotted 3 such stocks which are set for a massive rally.

She will reveal the details of these 3 stocks on 16th March at her free online summit.

Click here to sign-up instantly. It's free.
------------------------------
Well, here's the thing.
The P/E for smallcap index doesn't make sense. There are thousands of listed small companies. Some have negative earnings. The base is not a valid data to work with.
That said, the closest proxy to relative valuations is the Smallcap to Sensex ratio,
Historically, this ratio has averaged 0.43x. In the previous mega runs of the smallcap index, this ratio has gone as high as 0.75x.
In January 2018, when smallcaps peaked, the ratio was at 0.58x.
Guess where this ratio is now after a 100% run up in the smallcap index?
0.38.
It's lower than the median over 2 decades.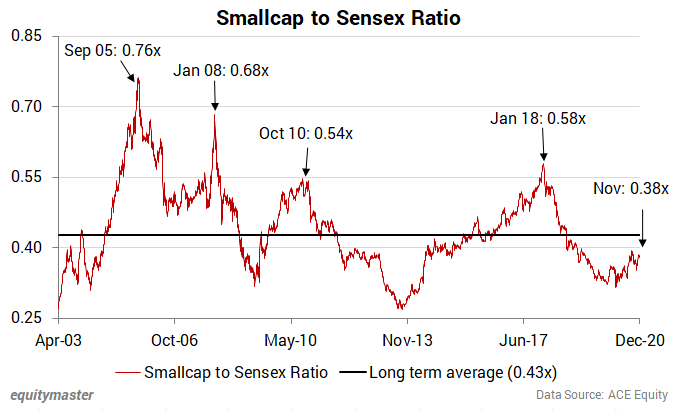 Small-cap stocks is the place where you could find value with a margin of safety along with the possibility of a huge upside.
But it is not just historical data I'm counting on.
Fundamentally, the smallcaps are in a much better place now than they were a few years ago. That includes the bull run that started with Modi wave back in 2014.
You see, I recently pulled out the universe of smallcaps and subjected the list to screeners.
After eliminating companies with high debt to equity, poor returns on capital and negative earnings, I was left with 600 odd companies.
On further analysing the financials of this remaining list, this is what I came across.
The debt to equity ratio for these companies has almost halved - from 0.8x to 0.4x. The quality of earnings, at the same time, has improved substantially with cash flow operations showing double digit growth.
So far so good. These are comforting metrics after the slew of audit related issues that a lot of smallcap companies were in news for.
The real kicker, however, I believe is the capex trend in these smallcaps. It's on a rise.
If used judiciously, this could mean a tremendous growth in earnings for select smallcap companies.
While we have already taken care of the basic hygiene in this list, with a little more digging, I believe one can find a list of smallcap gems that will become the growth stocks for tomorrow.
Learn: How to Potentially Accumulate Rs 7 Crore in Wealth Over the Long-term
But it would not be prudent to wait till then.
By that time, the real rewards would have been reaped.
The only thing that will work in your favour is to get into these stocks well before the big investors do.
My team and I are committed to find such opportunities and bring them out to you well before you hear about them on financial media or newspapers.
If the opportunity in smallcaps interests you, you might want to join me at the Smallcap Revival Summit on Thursday, 28 January.
At the summit, I will show you how to profits from the massive revival in smallcaps.
Despite rallying more than 100% since the March 2020 lows, I believe small-cap stocks are set for a massive up move in 2021 and beyond.
I will also share details of my top 3 small-cap stocks to profit from this rally.
Join me online on the 28th at the Smallcap Revival Summit. I look forward to seeing you.
Warm regards,



Richa Agarwal
Editor, Hidden Treasure
Equitymaster Agora Research Private Limited (Research Analyst)
PS: To book you seat for my online Smallcap Revival Summit, please click here.
Recent Articles