4 Shocks that Could Rudely End this Bull Market
Jan 13, 2020
I've been studying the stock market for over 15 years now. And one of my biggest lessons is that when you least expect it, the markets never fail to spring a nasty surprise on you. Just when you relax and think you finally understand its mood swings, it jolts you so hard, you are knocked right out of your complacency zone.
What happened earlier last week was yet more proof of the same phenomenon. A nice little bull rally that was building up since that corporate tax cut announcement came to a screeching halt. In fact, fears completely replaced whatever hope had been building in the rallying market.
With geopolitics rearing its head and tensions flaring up, the huge 800 points decline on the Sensex was a warning - ignore this development and you could invite great peril.
In fact, this is not the only fear looming on the horizon...
I have identified four possible shocks that could end this bull market prematurely and could even start a brand-new bear market.
Don't let the market shock you...make sure you are prepared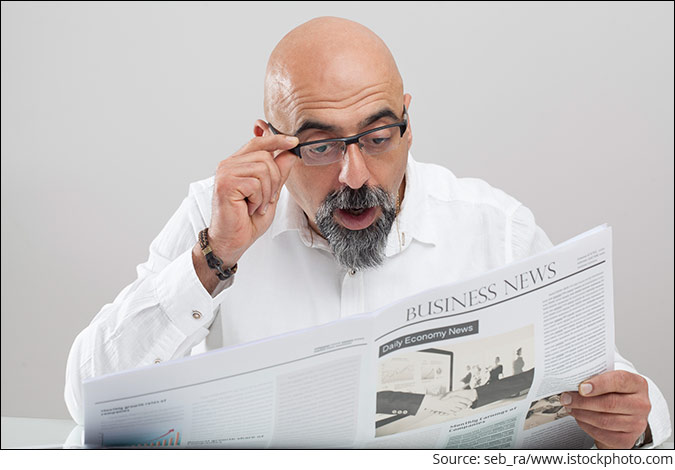 Watch out for these 4 Shocks that Could End the Rally:
Delay in earnings recovery



I don't think anybody will dispute the fact that the entire journey of the Sensex from 20,000 to 40,000 in the last few years has come without any earnings support. I have never seen a dull period for earnings growth last so long in my career. And if this gets extended by a few more quarters, it's certain to make investors deeply anxious.

The extremely narrow rally of the last couple of years is proof that there now needs to be signs of recovery coming in from the ground. In the absence of the same, fund managers don't mind piling onto the same handful of growing companies despite their valuations running up a lot. However, there's a limit to how long one can do this. Eventually, patience is going to run out and people may start exiting stocks in droves.

Credit offtake taking longer than usual



I think there exists a strong co-relation between the first point and this one. Earnings are not recovering because the GDP growth has slowed down. And the GDP growth has slowed down because of the extremely poor credit offtake in the economy.

In fact, non-food credit, one of the main engines that drive the economy, grew only 1.8% during the first nine months of this fiscal. This compares with a growth of 7% achieved during the same period last year.

--- Advertisement ---
Here's an urgent profit opportunity from us that no mainstream media is revealing...

The #1 Stock for 2021.

...An innovative stock with the industry giants chasing it for its technology to touch millions and millions of people every day.

It serves several clients across the globe, but what got me is this...

The stock is leaving all its competitors behind despite the COVID crash, and now the price has already started to move.

There's actually one more reason why this stock could take off and make its early investors rich.

It's revealed here in this note with transparency.
------------------------------

Ideally, in an economy growing at 6%-7% per annum, credit offtake growth should be in lower double digits if not more. So the fact that is ow less than 2% tells us that neither are banks comfortable lending nor are businesses and factories willing to expand - certainly not a good sign for a stock market that's looking to create new highs in 2020.

Beware the Oil on the Boil



Modern economies run on energy and India is no exception. Unfortunately for us, crude oil, one of our biggest energy sources, is imported from abroad. Therefore, it is crucial that its price does not play mischief. Because when it does, it trickles down to everything we consume and the money that needs to stay here to boost growth has to be shipped out to meet our inflated oil bills.

This of course throws a spanner in the economic growth and can result in the stock market witnessing a steep correction. Already, the Brent variety of crude has surged by around 10% during December and could go up further if the conflict in the Middle East escalates.

Certainly not a good sign for India especially when it is dealing with multiple challenges at home.

A global correction could have a ripple effect



The global bull market that started in 2009 is now in its 11th consecutive year. I think that's a record for any recorded bull market in history. While this is certainly great news for those who participated in it all along, please note that no bull market lasts forever. Which is why it is extremely important to turn cautious as the possibility of a deep correction gets stronger with each passing day.

Although India's economy has very limited external linkages, India's capital market is well and truly part of the global financial system. Thus, any tremors are likely to be felt in India as well. Couple this with India's weak macros and you are looking at a potentially lethal mix that can leave a lot of wealth destruction in its wake.
So, there you are. Four major shocks that could derail this bull market and can set the stage for a brutal bear market.
What is an ordinary investor to do? Just watch the events unfold and hope for the best?
Absolutely not.
As I spend more time in the market, I get increasingly convinced that in the stock market, it is not about what the markets will do. It is more about what an investor should do.
And the number one thing any investor should do is to have a capital protection plan in place.
He should ensure that in case of a strong correction, his downside is limited. His capital erosion should be minimized as much as possible so that he can take advantage of the next bull market.
One way to do this is of course buy wonderful businesses. While these could also do down with the market, their fundamentals ought to be so strong that you could see them create new profit records 10 years down the line.
Nothing wrong with this approach in my view. However, the risk with this approach is two-fold. One, finding a few such businesses could be easy. But having a portfolio of 20-25 companies all filled with them is a difficult job. There's very strong chance this portfolio will move quite like the broader market index like a Sensex. And this will defeat our entire purpose of losing less than the index.
Which is why I am such a strong believer in this one simple step...
Always keep a percentage of your portfolio in cash or fixed deposits.
Cash gives you the big advantage of buying stocks on the cheap in the event of a deep correction. Plus, if you have a good percentage of cash in your portfolio, there's a strong chance you will lose much less than the index in a bear market.
This is precisely what I recommend to my subscribers in my Double Income service. I don't hesitate in taking the cash component to as high as 40% when I feel a strong correction is coming in the next 9 to 12 months. And this is one such time in my view. Not only is the broader market expensive from a valuation perspective, we have new potential shocks to deal with.
I am not saying we should turn all cautious and completely get out of the market. All I am saying is we should also prepare ourselves for the worst. And holding cash in the portfolio is one of the best ways to do so.
Warm regards,



Rahul Shah
Editor, Profit Hunter
Equitymaster Agora Research Private Limited (Research Analyst)
PS: On Tuesday, 21 January, India' #1 trader, Vijay Bhambwani, will reveal a highly profitable, time-tested strategy, to make instant income from the market. Join Vijay at the Instant Income Summit. Register for free here.
Recent Articles