Should Only Speculators Invest in Small Caps?
Jan 15, 2019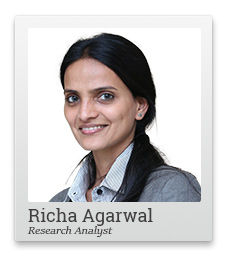 Most have heard horror stories about plunging small cap stocks, and thus think that small cap stocks are only for speculators. They then work with the notion that if you are a real long term investor, you should only invest in large blue chips.
Is this true?
To know the answer, you'll have to move from a vague notion to a more definite understanding of what the difference between 'speculation' and 'investing' really is. For successful investing, it simply does not get any more important than this...
You need to know your place in the investing world - that is, when you are buying a stock knowing whether you are speculating or investing.
Benjamin Graham - the father of value investing and guru of Warren Buffett - placed critical importance on this concept. In his own words:
'An investment operation is one which, upon thorough analysis, promises safety of principal and an adequate return. Operations not meeting these requirements are speculative.'
So it is only when a thorough analysis of the facts strongly indicates that your investment will be protected from a loss under most conditions that you are investing.
--- Advertisement ---


Crucial: These 4 Stocks Could Potentially Shoot Up Soon

Richa Agarwal, the editor of Hidden Treasure has recently released a special report on 4 high-potential small cap stocks that could shoot up in price soon.

With good small cap stocks, all it takes is just one sharp move in the market, and you could be set for years to come. So don't delay.

These 4 stocks may not offer you a second chance…

Get these stocks right now before their prices shoot up.

Click here to learn more before this special opportunity is gone…
------------------------------
However, in the easy language of business channels, newspapers, and brokers, anyone who buys and sells stocks is an investor, regardless of what he buys, why he buys it, or at what price.
But not for Graham.
Warren Buffett, the greatest executor of Graham's philosophies, was once asked this curious question in an interview:
'Isn't speculating and investing all the same?'
'Most definitely not!' came the reply.
Buffett went on to expound that, with an investing attitude, you look to the asset itself to produce the return. So if you buy a farm and expect it to return Rs 1 lac per acre in profits from selling corn, wheat, etc, and you buy it for Rs 10 lac, you are looking at the returns from the farm itself to justify the price you pay for it. That is an investment attitude.
On the other hand, if you buy a stock and hope it goes up next week, that's pure speculation.
So be crystal clear about what you are doing before putting money in the markets. Remember, investing and speculating are different ball games.
Indeed, speculating when you think you are investing is a quick way to lose your hard-earned money!
Once you have this understanding, you quickly realise that speculation has nothing to do with whether you are buying small caps or large caps. It depends on your approach to picking the stocks.
--- Advertisement ---


How 3 Simple Steps Can Tell You Which Stocks to Look Out for in 2019…

Most investors aren't aware of this…

But 3 simple steps can give you a list of potential multi-bagger stocks to buy…

It's easy.


| | |
| --- | --- |
| • | Log on to a website I'll just tell you about… |
| • | Type in the name of the stock you want information on. |
| • | Download a copy of this little-known legal document that reveals Top Stocks which are 'Marked' To Boom. |

This document is only released four times a year…and the earlier you get access, the better.

Click here to get all the answers.
------------------------------
In other words, one could very well be speculating in large caps or investing in small caps.
I'll give you an example.
My next small cap recommendation due to be released today, is an investing idea so simple, that I could illustrate it on the back of a paper napkin.
It has a strong balance sheet - no borrowings, attractive dividends, and trading at almost lifetime lows.
Apart from attractive valuations, what excites me about the business is the way it's integrating technology to stay relevant and gain market share. The new lines of products and services that it has added are likely to contribute to future growth, along with making the business robust across cycles.
What's more, the business has very strong macro tailwinds in its favour.
As you can see, I'm firmly looking at the business and the profits it is likely to make to produce the return while making my decision. I'm not buying it on some vague notion that it is about to shoot up.
In fact, quite the opposite!
I would be happy if this stock corrects after my recommendation - I would ask my subscribers to buy more (lower the average buying price, higher gains in the long term).
Once you're hoping the small cap you're buying falls lower, you know you buying it for the right reasons!
Now that's definitely a solid 'investment' in small caps!
Regards,



Richa Agarwal (Research Analyst)
Editor, Hidden Treasure
PS: Some stocks are so obviously geared for success that one could easily regret missing the boat...don't be that guy. Get Richa's no-brainer stock recommendation by subscribing here.
Recent Articles