Guess Which Stocks Are Rising at Double the Speed of Sensex
Jan 15, 2020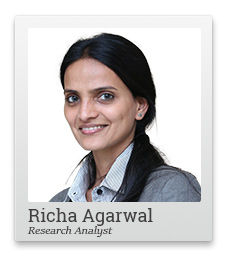 Smallcap stocks move fast!
In fact, they can move much faster than their larger counterparts. It is not uncommon to see smallcap stocks shoot up 40-50% - or even more - within as short as a week. Large cap stocks would be hard-pressed to match their swiftness.
And given the right conditions, investors can make a lot of money out of this tendency.
What are the right conditions?
Chief among these is valuations.
When smallcaps are neglected, beaten-down, and thus available at attractive valuations, the conditions are most ripe for smallcaps to see a rapid and large move upwards.
Whenever that happens, their returns easily leave the rest of the stock market in the dust.
The last time they were beaten down and trading at valuations about as low as they are today, they saw a rapid rebound over the next few months creating massive wealth for investors who bought quality smallcaps.
How Smallcaps Performed After Being Beaten Down in 2013-2014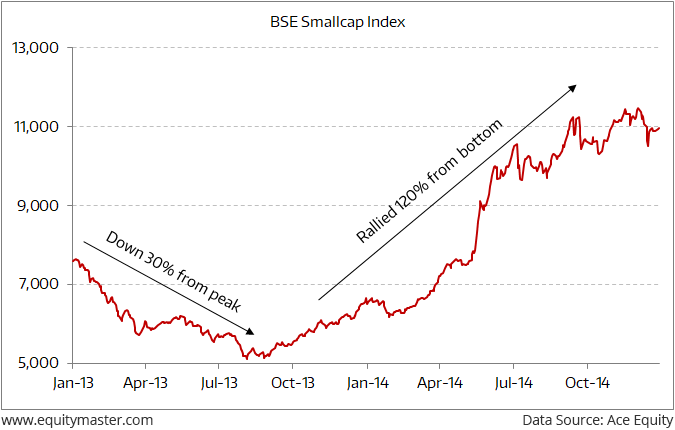 After having been beaten down for the last two years, the conditions for a large rally in smallcaps are just right today.
Yesterday, in my letter I wrote to you about the signals I see that the tide is about to turn for small caps. And if you want the same confidence you should read about these signals.
And in fact, you can see clear as day that the imminent rally in small caps may already be taking shape.
In just over the last month since 10 Dec 2019, the BSE Smallcap index has already risen double that of the BSE Sensex.
While the Sensex has risen about 4%, the Smallcap index is up almost 9%!
--- Advertisement ---

FREE Report: 7 Overlooked Multibagger Opportunities amidst the Coronavirus Scare...

Our Senior Research Analyst and Co-Head of Research, Tanushree Banerjee, has identified 7 stocks set to climb sharply in the coming years riding on a rare economic phenomenon in progress right now.

These 7 stocks are being overlooked right now amidst the Coronavirus Scare.

But Tanushree believes they could rise and enable one to potentially build wealth lasting generations from them in the coming years.

And the best part - till 11:59pm TOMORROW only...you can get Tanushree's special report with details of these 7 stocks virtually FREE.

To find out how, just click here...
------------------------------
Considering that many fundamentally solid smallcaps are still available at attractive valuations in the market, they have a lot of steam left for them to continue this outperformance as 2020 unfolds.
You see, many of my favourite stocks today are trading at low prices and for no fault of their own. In many strong smallcap stocks, the correction is not because of an issue with fundamentals...but simply because of the wave of market correction.
This is a space where not just the weak businesses but almost everything is down, including great businesses with great futures.
Indeed, good smallcap stocks bought at low prices have the potential to multiply your money like nothing else can.
That's precisely why in my smallcap recommendation service Hidden Treasure, I've been recommending some great quality smallcaps at attractive valuations.
And so, the stage is set. Investors smart enough to pick up quality smallcap stocks today will likely find themselves laughing all the way to the bank in the next year or two.
And I'm making sure my subscribers will be part of that group. I've shortlisted one stock I believe is not just safe in a volatile economic environment, but could provide fabulous gains in 2020 and beyond.
Read more about this stock here and make sure you absolutely do not miss this.
Warm regards,



Richa Agarwal
Editor, Hidden Treasure
Equitymaster Agora Research Private Limited (Research Analyst)
PS: On Tuesday, 21 January, India' #1 trader - Vijay Bhambwani - will reveal a highly profitable, time-tested strategy, to make instant income from the market. Join Vijay at the Instant Income Summit. Register for free here.
Recent Articles