Small is Beautiful in 2020 (A Prediction You Don't Want to Miss)
Jan 17, 2020
Editor's Note: As always Apurva predicts the best asset class to invest in in the coming year. Last year he predicted gold and he was bang on... and this year he predicts... wait, you have to read to find out! he wrote this brilliant piece for his Breakout Profits subscribers but is reproducing it here for you as a special favour to me. Don't miss this...read on...
---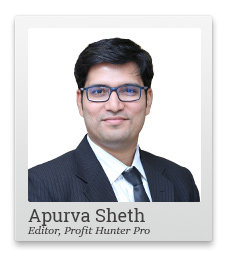 The year 2019 was a phenomenal one for the markets in many ways...
Of all the things the market witnessed this past year - from Reliance Communication's bankruptcy to December's highest ever inflow from SIP's - there was one thing which snuck in without anyone's notice: GOLD.
Gold started the year 2019 at an earthly level of 31,391. On 31st December 2019, it ended at 39,108.
Total gains from Gold = 24.58%
Wow! I bet nobody saw that coming except a few who were ahead of the curve. Not to brag, but your editor is one of them...
I got married in December 2018. And before marriage the one chart which worried me the most was gold. I knew it was about to rocket and shopped for it well before the launch.
And of course, I encouraged you as well to buy gold.
I predicted it would be the best asset class to invest in 2019.
I have written a total of 21 pieces since October 2018 on gold or silver. That's roughly 2 pieces every month recommending that you buy gold.
I don't want to flood this page with links of all the pieces I wrote but if you are a regular reader then you know I was bullish on gold.
I know what you are thinking now - Stop bragging and get to the point.
What do I do now in 2020?
I will tell you what to buy for 2020 in a minute.
But first I want to tell you how I decided gold would be the best asset class to invest in 2019.
First, is of course price action in international and domestic gold along with dollar which suggested that its headed higher.
As you know by now, I am a price action bhakt! I always always follow it...
Second, a lot of people I trust and hold in high regard had a similar view on gold.
The combination of both these things is now happening in another asset class this time around.
Sensex stocks have been in the limelight since 2018. They have managed to hold even as the broader markets collapsed. There's a growing belief that Sensex stocks cannot fail.
On the other hand, Smallcap stocks haven't seen the light of day after the index topped out in January 2018.
Right now, they are hated more than ever. Nobody wants to touch them even with a 10 feet pole.
I believe this could change in 2020.
Smallcaps are coming back in fashion.
Now let's check out the price action and see why I believe so.
Sensex to Smallcap Ratio chart
This is a ratio chart of Sensex to Smallcap index since 2005. At Breakout Profits, we use ratio charts regularly to identify the best investment opportunities.
We also use the greed and fear cycles in the Sensex, IT and Auto index to identify important reversals.
I have combined both in the above chart.
The Sensex to Smallcap ratio goes through a 144-week cycle.
Sensex outperforms Smallcaps when this ratio is in 'safe mode' and underperforms when it is in 'risk mode'.
When markets are in safe mode investors tend to play safe and buy more of bluechip Sensex stocks.
During risk mode, they buy more of Smallcap stocks which generally results in their outperformance.
Outperformance doesn't necessarily mean that Sensex is rising and Smallcap is falling. It simply means, that Sensex is rising more than Smallcap. It could even mean that both are falling but Sensex is falling less than Smallcap.
Basically, the ratio alternates between safe and risk mode at an interval of 144 weeks.
Now there isn't any magic behind this number. I've chosen it because it works... Just follow along with me for a minute and things will get clearer...
The first safe mode began in September 2005 and lasted till June 2008. Sensex outperformed smallcaps by 50%. This simply means if Smallcaps moved up by 100 rupees then Sensex moved up by 150 rupees.
In the risk mode which followed Sensex still managed to beat the Smallcaps by 15%. Now this an exception we can ignore.
In the safe mode which began in March 2011 Sensex outperformed Smallcaps by 47%. In the following risk mode Sensex underperformed Smallcap by 34%. Smallcaps delivered superior returns during this risk mode which began in December 2013and ended in September 2016.
Now it was Sensex's turn to cover up. The ratio entered safe mode in September 2016 and stayed there till June 2019. Sensex outperformed Smallcaps by 24% in this period.
Now we have once again entered risk mode.
Market participants are willing to take risks and the biggest beneficiary will be the Smallcaps.
Now this simply means Smallcaps will relatively outperform Sensex stocks. But we don't make money because of relative outperformance. We make money because of absolute outperformance.
You would make money if the Smallcap index or stocks end higher than where you bought them.
The price action in Smallcap index is indicating that the downtrend could be over and we may be headed for a rebound.
--- Advertisement ---
READ: FULL Transcript of Our Urgent Broadcast

The full transcript of our urgent broadcast on India's Revival is available for a limited time now.

In case you missed watching our broadcast LIVE...

You can see all the important highlights from our broadcast in this transcript.

Please note that we may take this transcript off the internet any minute.

So it is highly recommended you read it immediately.

Click Here to Read the Transcript NOW
------------------------------
But apart from that I would like to draw your attention to people I hold in high regard who also share a similar opinion about Smallcaps.
Richa Agarwal editor of Hidden Treasure probably knows the Smallcap space better than anyone else in India.
Richa has been writing about a rebound in smallcap space for a while now. Out of all that she has published these 2 charts that resonate the most with me.
The Divergence between Smallcap and Sensex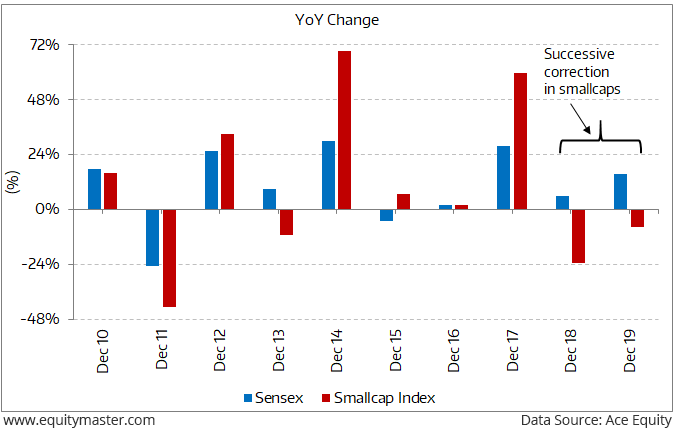 Smallcaps dropped two years in a row in 2018 and 2019. This was a once in a decade kind of event.
That's because it was for the first time that the Smallcaps remained in the red for two successive years.
This is an extreme event and the law of mean reversion could kick in anytime soon and drive this space higher.
Apart from this the fundamentals of Smallcaps have also improved. Take a look at this chart...
Smallcap Space is All Set to Rebound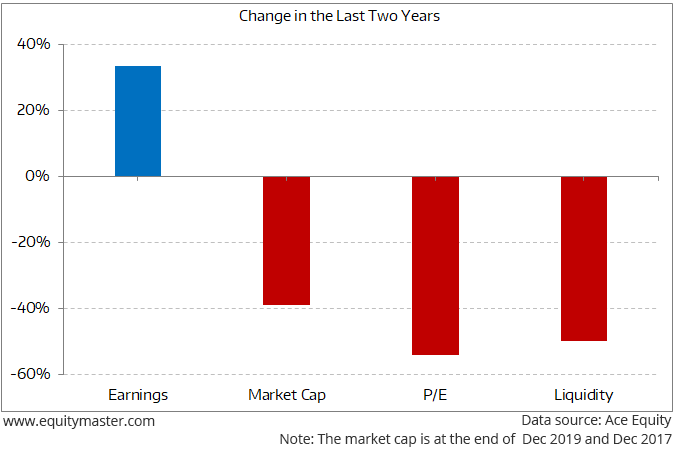 The combined market cap of smallcaps has come down by 39% in last two years. As a result, the P/E (price to earnings) ratio for these smallcaps has fallen from 29 times to 13 times, offering huge margin of safety.
It's time for long term value investors to be back in action mode.
But here's the most interesting part...
You see, combined annual profits for these Smallcaps have grown 33%.
Fundamentals, price action and time cycle all three are pointing to this fact...
2020 Could Be the Year of Smallcaps.
It's marriage season and one of my best friend is getting married over the weekend. Guess what am I gifting him?
A Smallcap Fund.
If you are planning your investments for 2020 then do make space for smallcaps. You can invest through a mutual fund or let an expert like Richa help you pick the right smallcap stock. Or you could trade these stocks with me.
Whatever you choose don't miss out on this opportunity.
I was right about gold, and I'm certain I'm right about smallcaps too...
Happy investing.
Warm regards,

Apurva Sheth
Editor, Breakout Profits
Equitymaster Agora Research Private Limited (Research Analyst)
PS: We thank you for your enthusiastic response to Vijay Bhambwani's Instant Income Summit. More than 12,000 have signed up so far! Vijay will show you how to make regular income from the market with his secret cash codes... all without trading any shares. Register for the Instant Income Summit for free.
Recent Articles