Is 2020 Really Going to be the Year of Smallcap Success?
Jan 20, 2020
If there's one asset class where there's unanimous consent in 2020, it is small cap stocks.
Richa Agarwal, editor of Hidden Treasure - a fantastic small cap recommendation service - notes that small caps are rising at double the speed of Sensex.
Apurva Sheth, editor of Breakout Profits, predicts that Small will be Beautiful in 2020 - outright predicting (based on a lot of facts) that small caps will be THE asset class of the year.
Even Ankit Shah of Insider - with the uncanny ability to pick the best from our extensive range of research - has announced that the small cap rebound has begun!
It seems small caps are virtually a cinch to outperform their large cap counterparts if the stock market has another good year in 2020.
It's simple reversion to the mean at work.
Every Rs 100 invested in Sensex at the start of 2017 had turned into Rs 121 by 2019 end. The same investment in the Small Cap index on the other hand had fetched Rs 75 only.
Thus, while the Sensex returned 21% point-to-point over the two-year period, the Small Cap index was down 25%.
This diversion in performance of the two indices has made many small cap stocks much more attractive than their large cap counterparts.
From a risk-reward perspective, therefore, one would be much better off investing in small caps than large caps at the current juncture.
--- Advertisement ---
READ: FULL Transcript of Our Urgent Broadcast

The full transcript of our urgent broadcast on India's Revival is available for a limited time now.

In case you missed watching our broadcast LIVE...

You can see all the important highlights from our broadcast in this transcript.

Please note that we may take this transcript off the internet any minute.

So it is highly recommended you read it immediately.

Click Here to Read the Transcript NOW
------------------------------
However, before you blow your hard-earned money on a small cap buying spree, you would do well to glance through the following chart.
Sensex has Spent 86% of the last 30 Years at a Lower Price to Earnings Ratio than Today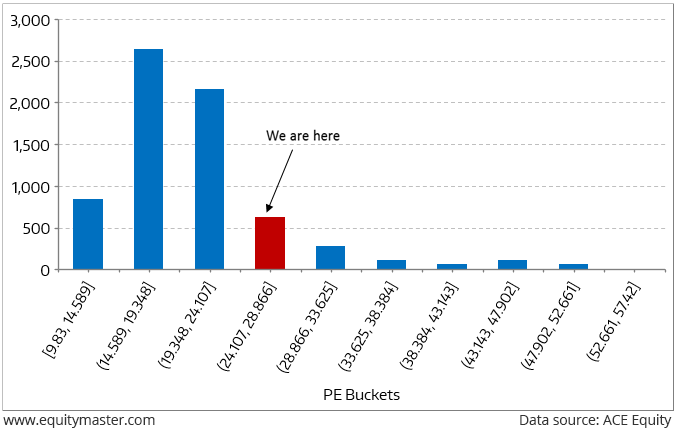 So, what if the small cap index doesn't go up in 2020?
Instead, what if the Sensex undergoes a huge correction which in turn leads to a correction in the Small Cap index as well?
Well, according to this data that is a very real possibility.
Sensex is currently trading at a trailing twelve-month price to earnings ratio of more than 26x.
The graph shows that the Sensex has spent a lot more time trading at a lower price to earnings ratio than 26 x than at a higher one. Six times more time trading lower, to be precise.
This basically means that the possibility of the Sensex PE going lower from here is very high - which would lead to a strong correction.
Given these contrasting signals, what is an investor to do?
Should he ignore the Sensex valuations and put all his money into small caps?
Or should he forget about small caps and completely exit stocks in view of the high PE multiple of the Sensex?
Well, in my Double Income service, I have figured out a smart way to play these events.
I will be going for a nice large chunk of small and midcaps in view of their recent underperformance.
But - and this is crucial - I would also keep a significant chunk of the corpus in cash. I might even take the cash component to as high as 40%.
This way, if the markets don't correct and if small caps outperform, the corpus will benefit from its significant exposure to small caps.
However, if markets do correct then the large cash component will ensure the overall corpus corrects much less than the market.
What's more, it will also give us the opportunity to buy stocks that would have become more attractive post the correction.
Isn't this the best of both the worlds?
I call having a significant exposure to cash my Plan B. It will come in extremely handy if Plan A of profiting from the Small Cap rebound does not pan out as expected.
It is a great way of minimizing risk in one's portfolio.
I strongly believe you should implement it if you haven't already.
Warm regards,



Rahul Shah
Editor, Profit Hunter
Equitymaster Agora Research Private Limited (Research Analyst)
PS: Vijay will be live online tomorrow, at 5 pm at the Instant Income Summit. If you haven't registered for it yet, spare a minute of your valuable time and do so now. Here's the link to sign up for Vijay's summit.
Recent Articles