How to Invest in Smallcap Stocks in 2021 and Beyond
Jan 22, 2021
Editor's Note: Two weeks ago, our smallcap guru, Richa Agarwal, shared her view on how she looks at investing in smallcaps this year. I'm sharing this with you today because Richa is all set to reveal her investing strategy as well as her top 3 small-cap stocks at the Smallcap Revival Summit. Read on...
---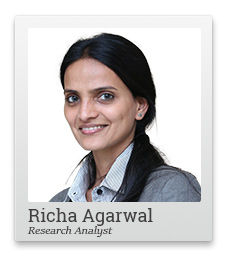 2020 will perhaps go down as one of the worst years in many decades, perhaps the worst year in this century.
Personally, for me, it was a year of many learnings.
The first was working from home. It was indeed challenging as the working hours kept stretching amid multiple distractions. It indeed took me sometime to get used to it.
I can now say that I have become better at time management.
Not being able to travel to visit managements was one of the biggest setbacks this year. Nonethless, we could overcome this, connecting with them through smartphones and video calls.
I must say that even when the pandemic is over, we will continue to make use of it given how time and cost it saves.
--- Advertisement ---
Replay Available: Super Smallcaps Summit

Today, we went LIVE with Richa Agarwal's Super Smallcaps Summit.

Richa revealed details about the 3 'dark horse' stocks that could potentially hand you hundreds or even thousands of percent in gains over the long term.

However, you missed the Exclusive event for some reason.

And because we don't want you to miss out on this rare opportunity, we have a replay of the event arranged for you.

Click the link below to watch the replay now.

Watch the Replay

or click here to read the transcript
------------------------------
As an analyst, this was a year of validation for me.
You see, smallcaps had been in a downturn since hitting the peak in January 2018. Most of the stocks in this space, including some of our own recommendations, had witnessed crashes to the extent of 60%.
While I had been expecting a rebound since May 2019, the smallcaps continued to underperform with no clear trigger.
In fact, in March 2020, the smallcap index crashed to 8,000 odd levels. We were in an unchartered territory. The rebound seemed like a shifting milestone.
We then tweaked our approach to focus on essential businesses that we were certain would remain relevant and grow stronger when the dust settles.
Since then, we've added our assessment on the resilience, agility, and ability to pivot business models to the changing macro dynamics to our stock selection process. This become a critical aspect of recommending smallcap stocks.
Equitymaster's Stock Screener: Identifying High-Potential Stocks Has Never Been this Easy
And I'm glad that some of the stocks we recommended under 'essential' theme have already surpassed our expected target prices, within months of recommendation.
Against all odds, the markets have surged. This time, the gains in the smallcap index have outperformed the gains in the Sensex.
Finally, the rebound theme we had been betting on is playing out.
And it just underscores what we have always believed in. With the right process, allocation, and time horizon, smallcaps, despite all their volatility, deserve a place in your portfolio.
So that was 2020.
But what can we expect next?
I believe this rally has a long way to go. I say so not because of the liquidity that is flush in the market.
--- Advertisement ---
REVEALED: Multibagger Stock Ideas for The Next 10 Years...

Electric vehicles...

Renewable energy...

E-commerce...

From where will the biggest winners of the next decade come from?

The Answer Will Surprise You
------------------------------
I have noticed some interesting trends in the smallcap space. They suggest strengthening fundamentals.
Also, despite the recent surge, on a relative valuation front (as compared to Sensex), smallcaps seem to be a space where you can still buy good stocks where growth meets value.
I am very much excited to share these findings in detail, along with my top stock recommendation for 2021.
Join me at the Smallcap Revival Summit on 28 January and I'll share the details of my top 3 stocks for 2021 and beyond.
Registration for the summit is now open and I'm expecting an attendance in the thousands.
Warm regards,



Richa Agarwal
Editor, Hidden Treasure
Equitymaster Agora Research Private Limited (Research Analyst)
PS: To book you seat for my online Smallcap Revival Summit, please click here.
Recent Articles