Is it Time to Plan for Sensex 100,000?
Feb 1, 2021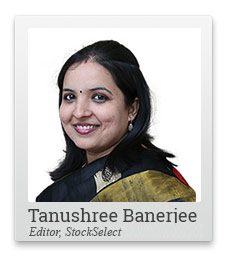 As I write this, the BSE Sensex is set to chart one of its biggest Budget day gains.
At close to 50,000 level, the index has factored in many positives.
GDP growth could bounce back to 11% in FY22. A sharp revival in corporate earnings is almost certain. Bank NPA resolution is on the cards.
And the sluggish manufacturing sector is finally riding several tailwinds.
So, the question on your mind must be - Is it Time to Plan for Sensex 100,000?
Well, let me answer that for you.
--- Advertisement ---
We are Bullish on These 3 Little-known Stocks

Our research has uncovered 3 tiny stocks.

You won't hear about these stocks from the mainstream media or your stock broker.

They generally ignore such small size companies.

But our research says, these 3 little-known stocks are set for a massive rally over the coming months and years.

They can potentially offer solid double and triple digit gains to investors.

So, if you are an investor looking to buy good stocks to invest in...when the markets are at all-time high...

Then you must seriously consider these 3 stocks.

You can get the details of these 3 stocks at our free online summit.

We would recommend you to sign-up at the earliest. Because we have limited FREE seats and they are filling up fast.

Click here to sign-up instantly. It's free.
------------------------------
In fact, I will also tell you how you should reset your stock picking to make the most of what is in store.
The biggest catalyst for Indian stock markets is a sharp and sustained revival in corporate earnings.
What was holding it back over the past five years was a sluggish infrastructure outlay and stagnant bank credit cycle.
Budget 2021 did address both these concerns to quite an extent.
Big ticket infra outlays in roadways, railways, shipping, gas pipelines, and power transmission, in fact took centre stage in the Budget.
And there are two reasons why I believe that infra plans won't remain on paper.
First, the dedicated Development Finance Institution could handle most of the long-term infra funding that banks shy away from.
Two, the Disinvestment and Asset Monetisation Pipeline, if executed well, could be a gamechanger for public funding.
LIC's IPO alone could raise up to Rs 900 bn. Sovereign wealth funds and pension funds could also come calling.
But what about the other sectors?
Well, a revival in credit cycle hinges on the bank NPA risks getting resolved. Privatisation of certain PSU banks and pooling the NPAs in a separate asset reconstruction company seem good makeovers.
But here is a caveat.
Neither the infrastructure story nor the credit led manufacturing revival are themes that could generate profits in a few months.
These are megatrends for long-term investors to profit from.
So, the time to prepare for Sensex 100,000 is here, as long as you set your expectations right. The ride won't be smooth.
Learn: How to Potentially Accumulate Rs 7 Crore in Wealth Over the Long-term
And the gains may no longer be concentrated in Sensex stocks.
Yes, you read that right.
Today, the markets may cheer Budget day gains in Sensex stocks.
But the underdogs, according to me, are the stocks beyond the Sensex.
Sound, solid, well managed businesses with tons of free cash could attract more investor interest in the days to come.
Sectors that have been side lined for years could be back in the spotlight.
Promising startups may fuel of the growth of companies that acquire them.
And the real Budget gains could be in the most underrated stocks over the years to come.
So, sit back and enjoy the gains.
But remember, act only when the time and valuations are right.
Warm regards,

Tanushree Banerjee
Editor, StockSelect
Equitymaster Agora Research Private Limited (Research Analyst)
PS: What do you think about the budget dear reader? Share your thoughts here.
Recent Articles