Aur Kitna Niche Jayega...?
Feb 8, 2019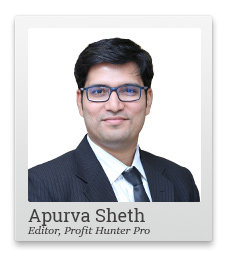 One stock of Reliance Communication (Rcom) is now even cheaper than the lowest price prepaid recharge of Rs 10.
Let this thought seep in to your mind... Read this line again...
One stock of Reliance Communication is now even cheaper than the lowest price prepaid recharge of Rs 10.
Rcom fell from an all-time high of Rs 818 in January 2008 to an all-time low of Rs 4.85 recently.
Rcom's free float market capitalisation dropped from a high of Rs 1.65 trillion to a measly Rs 20 billion.
BREAKING: Here's Investment of the Decade
Rcom is undoubtedly one of the biggest wealth destroyers in the Indian stock market.
Over the years that Rcom has been listed on the bourses one thing has happened at regular intervals.
Once the stock price falls, the clamour of Aur Kitna Niche Jayega grows by leaps and bounds.
'It has already fallen so much how far down can it go from here' is the common question in most investors' minds.
And to everybody's surprise the stock drops even lower every time people think it can't go down anymore from here.
Thankfully it won't surprise people anymore. The company would seek a fast-track resolution through the bankruptcy court National Company Law Appellate Tribunal to resolve its indebtedness. The company's debt almost doubled from Rs 250 billion in 2009-10 to Rs 450 billion now.
--- Advertisement ---
[EXCLUSIVE] Webinar Invitation - "10 Charts, 1 Growth Story - INDIA"

Date: April 23rd | Time: 6pm | Venue: Your Computer

The second wave of the pandemic is here.

But we did beat the first wave, and surely we will beat this one too!

There is a reason why India is poised to be a global superpower soon.

The growth story of India has spanned over the past decades and is only getting stronger.

Hence, it only makes sense for smart investors to have all the information & answers to make the most of India's growth trajectory.

That is exactly what our Live & Exclusive Webinar will cover.

• Has Covid Impacted India's Long Term Growth Potential?
• What Opportunities Does India's Growth Story Create For You?
• Is Equities The Best Way To Play India's Long-Term Growth Story?

And many more...

Click Here to Register FREE for this Exclusive Webinar
[No Payments | No Credit Card | Absolutely FREE]
[Yes! I want to attend this Webinar]
------------------------------
Price wars, heavy debt and plunging profitability took its toll on Rcom forcing it to file for bankruptcy last weekend. The company's stock price crashed 99.38% from its all-time highs yesterday.
It's just a few rupees away from the lowest level a stock can drop to - Zero.
A lot of people invest in beaten down stocks thinking they have already dropped so much and can't drop further. After all the risk is only a few rupees.
However, people forget one thing when they buy a stock every time it falls thinking... aur kitna nicha jayega.
If you buy a stock which has fallen from Rs 800 to Rs 50 your risk isn't just the 50 rupees. But it's 100% of the capital you decide to put in such stocks every time.
A 100% loss of capital in each investment although small can eat up a significant portion of your total portfolio.
And that's why one should be careful while buying such penny stocks just because they have fallen a lot from the top.
If a stock has fallen from Rs 800 to Rs 50 nothing stops it from going down to Rs 25.
--- Advertisement ---
[Watch Now] 3 Little-known Stocks We are Super Bullish On




Click Here to Watch Now
------------------------------
Now an additional move of 25 rupees may not matter much if you have entered the stock at Rs 800. But if you have bought the stock at Rs 50 and it falls to Rs 25. Then it's still a loss of 50% of your capital.
You know how difficult it is to recover from a 50% loss, right?
| Initial Percentage Loss | Percent Rise to Breakeven |
| --- | --- |
| 10% | 11% |
| 20% | 25% |
| 30% | 43% |
| 40% | 67% |
| 50% | 100% |
Just look at the above table first before you buy a stock thinking aur kitna niche jayega. A 10% loss on initial entry price requires a 11% rise to breakeven. A 50% initial loss requires 100% gains to breakeven.
It would be a herculean task for penny stocks like Rcom to move up by 100%.
Now if you still decide to go ahead with the purchase then don't forget to use stoplosses on your trade.
Stoplosses are the predetermined points at which you exit from your positions when a trade goes against you.
Having a stoploss is as good as having a best friend watching you over when you are at risk.
Having a stoploss in place is like having a reality check from a friend when you need it the most. A stoploss ensures that you do not risk more than you had initially thought of especially while trading in penny stocks.
I am sure you know at Profit Hunter Pro, I avoid recommending trades in such stocks. I choose only the best of the best stocks for trading. These stocks have passed all the fundamental filters of the Equitymaster Research team.
I recommend a stock for trading only when it passes all the fundamental and technical filters. Right now I have atleast five fundamentally strong stocks in my watchlist and am waiting for them to meet all the criteria I set aside before recommending them to my subscribers.
With markets breaking out of the range these stocks can soon become active for trading. If you want to benefit from them know more here.
Regards,

Apurva Sheth (Research Analyst)
Editor, Profit Hunter Pro
PS: To get Apurva's latest short-term trading recommendation along with his popular daily trading newsletter with his completely no-nonsense approach, sign up here.
Recent Articles