US$2,000 versus US$ 7 Million: A Single Stock That Can Make You a Crorepati
Feb 14, 2020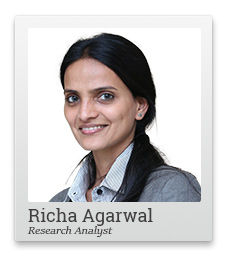 Ever heard of Grace Groner?
Grace was born in 1909 in the US, in a small farming community.
At the age of 12, she was orphaned and taken in by a kind man of her community who paid for her education.
After graduation, she lived in a small cottage that she received in a will. She used to shop for clothes at rummage sales. She never married. She is known to have never used a car. She was frugal and preferred to walk.
For more than four decades of her life, she worked with the same company.
On January 19, 2010, at the age of 100, she passed away.
Now that doesn't make much of a story. And I will not be surprised if you have never heard of her.
So why am I talking about her?
Well, the story of Grace Groner gets interesting on account of what happened after her death.
NEW: 5 Pandemic-Proof Smallcaps You Should Know About...
You see, in her will, she had left a gift of US$7 million to her alma mater to start a scholarship program for students who were financially challenged.
Her wealth wasn't an inheritance. She did not retire with hefty pay package. And it wasn't a result of her savings either.
So how did she manage to amass such wealth?
Her will left many in shock...even the people in her own community. And it became the talk of the town when leading dailies covered it, including Los Angeles Times and Huffington post.
Turns out that in 1935, after a few years in work, she had bought three shares of Abott Laboratories (the same company where she worked for over four decades), all for US$180 (US$ 60 per share).
For 75 years, she held those shares, which after all the splits and dividend reinvestments had turned into 1 lac shares by the time she died. And that was the reason why she was able to leave such a will behind.
It's a different thing she did not choose to spend on herself, but she was indeed a 'One Stock Crorepati'.
Imagine the kind of difference one decision, one stock made to her life.
Had she saved the initial investment worth US$180 in bank, she would have died with an amount less than US$2000 after 75 years. But she invested in the right stock at the right time, and most importantly, had the patience to let her investment grow and witness the magic of compounding (mind you she could easily have enjoyed an early and wealthy retirement on account of this investment had she wanted).
Stories like these, globally and back home have inspired me to study 'Crorepati stocks'...and all that goes into making them.
After a decade long career in equity research and subjecting my experience to some hard analysis, I think I have found the recipe.
And I'm all ready to share it with you.
If you want to be a part of this journey, my 'One Stock Crorepati' Mega Summit is live until tonight only! I hope you will take the opportunity.
Warm regards,



Richa Agarwal
Editor, Hidden Treasure
Equitymaster Agora Research Private Limited (Research Analyst)
PS: Richa's One Stock Crorepati summit will make many of her subscribers very wealthy. Today is the last day for anyone who missed it and is interested in small cap crorepati stocks to watch her video. If you are even just a little bit curious - I suggest you give her a quick listen.
Recent Articles