The Next Few Days Are Crucial for Smallcap Investors - And 3 Must-Buy Stocks
Feb 19, 2020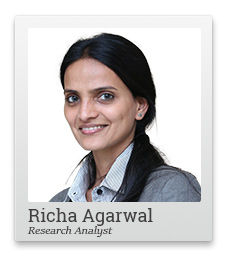 While I have been writing and talking about the rebound in smallcaps for quite sometime now... there is one question that I have always shied away from:
When exactly is the smallcap rebound happening?
Timing the market is not my skill. And anyone who tells you they can time the market is likely stretching the truth...
I just reach conclusions depending on the gap between intrinsic values and market valuations - ie how much is a stock actually worth vs how much the market has priced it at.
And being a believer in long term value investing, I do not mind waiting.
But something is about to change.
Before I talk about it, let's go back in time.
The quarter ended December 2017 marked a turning point for smallcaps.
This was when the market regulator came up with reclassification of smallcaps, midcaps and largecaps and rationalization of mutual fund schemes.
In simple words, the smallcap, midcap and largecap universe was redefined.
The move, in a way, rewrote the rules for fund managers...and set strict rules to comply with to allocate funds.
Now this step was laced with good intentions...
To discipline the fund managers, who were diverting funds meant to be invested in large and midcaps to smallcaps (in quest for an alpha or market beating returns).
To allow investors to make a fair comparison of different schemes.
However, this led to some second order effects...
With strict norms in place, the allocation to smallcap and midcaps took a sharp hit in the following months. There was a flurry of announcements over a few months.
Smallcap schemes were shut. No more money was being accepted to invest in the small space.
--- Advertisement ---
Here's an urgent profit opportunity from us that no mainstream media is revealing...

The #1 Stock for 2021.

...An innovative stock with the industry giants chasing it for its technology to touch millions and millions of people every day.

It serves several clients across the globe, but what got me is this...

The stock is leaving all its competitors behind despite the COVID crash, and now the price has already started to move.

There's actually one more reason why this stock could take off and make its early investors rich.

It's revealed here in this note with transparency.
------------------------------
Here's how institutional investors reacted...
At the end of December 2019, 83% of the total institutional money was invested in top 100 stocks, 13% in the midcap stocks...
And a paltry 4% in smallcaps.
This compared to 78%, 14% and 9% of institutional money in largecaps, midcaps and smallcaps in December 2017 (before the regulator intervened).
As you can see in the chart, smallcaps lost the most.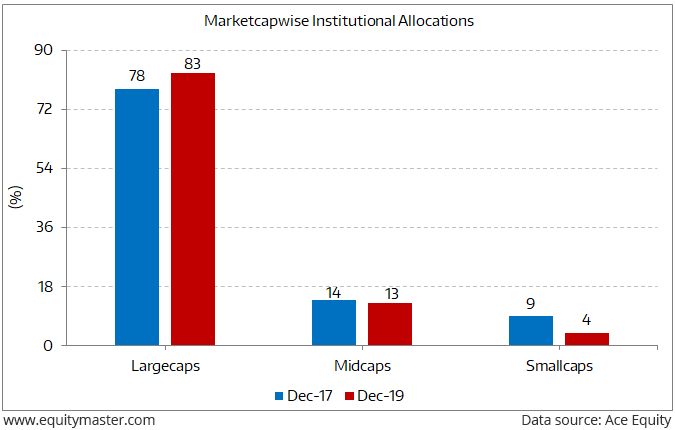 The big money found its way out of smallcaps to the bigger stocks...and irrationally so.
That's because while smallcaps were overvalued by the end of 2017 (and some correction was warranted), this over correction and growing chasm was driven more by regulation than fundamentals.
Naturally, smallcaps crashed. While their larger peers kept rising and rising...
From December 2017 to February 2020, the marketcap for listed companies went up 1.9%.
As of now, the largecaps (top 100 firms by market cap) together account for 75% of the marketcap.
The midcaps (next 150) together command 15.5%.
The remaining are smallcaps - over 2,000 stocks, commanding just 9% of the marketcap.
Before mutual funds were made to follow this rule, the top 100 firms commanded 67% of marketcap, the next 150 firms commanded 17.2% of marketcap and the remaining (what you could classify as smallcaps as per current norms) commanded 15.4%.
So, the (marketcap) share of smallcaps came down from 15.4% to 9%. In absolute terms, the marketcap came down from Rs 23 billion to Rs 13.9 billion. This was a decline of nearly 40%.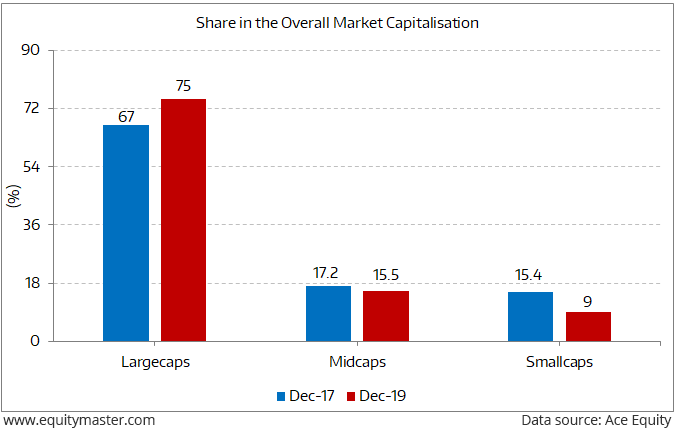 But no anomaly can continue forever.
And it's time for the gap between smallcap and large cap to shrink.
Cut to today...
After a huge clamour by big investors that the regulatory move has limited their flexibility and led to overcrowding of money in select set of stocks (largecaps mainly), the regulator is taking notice.
The latter has suggested that it will relax its norms. As such, more stocks can now be included in smallcaps and large caps category.
This could mean that some of the smallcaps will be classified as midcaps...while some midcaps would move to the largecap category.
This could benefit smallcaps in two ways:
Smallcaps that shift to the midcap category will see increased inflow of institutional money.
Second, smallcap focused schemes will have a smaller universe to play in (with some smallcaps moving into the midcap space). So, more money is likely to be redistributed into a different set of smallcaps.
But this opportunity is not about any smallcap stocks. The biggest beneficiaries of this tweak are likely to be smallcaps that are niche leaders with strong balance sheets and solid management teams.
Over the last year, through my webinars I have shared with my subscribers the smallcaps that I believe are best positioned to benefit from such shifts.
Coming to where I started...
I believe the next few days could mark a clear turn around in the performance of smallcaps.
As big money chases these smallcaps, the impact and extent of a rebound could be sharp.
This could be a once in a decade opportunity to make a killing in smallcaps. I hope you will make the most of it.
Wondering where to start?
Consider Rebound Riches: 3 Stocks Set to Become India's Next Mega-Stocks.
Warm regards,



Richa Agarwal
Editor, Hidden Treasure
Equitymaster Agora Research Private Limited (Research Analyst)
PS: On Tuesday, 25 February at 10 AM sharp, Tanushree will reveal details of the Greatest Money-Making Opportunity very few Indians know about! Get the details of this event here.
Recent Articles