It's the Beginning of a New Bull Phase in Smallcaps
Feb 24, 2021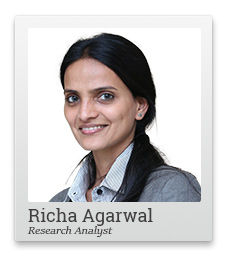 Have you ever been on a roller coaster ride?
As the car rides up, the excitement is palpable. With the wind in the hair and the face, being on the top of the world feels good.
Until the car takes a dip...
As the body is in an almost free fall, no amount of holding tight seems comforting enough.
And it seems like the end of the world.
Of course, you know it's not. The ride becomes stable again.
And the cycle continues.
It's the first move that is challenging.
Then you figure out how it works. You can anticipate the point of the drop and rise. It helps you manage your excitement and actions.
Quite a few investing legends compare stock markets to a roller coaster ride. Given the extent of swings and the emotions it generates, one can relate.
--- Advertisement ---
READ: FULL Transcript of Our Urgent Broadcast

The full transcript of our urgent broadcast on India's Revival is available for a limited time now.

In case you missed watching our broadcast LIVE...

You can see all the important highlights from our broadcast in this transcript.

Please note that we may take this transcript off the internet any minute.

So it is highly recommended you read it immediately.

Click Here to Read the Transcript NOW
------------------------------
However, these comparisons can be too simplistic, even misleading.
As I'm writing this, the small cap index is at 19,606. This is close to the level in January 2018, when smallcaps peaked.
The index then crashed by over 50%.
There is a group of investors who believe the cycle has peaked yet again.
So, where are we in this cycle right now? Is it time to buy more or book profits?
I would say both. I'm actually practicing it.
Yesterday, I asked Hidden Treasure subscribers to exit the stock of Sonata Software, after booking 203% returns in about 4 years and 8 months (CAGR of 26.7%).
This compares to a gain of 72% for the smallcap index in the same period.
It's worth mentioning here the returns on the stock were nil in the first year of the recommendation and also in March 2020.
Take a look...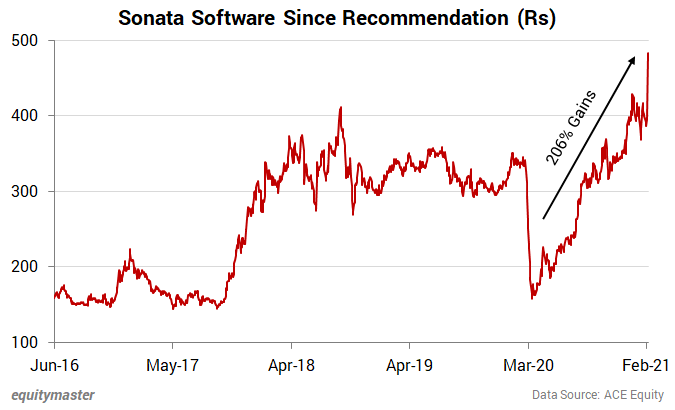 It's only in the post Covid rally that the stock made up for the lost time.
As you can see, it was worth the wait.
It needed patience and acceptance for the randomness and volatility in the markets.
Also needed was conviction to hold on the stock through the period of non- performance. Finally, the valuations caught up with the positive fundamentals, and we had a big winner.
--- Advertisement ---
[Watch Now] 3 Little-known Stocks We are Super Bullish On




Click Here to Watch Now
------------------------------
But like I said, it's not just time to book profits, but make some of the most rewarding bets.
While there are individual stocks where valuations have overrun, for most stocks in the smallcap space, this could just be the beginning of a great revival.
And I'm not saying this because the history of rebound suggests so.
As the Sensex crossed 50k, it's trading at a P/E ratio of 35. It's high enough to make me nervous about the margin of safety in these index stocks.
However, it's comforting that the Smallcap to Sensex ratio today stands at 0.39x.
This compares well to the long term average of 0.43x and previous peak ratios from 0.58x to 0.75x.
This means that with a strong stock selection process, there is a very good chance of finding great stock bets in the smallcap space.
Here's a checklist you can use.
Look for companies which...
Dominate their chosen niche
Have built a durable fortress that competition finds difficult to breach
Have strong long-term growth prospects
Generate returns well above their cost of capital while using little or no debt
Are run by competent, visionary, ethical, and experienced people
That's it!
Even if you find only few such businesses, it will be enough.
The key is to buy them at attractive valuations and hold on to them through thick and thin.
EXPIRES TOMORROW: Full Transcript of Our Urgent Broadcast on India's Revival
During market corrections, increase your holding in these stocks. Let the magic of compounding do the rest.
As I have mentioned in my earlier editorials, the fundamentals of quality smallcaps have dramatically improved over last few years.
The balance sheet and earnings quality have improved for the 650 companies in this space that pass through my financial screener.
And the confidence is quite evident in the management tone and commentary during the earnings calls.
A lot of companies are guiding for robust growth over FY20 numbers (a pre-covid number). Most of them have already incurred capex for this growth.
The beauty of the smallcap space is that there are thousands of listed companies (unlike a total of 250 for large and midcaps combined).
A broad universe gives you many stocks to choose from. With enough diligence, you could find solid bargains despite the rally in the smallcap space.
In fact, last week itself, I recommended a stock to my subscribers.
It's niche leader in auto ancillary space with over 60% market share.
The company could be a big beneficiary of rise in the electric vehicles. However, the parts it manufactures find use in combustion engine powered vehicles as well.
Irrespective of whether electric vehicles become a norm or not, it's on its journey to add more value to its product mix.
In turn, this has led it to double its profitability. The company has also maintained positive direction in the revenue growth.
I believe, it's likely to witness a substantial boost in the margins over the next three years.
Hidden Treasure subscribers can read the stock recommendation here.
If you're not a subscriber it's still not too late to join the smallcap revival.
But you need to act fast.
Given the pace at which markets are rallying, it may not be long before buying opportunities are lapped up.
Stay tuned more updates on the smallcap revival and actionable opportunities in the smallcap space.
Warm regards,



Richa Agarwal
Editor and Research Analyst, Hidden Treasure
PS: Get my best small-cap stock recommendations here.
Recent Articles