30% Gains in 9 Days...This Smallcap Rebounds as Predicted
Feb 26, 2020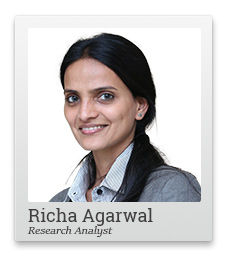 Enough has been said on China's corona virus and how it could impact economies and stock markets. But hardly enough to help you turn this crisis to your advantage.
Let me tell you a different story that has to do with China. One that could help you make money.
Actually, it's no story. But a real phenomenon. I shared it with my subscribers a few years ago. I want to talk about it today due to its relevance to one of my biggest bets this decade.
The story begins with a seed and the vision of a farmer who believes in its potential to grow into a tall bamboo tree. Chinese bamboo needs a lot of nurturing - sunlight, water, and a prolific soil. Day after day, the farmer waters the seed he has sown.
In the initial years, nothing happens. No leaves or shoots.
Those who do not understand the nature of this plant, check every month for sure signs of growth. And question the farmer's faith.
Time passes. The farmer has nothing to show for his effort and patience. For many, this can get frustrating. Yet, the farmer's vision, belief, and care for the seed go on...For he has the experience and belief in the quality of the seed he has sown.
And then, one fine day, after a few years, the green shoots finally appear.
What happens next is even more interesting.
The bamboo grows ten feet within a few days. Over next 6 weeks, the plant grows - not 20, not 50, but 90 feet tall. This bamboo can now provide for generations to come. The cynics come to realize its potential. But perhaps it's a little late for them to enjoy its entire growth.
But what takes this plant so long?
In those initial years, the seed was busy establishing a strong root system to support the growth. The farmer, meanwhile, did not toil hopelessly as those around him questioned his faith. Nor was he hoping to get lucky. He knew the seed had potential. He had a vision, a plan, the patience. And they all paid.
How is this story relevant to smallcap rebound?
--- Advertisement ---
Richa Agarwal's #1 stock pick for 2021 is out

It is a little-known company that is now tapping into a Rs 4 trillion opportunity...

Setting it up to potentially deliver huge gains in the years to come.

Now, this stock has already started to move...

As the word spreads, there's a chance that this stock could move up rapidly.

Hence the urgency to act now...

Here are the full details of the company I'm talking about...
------------------------------
I have been writing about the smallcap rebound for more than a year now. Mind you, the bet is not about mean reversion. The smallcaps that I believe will rebound are niche leaders with strong balance sheets and solid management teams behind them. My conviction in them comes from the groundwork my team and I have done - meeting the managements and tracking these stocks for years now.
And until a few days ago, the rebound just seemed like a mirage.
Until the rebound signs started appearing.
In my writeup last week, I had shared with you how and why I expect next few days to be critical for rebound...And had shared the list of three rebound smallcap stocks that you could begin your journey with to make the most of once in a decade opportunity to build wealth.
One of these stocks has gained 30% in last 9 trading sessions. Do note that while this happened, the Sensex and smallcap index declined over 2%.
Now if you have been focusing on how Coronavirus may impact the economy, or on Trump's much hyped visit to India, or Tesla's rise ...basically the stories that media and big investors can't get enough of (without translating it into a money making opportunity for you), chances are you have missed this smallcap stock story. And many others that are unfolding, away from the media glare and experts' attention.
That's the thing about smallcap rebound. It will happen fast. And without much fanfare. Tracking the smallcap index or Sensex will be of little help to look for telltale signs. There will be no macro signals... Just a lot of groundwork. And the mainstream media will talk about it only in hindsight.
And by then, it would be too late for you to make any serious money from it.
I hope you will not forget the Chinese bamboo story... And make the most of this once in a decade rebound opportunity to make a killing in smallcaps.
Wondering where to start?
Consider Rebound Riches: 3 Stocks Set to Become India's Next Mega-Stocks.
Warm regards,



Richa Agarwal
Editor, Hidden Treasure
Equitymaster Agora Research Private Limited (Research Analyst)
Recent Articles