3 Ways to Trade in Light of Today's Market Crash
Mar 6, 2020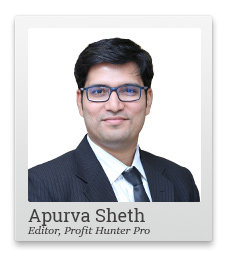 People wearing masks while using public transport have become a common sight during my commute to office these days.
It seems the level of panic is hitting new highs every day. People are stocking up on masks and hand sanitisers as ways to prevent the virus.
Stores have run out of Dettol products and every one is adopting every precaution that could help - keeping your hands clean, avoiding crowded public spaces, and reverting to the good old namaste over a handshake, among others.
The common public isn't the only one panicking now.
Central bankers are panicking too.
In an emergency move yesterday amid the coronavirus pandemic, the US Federal Reserve slashed interest rates by 50 basis points (100 basis points equal 1%).
The highly contagious and deadly coronavirus is rapidly spreading across many parts of the world, including the US.
--- Advertisement ---
Missed Our Urgent Broadcast LIVE?

For readers who missed watching our broadcast on India's Revival...

We've released the transcript of the event for a limited period now.

You can see all the important highlights from our broadcast in this transcript.

And also get a chance to grab a copy of Tanushree's latest reports, India's Greatest Revival: The Three Mega-Trends Behind 1,000% Gains and 3 Ticking Bombs to Sell Now - combinedworth Rs 5,900 for virtually FREE.

But please note that we may take this transcript off the internet any minute.

So read it immediately.

Click Here to Read the Transcript NOW
------------------------------
The virus has already started inflicting severe damage to business activity in China. Supply chains across the globe are disrupted because of it. The emergency cut reflects US Fed's fears that the virus epidemic could raise recession risks for the U.S. and global economies.
President Trump would never risk a recession in an election year. So, the Fed succumbed to the pressure and did a surprise rate cut.
The macro picture looks vulnerable right now. Only time will tell how the global economy tackles the virus. Meanwhile, we should brace for volatile times ahead.
The India VIX which measure volatility or fear in the markets has spiked to a 1-year high.
Trading becomes difficult when markets are volatile.
Markets have been swinging wildly during this week. So, today I have put these tips together for you.
3 Ways to Trade in Such Volatile Times
Trade only stocks with good liquidity



Markets around the world have fallen sharply over the last week. Volumes tend to be lower whenever the market falls so swiftly since a lot of investors can't exit stocks at higher prices. They could only watch the prices tumble in shock. Buying evaporates suddenly. This creates a vicious cycle as falling prices feed further fall in prices.

It's better to trade in stocks with good liquidity during such times to keep your impact cost or the difference between your buying and selling price low.

What does good liquidity mean?

If you are trading in stocks in the cash market then I recommend trading only in stocks with an average daily turnover of more than Rs 4 crore. These would be the top 400-450 stocks on the NSE. If you are trading in futures segment then I recommend trading only in stocks with daily turnover of 3,000 contracts. There are about 80 stocks in this basket.

Trade fundamentally strong stocks



One would be tempted to buy the high-flying stock you just saw a few days ago. It might be trading a few percentage points lower than where it was earlier. But that doesn't mean it's a good stock to own or trade.

Only fundamentally strong stocks with solid earning potential will bounce back when the tide turns. So always stick with such stocks in volatile times like these.

At Breakout Profits, we have been doing this successfully for the last two years.

--- Advertisement ---
[Watch Now] 3 Little-known Stocks We are Super Bullish On



Click Here to Watch Now
------------------------------

Trade stocks which benefit from the current situation



Coronavirus has stalled economic activity across the globe. This will lead to a drop in consumption of crude oil.

Take the example of a Boeing 747. It burns 4.5 liters of aviation turbine fuel (ATF) per sec at 34,000 feet. That's about 10 tons of ATF/hr. An NYC to London flight burns 84,000 liters of ATF. The number of flights that are being cancelled right now will lead to lot of oversupply of ATF. This would lead to fall in crude oil prices.

Now this is bad news for a crude producer... But a blessing for crude importing nation like India which imports 80% of its requirement.

It is even good for companies which use crude oil or petrochemicals derived from it as a major portion of raw material. There are several sectors which benefit from falling crude oil prices. Some of them are -

Paints
Oil marketing companies
Dyes
Plastics and Polymers
Adhesives
Oil based lubricants
Specialty Chemicals

This could bring a bounty for Indian companies. One could trade in such stocks only. You could look into such stocks yourself or join us at the Fast Profits Report - our premium monthly recommendation service.

I have teamed up with Vijay Bhambwani to identify stocks which could benefit from trends in natural resources like crude oil, natural gas etc.

Last month I recommended a specialty chemical company which benefits from crude oil and coronavirus. Join us now to know more about it.
Warm regards,

Apurva Sheth
Editor, Breakout Profits
Equitymaster Agora Research Private Limited (Research Analyst)
PS: At 5 pm on March 9, I will be live at the Rebound Riches Mega Summit. Get details of my top 3 stocks to profit from the rebound in smallcaps. Register for free here.
Recent Articles