Here is the Stock You Should Pick
Mar 13, 2018
It's obvious: The best stock to pick is the one that's going up.
And when is the best time to invest in the share market?
Of course, when you feel the market is headed up.
You're obviously not going to buy when the market's going to go down now, are you?
Simply put, that sums up most investors' strategy to pick stocks.
And from that flows the most prized, most coveted and the most cherished information in the stock market - one that every investor is after...
'Where is this market/stock headed next?'
The investor who knows how to answer that question makes money.
And getting rich in the market is all about being good at answering that question. The more consistently you know the answer, the richer you get.
What do I think about finding the answer?
It reminds me of childhood stories of someone encouraging a donkey to move forward by holding a carrot in front of it. The donkey thinks taking a step forward will bring it the carrot. We know better, though.
Investors' search for this answer is the stock market's biggest dangling carrot.
The Dangling Carrot of the Stock Market: Figuring Where the Market Will Go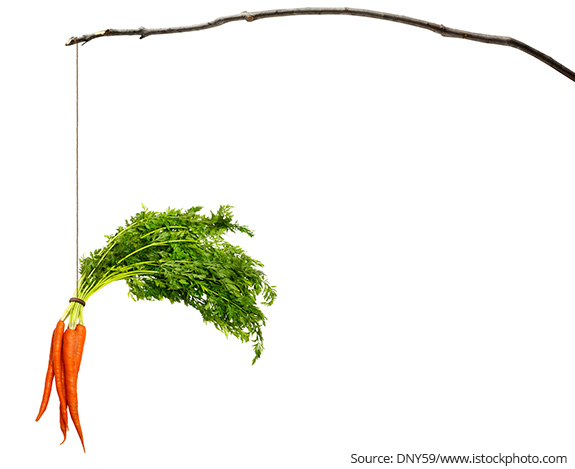 How do investor who make the most money tackle this dangling carrot?
Here's Warren Buffett:
I have no idea what the stock market's going to do tomorrow or next week or next month or next year. If you're going to try to buy and sell them (stocks) based on news or something your neighbor tells you, you're not going to do well.
Yes, stock-picking enlightenment begins when you realize that question has no answer.
No one can truly and dependably know where the market is headed in the short term.
There's only two types of stock market forecasters really: The one's who don't know, and the one's who don't know they don't know.
--- Advertisement ---


Want to Retire Early & Wealthy?

Today we're going to share with you a Retirement Secret used by only few smart Indians...but unknown to the millions of people who believe they have to work hard and save most of their life...in order to live a comfortable retirement.

Sounds interesting?

Click here to learn how this Retirement Secret could guide you retire early & wealthy.
------------------------------
What is the secret to profitable stock-picking then?
Well, as part of my Benjamin Graham-inspired service called Microcap Millionaires, from the stocks I picked here are all the positions I closed in just the last year:
| Company | Recommendation Date | Reco. Closing Date | Returns |
| --- | --- | --- | --- |
| GUJ.AMB.EXP. | 20-Apr-16 | 20-Jan-17 | 91.0% |
| ARIES AGRO | 20-Sep-16 | 20-Jan-17 | 73.3% |
| TECHNOFAB ENGINEERING | 20-Feb-15 | 20-Feb-17 | 43.7% |
| GRAPHITE INDIA | 20-Feb-16 | 20-Mar-17 | 70.5% |
| CENTURY ENKA | 18-Mar-16 | 20-Mar-17 | 109.9% |
| ARCHIES LTD | 20-Apr-16 | 20-Apr-17 | 57.4% |
| TARA JEWELS | 19-Aug-16 | 19-May-17 | 10.9% |
| DREDGING CORP | 20-Feb-15 | 20-Jun-17 | 62.5% |
| DREDGING CORP | 20-Feb-17 | 20-Jun-17 | 49.6% |
| MAH. SEAMLESS | 20-Mar-15 | 20-Jul-17 | 109.8% |
| RENAISSANCE JEWEL | 20-Feb-16 | 8-Dec-17 | 108.3% |
| PURAVANKARA | 20-May-16 | 8-Dec-17 | 206.0% |
Source: Equitymaster.com
How many of these stocks did I pick because I thought they were about to go higher? Or because I thought the market is headed higher?
Not a single one.
Then how did I pick them?
All I did was to search for stocks that were selling for bargain prices, and had basic fundamentals in place that were likely to see them through any rough times they could be facing. And I did that over and over again.
The results are for you to see.
Never search for 'stocks that are about to go up'.
Search, rather, for 'stocks that are a great deal'. The rest takes care of itself.
Good Investing,

Rahul Shah (Research Analyst)
Editor, Profit Hunter
PS: If you are looking for stocks that can beat the Sensex three times over - you would be in the right place with Richa Agarwal's Hidden Treasure service. Subscribe here.
Recent Articles