How to Have a Portfolio That's Market Crash Proof
Mar 16, 2018
Markets have been quite rough for a while, with several big falls in a matter of days.
The movement so far has been largely downwards from about 36.5k levels touched by the BSE Sensex at the end of Jan: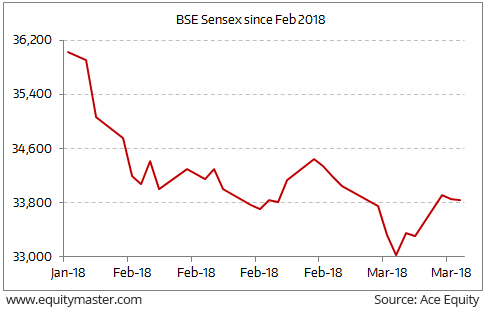 What's the share market going to do from here?
Are we at the cusp of a market crash?
Market crashes are most stock market investors' worst nightmare. They come without warning. And just like that, out of the blue, investors see their portfolio values melt like snow in the sun.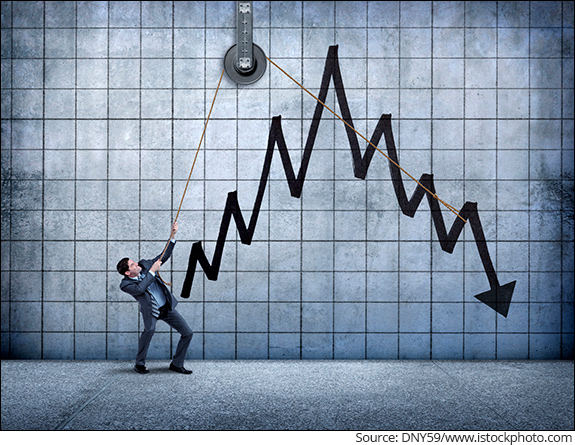 But things are what they are. Rough weather is as much part of the stock market game as is a clear blue sky.
You got to hope for the best, and prepare for the worst.
My Benjamin Graham inspired service Microcap Millionaires especially prides itself in having many fail safes in place to deal with such rough stock market weather. But do they actually work out in the real world?
--- Advertisement ---


10 Years of Stellar Profits...

It's hard to believe, but we've been publishing our flagship service Hidden Treasure for 10 years now...

And in that time, we've given subscribers the chance at various double and triple digit returns...

To celebrate, we're giving you the opportunity to join these subscribers at a very special price.

But this offer is only good for limited time.

Click here now to claim your discount.
------------------------------
We decided to test this out.
What would really happen if our stocks were to fall in value due to a stock market crash tomorrow? How would our overall results change in such a scenario?
We did the calculations.
Here's what the results look like:
| If our stock portfolio were to fall by... | The fall in overall value of portfolio would be | Post market crash returns since inception of service would then be |
| --- | --- | --- |
| -20% | -6% | 162% |
| -50% | -15% | 137% |
| -80% | -24% | 113% |
Source: Equitymaster
As part of our strategy in this service, we break up the corpus' funds into stocks and debt instruments (bonds/fixed deposits). Depending on the market scenario, we dynamically tweak this break up from time-to-time in a strategic manner.
As you can see, our fixed deposit component means that even if our stocks all put together were to see a 20% fall in value due to a market crash of similar magnitude, the overall value of our total portfolio would be down by just 6%.
And our returns on the capital we started out with in February 2014 would still be a neat 162%.
And even if one considers the remotest of the remote possibilities - that the market crashes 80% - our overall portfolio's value would still be down only 24%. And our returns since inception would still be overwhelmingly positive!
In other words, even if the world were coming to an end (trust us, that's what an 80% crash would imply), our original capital that we started off with in February 2014 would still be safe and thriving - with a princely gain of 113% since inception!
Microcap Millionaires is a service that takes protection of capital very seriously. It builds in numerous fail safes that come to our rescue during rough times.
Invest the Microcap Millionaires way over a longer term and you will see how this works out for you, too.
The numbers in the table above only testify to this.
Happy Investing,

Rahul Shah (Research Analyst)
Editor, Profit Hunter
PS: When the world is worried that there is no more opportunity in the small cap space - small cap expert Richa Agarwal begs to differ. She released a new recommendation yesterday - an opportunity unlike any other. Subscribe here to make sure you don't miss this extraordinary chance.
Recent Articles