This is How Institutional Traders Pick Great Stocks at Good Prices...
Mar 21, 2018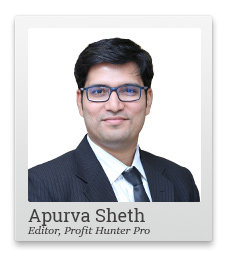 When the markets are going down, some institutions are still managing to generate alpha.
I had always known this - but I had never really understood how.
Until June 2010, when I got a placement with the institutional research department of a broking firm.
My role there was to recommend trading ideas to financial institutions, like banks, mutual funds, FII's and insurance companies.
I worked closely with these institutions in one of the most difficult market environments - 2010 to 2013... Those were tough years for most market participants.
I watched as the institutions I worked with not only thrived, but they actually generated alpha in such markets.
--- Advertisement ---


Get 1 Year Virtually FREE Access to our Small Cap Service

This is BIG.

You now have a unique opportunity to claim one-year access to our extremely successful small cap stock recommendation service...Virtually FREE!

Interested?

Full details are given here...

We strongly recommend you don't waste any time. This unique opportunity ends on 31st March 2018.

Click here to take advantage of this opportunity NOW.
------------------------------
Today I will share strategy they used to make money in such difficult markets...
Now, that's not all, I have also recommended a stock yesterday based on the above strategy. This means the same stock could be on radar of institutional investors as well.
The stock I am talking about is from the IT space.
Now, I am bullish on the IT sector since I first wrote about them in August 2017.
Greed and Fear Phases in the IT Index
The IT sector cycles rhythmically through greed and fear every two years. I have drawn vertical lines with a gap of two years (24 months) starting from February 2007, which was a major top in the index.
Each vertical line represents the beginning of a new phase for the index. The vertical line on February 2007 marks the end of 'the greed' phase and beginning of 'the fear' phase.
So, the index rallied 109% between February 2005 to 2007, which was the greed phase. It dropped by 66% in the fear phase between February 2007 to 2009, and so on.
The IT index has entered the greed phase and will remain there till 2019 which means IT stocks have a long way to go from these levels.
Markets are in the danger zone currently and most stocks are trending lower. But that doesn't mean that stocks will continue to slide forever.
Markets will eventually find support and build a base. And while the market is doing so some stocks would have already bottomed out and will be up and running before anyone realises.
Normally, stocks from the strongest sectors move before everyone else.
And right now - the strongest of all is the IT sector.
I have identified this stock from the IT sector and recommended it to my Profit Hunter Pro subscribers last evening.
The stock has slipped lower from its all-time highs and offers a good entry opportunity for traders.
If you are at all interested in short term gains, this kind of opportunity is rare - this is one that you shouldn't pass up.
Happy trading,
Apurva Sheth (Research Analyst)
Editor, Profit Hunter Pro
PS: Apurva's brilliant strategy of combining value investing with trading is paying off in a big way. If there was ever a good time to try 'short term' investing - this is it. Get his service here.
Recent Articles