The 7 Bargain Small Cap Stocks to Own in 2019
Mar 27, 2019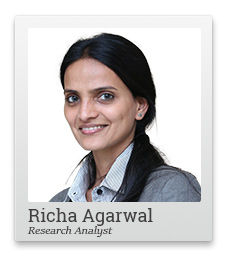 As the fiscal year 2019 draws to a close, it's time to reflect on what has happened so far, and mind the road ahead.
It's been a year of extremes for smallcaps. The smallcap index touched lifetime highs of over 20,000 in Jan 18 to a subsequent 35% correction in February 2019.
During the year, over 650 stocks touched 52-week lows.
What led to this correction were a multitude of factors...
--- Advertisement ---
3 Stocks for Potentially Massive Gains

COVID-19 has triggered a fundamental shift in the global economic and geopolitical map.

This reshuffling of the geopolitical map is just ONE of the forces fuelling the great Indian revival.

A revival that will restore the power, wealth, and influence we once enjoyed.

And, those who invest in the companies at the heart of this revival could turn a small stake into generational wealth.

Our co-head of research, Tanushree Banerjee, has narrowed down on 3 specific stocks.

She strongly believes, these 3 "revival stocks" could potentially offer massive gains.

Click here to learn more about this mega opportunity
------------------------------
To begin with, overvaluation in the smallcap space. In the years preceding this correction, the smallcaps witnessed a massive rush of money in the search for alpha.
From January 2014 until early 2018, the Sensex gained 66%. The Midcap index was up 153%. But the topper was small cap index - up 177%. It outperformed Sensex by nearly three times.
But the party could not have continued for long. For some basics were missing...
The net profit for companies in the small cap index had declined by over 30% over the last five years until last fiscal year. But valuations and buying interest had only gone up - thanks to heightened interest of mutual funds and big Investors.
The bubble was just waiting to burst.
Amid this, the market regulator offered a pin to take some air out of the bubble.
The pin was the regulator's circular directing Mutual funds to group their equity schemes under large, mid, and small-caps, based on market capitalisation of the stocks the scheme has invested.
With this move, the regulator aimed to bring uniformity and transparency across various MF schemes...to help a common investor understand and compare the schemes better, and make it simpler to choose a scheme.
Revealed: 3 Stocks for Potentially Massive Gains
But a lot of mutual fund managers were not happy.
Over and above the existing pressure to perform, new norms led to some forced churn in portfolios. Plus rebalancing every six months (depending on shifting market caps), and higher transaction costs. What followed was a cut down in the number of schemes
All led to considerable selling in the small cap space. It is estimated that 44% of MF schemes readjusted the portfolios to comply with new norms... And that it led to an investment of about Rs 190 billion in mid-cap stocks, at the cost of large- and small-caps.
This was followed by a slew of auditor resignations. Now nothing much had changed as far as corporate governance goes...what led to this was appointment of an independent body to audit listed companies post the PNB fraud.
Then there were individual cases like Vakrangee, Manpasand, Shilpi Cable, Sintex and so on that added to the panic and bearish sentiments.
The earnings performance in smallcaps was hardly a respite with the baggage of slowdown induced due to GST, noteban, rising crude and so on.
And so, smallcaps corrected.
But what next?
In my career so far, this is not the first correction I have witnessed. And it won't be the last.
Going by past experience and the approach that has worked well for us, here is what I suggest:
Focus on the long-term fundamentals, rather than short term price movements.
And if the management is competent, and the balance sheet has the capacity to survive short term disruptions, don't give up.
--- Advertisement ---
[Watch Now] 3 Little-known Stocks We are Super Bullish On




Click Here to Watch Now
------------------------------
This is what we have done in Hidden Treasure...
Be it the case of Titagarh Wagons that faced around 78% fall, to be followed by over 1,000% gains (yielding 148% gains in the long term from the recommendation price).
Or Page Industries, where we held on to the stock despite 40% fall in a rough market...
Or Ambika Cotton, where a 36% fall just after recommendation was followed by 138% gains.
In fact, our history is full of such examples where holding to an approach, being disciplined and patient, has worked in our favour.
Dealing with Corrections in Smallcaps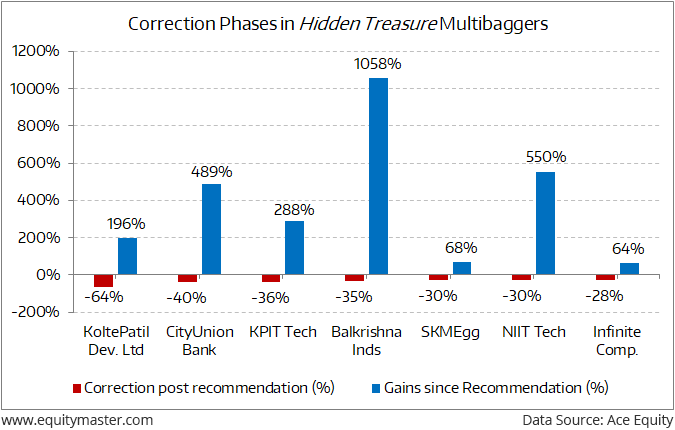 While we have gone wrong too, with a success ratio of over 60% and CAGR returns of over 28% vs 11% for Sensex (as per audited data at the end of Feb 2019), the winners have far outweighed the losses.
Anyway, a wise gentleman Peter Lynch had suggested that in this business, if you're good you're right 6 times out of 10. You're never going to be right 9 times out of 10.'
So do not panic over short term market movements. Differentiate volatility from risk, and stay patient.
If you can do that, chances are that you will navigate this crisis and come out of it quite well.
Coming to the opportunities amid market crash...
I have recommended four stocks that I believe are the perfect rebound opportunities.
The first of these is a packaging company that has taken significant steps to move from beyond the conventional market segment and has added new market and clients with better profitability and growth potential. With every passing year, the performance has improved and my faith in the management has only gone up. Yet, by Feb 19, the stock had corrected 42% from the high this year. After a surge last month, the stock has slipped back in the buy zone offering a great buying opportunity.
My second recommendation has improved margins, cut down debt and free cash flows in the business have been growing. The company is at an inflection point with getting entry into new markets and adding a high demand product to its portfolio. Together, this could imply expanding topline with rising margins over the long term. The stock after getting caught in the correction lost nearly 40% during the year. For those who are willing to wait, it is actionable and could offer good returns in my view.
The third rebound stock is an IT company... but a differentiated one, and is just below my maximum buy price - an opportunity I believe one should not miss. The fourth rebound stock is a textile company that is all about technology and reinvention.
You can access these rebound stocks by clicking here.
And that's not all.
Apart from these rebound stocks, there are three more stocks that qualify for Top Buys this month - all catering to industries, ranging from auto to finance sector.
All seven are actionable as I write this, but may not remain so for long. So, don't delay. Do keep in mind the maximum buy prices while acting on my recommendations. Never ignore the asset allocation guidelines.
Last but not the least, maintain your focus on the value rather than prices, which may swing given the election season ahead...and let patience be your guiding mantra to ride the volatility out.
Regards,



Richa Agarwal
Editor and Research Analyst, Hidden Treasure
PS: The small cap correction is turning out to be a great wealth building opportunity for you - make sure you are invested in the right stocks now when the time is right. Sign up to get access to the 7 bargain small caps to invest in right now.
Recent Articles