Where to Invest in the New Financial Year
Apr 3, 2020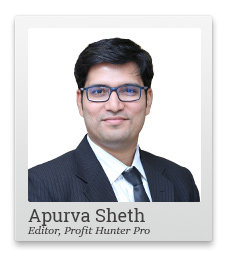 The year 2020 hasn't begun on a great note for the stock markets.
Thee first quarter of 2020 ended with biggest cut ever in the BSE Sensex. The benchmark index dropped by 28.6% in the first three months of 2020. This fall broke the 30-year old record crash of 1992 when the Sensex crashed by 28.1% in a quarter.
If that wasn't enough, the government has also revised interest rates lower on small savings schemes for financial year 2020-21.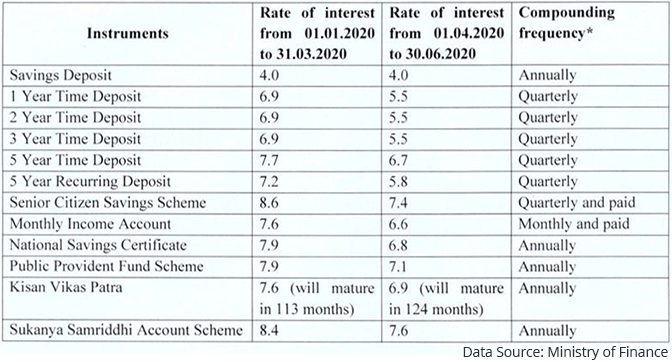 This leaves retail investors with limited options to make sizeable returns on investment. Lower returns on fixed income instruments and increasing volatility in stock markets may force investors to take more risk than required.
But you need not be among them. Today, I will show you an asset class which has generated higher returns than equities with lower risk.
You will be surprised to know that gold outperformed equities over a 15-year period. Here's the chart...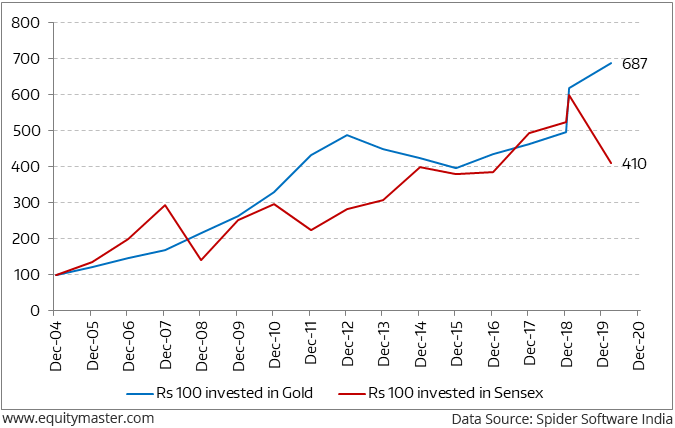 An equal amount of Rs 100 invested in both gold and Sensex in 2004 would have generated higher returns in gold by a wide margin. Your total investment in gold and Sensex would be valued at Rs 687 and Rs 410 respectively.
So, investors in gold are happier than investors in Sensex or equities at this moment. But will this continue?
--- Advertisement ---
3 Stocks for Potentially Massive Gains

COVID-19 has triggered a fundamental shift in the global economic and geopolitical map.

This reshuffling of the geopolitical map is just ONE of the forces fuelling the great Indian revival.

A revival that will restore the power, wealth, and influence we once enjoyed.

And, those who invest in the companies at the heart of this revival could turn a small stake into generational wealth.

Our co-head of research, Tanushree Banerjee, has narrowed down on 3 specific stocks.

She strongly believes, these 3 "revival stocks" could potentially offer massive gains.

Click here to learn more about this mega opportunity
------------------------------
Well, looking at the way things are right now, it seems gold has a long way to go. There are three reasons why I believe gold could be in the limelight for some time.
Unprecedented Liquidity

Global financial system is flush with excess liquidity. The US Federal Reserve recently announced a US $2 trillion relief package to support a struggling economy. Interest rates across the world are zero and even negative in some countries. The excess liquidity will eventually fuel inflation and push up commodity prices.
Fear and uncertainty

Fear and uncertainty are at its peak in financial markets as well as on the streets. Coronavirus is one of the worst pandemics we have seen in modern times. It has brought the world economy to a standstill. Gold is the best asset to own during such times.
Weak Rupee

India imports most of its gold which means we must spend dollars to buy gold. Rupee's continuous decline against the dollar makes buying gold expensive for Indians. Gold prices will continue to rise as long as rupee declines against the dollar.
Okay, so now you realise that you must allocate a significant portion of your investments to gold.
But when do you know it's time to increase allocation to equities?
Don't worry, I've got you covered there as well.
Here's a ratio chart of gold to Sensex...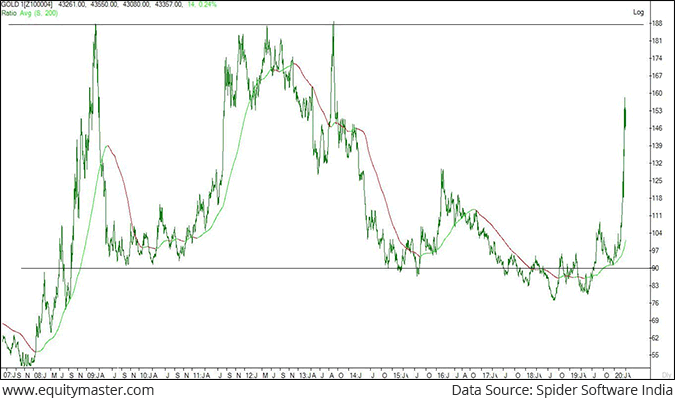 I have plotted this chart by dividing the price of gold to Sensex. You will notice that this ratio has moved in a range of 90 to 190 over the last 12 years.
How to read this ratio?
When the ratio trades around 90 its simply means gold is trading at 0.9 times the value of the Sensex. When the ratio is around 190 it means gold is priced 1.9 times the price of the Sensex.
Revealed: 3 Stocks for Potentially Massive Gains
So now you will notice the gold to Sensex ratio generally tops out at 1.9 times the price of Sensex. It reversed direction after touching this level in 2009, 2012 and 2013. It would have been good time to increase exposure to equities when the ratio touches a level of 190.
On the downside, the ratio generally bottoms around levels of 90. This would have been a good time to increase exposure to gold. I spotted this trend back in October 2018 and recommended my readers to add some glitter to their investments.
The ratio is currently trending upwards and there's a long way to go before it touches 190. Don't worry I'll let you know when that happens.
Butt for the time being, you know where to put your money in the new financial year. Don't you?
Warm regards,

Apurva Sheth
Editor, Breakout Profits
Equitymaster Agora Research Private Limited (Research Analyst)
PS: Amid this panic sell off, here's one quality stock now trading at multi year lows. I hope you will make the most of this incredibly rare opportunity. Click here for your crorepati stock recommendation.
Recent Articles