Don't Let Sensex 40,000 Fool You
Apr 8, 2019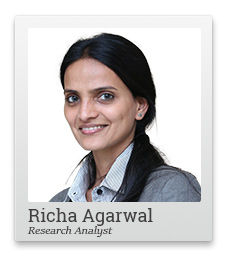 The BSE Sensex is back to making new highs every day. The benchmark index is just a few points away from the hallowed 40,000 mark.
Mind you, we had predicted this back in 2016. However, our prediction was based on earnings growth of companies. This meant that as and when profits revert to the mean, a surge in the Sensex was a given.
However, while the overall mood in the market is looking up, companies are yet to declare earnings for the quarter.
Result season is only now beginning, and we will soon know if earnings have caught up. So stay tuned as I keep you updated...
Today, I'm writing to talk to you about what's pushing the index up now, and what that means for you...
The current rally seems to be fueled by an influx of liquidity. After a long hiatus, Foreign Institutional Investors (FIIs) are buying into India aggressively.
On the other hand, the domestic institutions (DIIs) have turned sellers for the past three months.
Domestic investors are still wary or are waiting in anticipation of a post-election rally...
As I've said repeatedly before, the current rally seems to be sentiment driven, rather than driven by a fundamental change in the investment cycle.
In fact, the Indian economy continues to face a host of issues...
The Asian Development Bank (ADB) has downgraded India's economic growth forecasts for 2019 due to concerns from global trade tensions and Brexit.
Further, oil prices are heading up, and are already up around 30% since the beginning of the calendar year and are now hovering around the US$ 70 per barrel mark.
This has made the large-cap rally highly vulnerable to a lot of factors including an adverse global trade environment, rising crude oil prices, and even unfavorable election results.
So, while Sensex is making all-time highs through a sentiment driven rally, the smallcap index has not yet caught up. While the smallcap index has rebounded along with the Sensex, it's still a long way away from the highs it made in January 2018.
What I think you should do now?
My message to you hasn't changed.
True value investors should always place their bets only on companies that have strong fundamentals and are available at reasonable valuations.
With strong fundamental analysis and risk filters, investors have the opportunity to make stellar returns with smaller and less tracked companies.
To conclude, instead of getting carried away by the Sensex rally which might be driven by speculations regarding the election's outcome and hot money, investors should turn attention to the smallcap space for potential winners in the long run.
And the best part?
My team and I have traveled across the country, scuttle-butted, met managements, and identified just the stocks for you.
At the time of the market low a couple of months back I had shared rebound opportunities in 4 quality small caps.
Due to the volatility in the market, all four of them are still actionable.
But it won't be long until they begin their move up.
So, act now, and take advantage of the opportunity that is available in the best smallcap stocks today.
Warm regards,



Richa Agarwal
Editor and Research Analyst, Hidden Treasure
PS: An enormously lucrative opportunity in small caps is available today, if you just know where to look. We, of course think, you need to look no further than here.
Recent Articles