My Recent Recommendation Will Profit from the Global Supply Chain Crisis
Apr 12, 2021
Editor's note: On Thursday, Tanushree will be live online at the India's Revival Summit. Our co-head of research will talk about the best stocks to profit from India's rise to a global power. Two weeks ago, she wrote about one such stock. Read on to know more...
---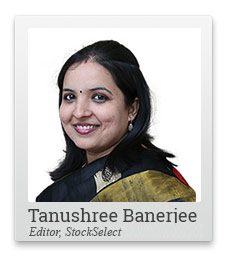 A bizarre incident recently dealt another hard blow to global trade.
EverGiven, a massive container ship, taller than the Eiffel Tower and Empire State Building, got stuck in the Suez Canal. Quite literally!
The ship got pushed off course by heavy winds eventually sailing aground and blocking the entire canal for traffic for almost six days.
The Suez Canal opened for navigation in 1869, completing a dream that had eluded the pharaohs, the Romans, and Napoleon Bonaparte.
The 120-mile-long waterway that links Asia and Europe has been closed just five times in the last 150 years.
Why is this important?
--- Advertisement ---
One stock to add to your portfolio asap

Our co-head of research, Tanushree Banerjee, has uncovered this one stock, which she believes is a must have in your portfolio.

Tanushree is very bullish on this stock.

It could potentially multiply invested money 12 to 13 times over the long term.

Tanushree will reveal details of this stock at her upcoming special event.

You can click here to sign-up. It's free.
------------------------------
About 12% of world trade passes through the canal each year, transporting everything from crude oil to grains to instant coffee.
Without the Suez, a supertanker carrying Mideast crude oil to Europe would have to travel an extra 6,000 miles around Africa's Cape of Good Hope. This would add US$ 300,000 in fuel costs.
So, the blockage of this critical pathway, brought a danger that global trade has been dealing with since March 2020, to the fore. That of decades old supply chain networks coming to a grinding halt.
With prolonged COVID-19 crisis, both regional and global supply chains stand fractured.
Countries and companies have, over the last few decades, optimised their supply chains by offshoring to low-cost countries.
With the disruptions in supply chains, every company that relied on inputs from abroad has been severely impacted.
It is becoming evident that the supply chain strategies that were most celebrated in pre-COVID-19 world can no longer be relied upon.
Revealing Tomorrow: The Great Indian Wealth Project
For instance, the 'just-in-time' inventory strategies that allow manufacturers to maintain minimum raw material, may need to be revaluated.
In other words, there is thus a pressing need to re-engineer global supply chains.
For instance, Japan has earmarked US$ 2.2 bn economic stimulus package to help its companies shift production out of China as the pandemic disrupted supply chains between the two trading partners.
But mind you this is NOT just about moving away from China.
On the contrary, companies and governments will attempt to create alternative sourcing bases.
There will be new logistical plans to do away with even such temporary disruption. This will need new policies, new capacities, and new investments.
India has an exclusive opportunity to emerge as a preferred alternative to fix such broken supply chains.
--- Advertisement ---
How to Earn a Fortune in Gold, the Smart Way

Gold is on 'the verge of a decadal run' says Vijay Bhambwani, India's #1 Trader and Editor of Fast Profits Daily at Equitymaster.

He says gold has the potential to generate staggering gains in the coming years...And those who are betting on gold right now will hit the jackpot.

But wait.

While gold is an attractive investment destination, there's a very specific way to play this opportunity...

A way that ensures you rake in maximum profit and perhaps hit the jackpot...while minimizing potential pitfalls. Thankfully, Vijay - India's #1 Trader - can guide you step-by-step in the upcoming gold rush and help hit the jackpot just at the right time.

Sure, you don't want to be an average trader. That's not how you make a fortune.

Here's how you can get Vijay's guidance...
------------------------------
Not only because Indian companies are gearing themselves to rise up the challenge but also because India already has most of the resources necessary to become such a supply chain hub.
A tiny chemical company, started by five friends in a chemical laboratory, in the Licence Raj era, for instance has become a supplier of choice to global FMCG giants.
My recent recommendation on the stock was keeping in mind the big structural shift in global supply chain.
And I see many such unique opportunities, coming your way, dear reader, as we progress with India's Revival.
Stay tuned for more...
Warm regards,

Tanushree Banerjee
Editor, StockSelect
Equitymaster Agora Research Private Limited (Research Analyst)
PS: Join me on 15 April, at India's Revival Summit. I will reveal a once-in-generation opportunity to potentially make 1000% long-term gains. Get the full details here.
Recent Articles