8 Smallcaps to Lockdown Amid a Once in a Decade Opportunity
Apr 14, 2020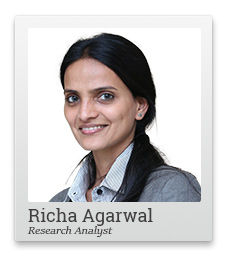 Today, PM Modi extended the lockdown till 3rd May.
It's bad news for the economy that has been brought to a screeching halt by coronavirus, but drastic times demand drastic measures.
We are face to face with one of the biggest threats ever faced by multiple generations.
There is hardly any precedent in the history to fall back on and draw comfort from.
I hope you are all safe, well stocked for the lockdown and are using this time constructively.
Last time I wrote to you, I mentioned the second order effects that will continue to impact the economy even post the lockdown.
Recently, I shared with Hidden Treasure subscribers, we are relatively early in the crisis stage compared to other countries. I believe it is best to be cautious on the macro economic outlook.
There will be a lot of damage to businesses, both in the organised and informal segment.
Most of the forecasts that were made for the listed companies are unlikely to come true. There will be a meaningful impact on earnings, at least in FY21, given this black swan event. The horizon period for good returns from stocks is likely to stretch longer.
I hope you are prepared for challenging times ahead and have enough cash and liquid assets to sail through it.
And once you have taken care of that, I believe it's a great time to buy value and growth stocks in a staggered manner.
Given the sharp sell off in the stock markets, the opportunities are aplenty, but there are some that I like better than the others, keeping in mind the crisis.
I wrote about one such opportunity in last time - a specific smallcap tech firm that is offering the government tech based solutions to contain the virus outbreak.
These are the businesses in India with a strong capacity to suffer and survive the crisis, if it prolongs.
I have recommended these stocks to my Hidden Treasure subscribers.
--- Advertisement ---
Last Day to Grab the Biggest Opportunity of This Decade...

This is your last chance...

You had registered for Richa's emergency summit, Rebound Riches, but you missed it for some reason.

At the summit we revealed how the carnage on the stock markets has created a once-in-a-decade opportunity... a rare chance to grab high-potential stocks at very attractive prices.

The details of 3 such high-potential stocks are outlined in Richa's special report, 'Rebound Riches: 3 Stocks Set to Become India's Next Mega Stocks.'

If you act before 11:59pm tonight, then you can grab it for virtually FREE.

Because once the clock strikes 11:59pm, you might miss out on the biggest money-making opportunity of this decade.

Click here to grab the biggest opportunity of this decade...
------------------------------
So what makes these companies better placed to survive the crisis?
The factors that I have kept in mind while selecting these stocks include:
Market leadership in niche segments
Diversified business model
Healthy Financials - High returns, low or nil debt, healthy interest coverage ratios (revenues will be hit while fixed costs and interest payments will need to be serviced during Covid 19 crisis).
Healthy dividend yields
Strong management quality
It is further comforting to see insiders are buying some of these stocks in the month of March 2020.
Financial Snapshot
| Company | Return on Net Worth (%) | Return on Capital Employed (%) | Debt to Equity | Interest Coverage (Earnings before interest and tax/Interest) | Net profit Margin (%) | Dividend Yield (%) | TTM P/E* |
| --- | --- | --- | --- | --- | --- | --- | --- |
| Stock #1 | 20.1 | 20.8 | 0.1 | 12.6 | 11.8 | 1.5 | 7.1 |
| Stock #2 | 17.6 | 19.4 | 0.5 | 6.0 | 8.6 | 2.3 | 12.9 |
| Stock #3 | 18.5 | 26.7 | 0.0 | 222 | 14.5 | 2.1 | 9.1 |
| Stock #4 | 19.3 | 23.2 | 0.1 | 14.3 | 10.5 | 6.7 | 5.2 |
| Stock #5 | 17.1 | 21.7 | 0.0 | 68.2 | 17.1 | 3.3 | 9.8 |
| Stock #6 | 20.8 | 30.8 | 0.0 | 119.0 | 23.8 | 5.4 | 12.1 |
| Stock #7 | 15.8 | 21.8 | 0.0 | 87 | 9.8 | 2.2 | 11.4 |
| Stock #8 | 35.4 | 54.7 | 0.0 | 4871 | 9.1 | 5.4 | 15.6 |
Source: Ace Equity
* Trailing 12 months price to earnings
Return on net worth and return on net capital for FY19
Debt to Equity as per September 2019 balance sheet
Interest coverage and net profit margin are on trailing 12 months basis
It's not just the fundamentals, but a decent margin of safety at these valuations as well that's working in the investors' favor in these stocks.
Hidden Treasure subscribers can listen to my webinar on these stocks here.
If you don't have a subscription to Hidden Treasure you may sign up here.
--- Advertisement ---
3 Tech Stocks to Boost Your Wealth

Technology. That's where the growth is.

That's why we believe, it's time to load up on 3 specific tech stocks.

We've spent years to vet these stocks.

And our research says... these 3 cutting edge tech stocks could potentially create a wave of Indian millionaires.

Click here for the full details...
------------------------------
Given the uncertainty, it is difficult to predict the bottom. Nonetheless, at current valuations, I believe the long-term return potential in these stocks is great.
However, I recommend you to not go all in and have a staggered buying approach.
I hope you will not miss this once in a decade opportunity to make the most of the rebound in these smallcaps.
Stay safe!
Warm regards,



Richa Agarwal
Editor, Hidden Treasure
Equitymaster Agora Research Private Limited (Research Analyst)
PS: Read about my #1 stock pick for 2020 here.
PPS: On 22 April, Equitymaster celebrates its 24th birthday. As we begin our 25th year, we would like to thank you for your support.
Recent Articles