You Won't Make Money Buying TCS Now
Apr 27, 2018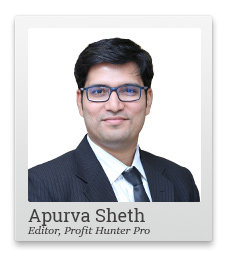 A few days ago, Ratan Tata, Chairman Emeritus of the Tata Group, expressed his views about Tata Motors with these words.
It hurt me that we lost market share in the last four to five years and we became the company that the country looked at as a failing company.
Tata Motors has certainly not done well over the last few years and you can feel the pain when you read those words. But not everything is going downhill at the Tata Group and Mr Tata has something to cheer about.
--- Advertisement ---
[Alert] Sell These 3 Stocks Immediately

These 3 stocks are ticking time bombs in your portfolio.

It is very likely that you could be owning these 3 overvalued... fundamentally weak... ready to crash stocks... in your portfolio today.

Because many stock brokers have painted rosy pictures of these stocks.

But the reality is starkly different.

If the market crashes, then these stocks could wipe out your wealth.

You should get rid of these stocks as soon as possible.

We are going to reveal details of these 3 landmines at our upcoming special event.

You can click here to sign-up in 1-click. It's free.
------------------------------
Tata Consultancy Services (TCS) hit the 100-billion-dollar market cap on Monday.
It became the first and only Indian company to achieve this feat. TCS achieved this milestone within 14 years of its listing.
I am sure a philanthropist like Mr Tata would hardly care about such milestones, but the industrialist in him would be happy.
The investors of TCS will also be joining in his happiness. And, if you had bought TCS shares way back, you can be happy and celebrate too.
But if you are planning to buy TCS stocks now and expect to make money, you are likely to be disappointed.
Now If you are a Profit Hunter Pro subscriber then you would be shocked to hear that. As I had recommended to buy TCS a month ago.
Apart from this, I have also shared my view that the Nifty IT sector is likely to be in the greed phase till February 2019, which means it has potential to move higher from here. And if the Nifty IT index should move higher, it cannot do this without TCS.
Then why am I saying that TCS won't help you make money now?
The sentiments in the IT sector have taken a complete U-turn from what it was in August 2017 - the first time when I wrote about a reversal in the IT sector. If you do an advanced search on google, you will realise that the news on the IT sector was negative throughout 2017.
Here's what the headlines read between July and August 2017, when I was keenly looking at the sector...
'IT sector to see up to 38% fewer jobs this fiscal'
'The fading glory of India's IT industry'
'Indian IT Sector Faces Choppy Waters Due to Automation'
'Indian IT Hits Worst Slump In 7 Years'
'Visa, re-skilling key challenges for IT industry'
The IT sector was among one of the most hated sectors. The news around it was bad. President Trump was being very vocal about the H1B Visa allotted to foreigners. Automation was another challenge.
India's Revival: A Once-in-a-Generation Wealth Making Opportunity
Fast forward to now, almost everyone is gung-ho about this prodigal sector.
On Tuesday, most financial dailies ran full page stories when TCS hit the 100-billion-dollar mark. Of course, touching 100-billion-dollar mark is big news and it should be covered...nothing wrong with that.
But when a stock is on the front page of all newspapers, the whole world knows about it. Most certainly everyone has bought a piece of it. (Ask your granny if she has bought TCS ??)
The stock becomes a mainstream idea when it's splashed across the papers - and you cannot make much money by buying what's mainstream.
Warren Buffett puts it beautifully when he says 'be greedy when everyone else is fearful and fearful when everyone else is greedy.'
Now, it seems that the needle of public sentiments is pointing more towards greed than fear.
But that's not all. I'm not avoiding TCS just because it's being spoken about in the papers.
As always, I have another strong and more important reason for that - Price Action.
As a trader, price action is all that matters to me and that's pointing towards a consolidation over the short to medium term.
Let's have a look at the weekly chart...
TCS traded in a range of 2,000 to 2,800 between September 2013 and January 2018. This broad range was split into two halves of Rs 400 each - 2,000 to 2,400 and 2,400 to 2,800.
You can easily notice how the stock has traded beautifully within these ranges over the years. These ranges have acted as support as well as resistances on multiple occasions.
--- Advertisement ---
[Watch Now] 3 Little-known Stocks We are Super Bullish On




Click Here to Watch Now
------------------------------
The stock finally broke out above 2,800 levels in January 2018 and shot up closer to 3,200 levels. Mind you, this was also Rs 400 above the breakout point of 2,800.
It faced selling pressure around 3,200 and pulled back to 2,800. Such pullbacks are normal. I showed a similar pullback to my Profit Hunter Pro readers in Indian Hotel last week.
Now, the stock has shot up closer to the higher end of the broad range. The new range is again of Rs 800 from 2,800 to 3,600. On Monday, the stock retraced after hitting a high of 3,557 which is close enough to 3,600.
So, the price action suggests that the stock could take some time and consolidate in a range before it makes a meaningful move above 3,600. This level isn't far away from where the stock is right now.
Hence, I say there is little opportunity to make money in TCS. But that's not a reason to be sad...
There are other IT stocks which could bring in the moolah...
You know that I am the editor of Profit Hunter Pro. And my aim here is to pick the best of the best trading opportunities for my readers. I pick only those stocks which have passed through the lens of the Equitymaster research team.
During the week, for example, I closed a stock recommended in the Hidden Treasure (i.e. small cap) service.
If you want to invest in stocks that the mainstream has not even heard of - and that have the potential to explode into multibaggers with time - then Hidden Treasure is exactly the service for you.
I closed that recommendation, Cyient Ltd, after it achieved its target price of 740 - generating a solid return of 12.12% in 21 days for my readers.
And this was actually the second time we closed our trade in Cyient with a profit. The first time it generated returns of 20% for Profit Hunter Pro readers.
So you see - trading only good fundamental stocks, ie, techno-funda trading, is the best approach.
If you are a value investor with the slightest interest in trading - I strongly suggest you start with techno-funda.
Regards,


Apurva Sheth (Research Analyst)
Editor, Profit Hunter Pro
PS: Until TONIGHT, you have the unique opportunity to claim additional 1-year access to Hidden Treasure, our extremely successful small cap stock recommendation service...virtually free! Click here before the clock strikes midnight and the offer turns into a pumpkin.
Recent Articles