The Best Stocks to Look for in a Post Coronavirus World
May 7, 2020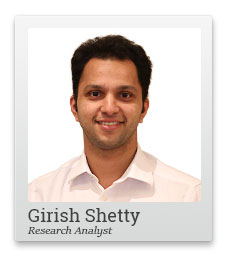 Back in school in the 90s, kids were asked a simple question. What are the basic necessities in life?
Every kid was prepared with the answer...food, clothing and shelter. There were no debates around that. It was the universally accepted truth.
Ask any school kid now and their answer might differ. The answer now will most likely be food, clothing, shelter, and technology.
Technology was seen more of a luxury in recent times. It was considered more of a plaything for the privileged.
But the coronavirus crisis has highlighted the importance of technology more as a need than luxury.
Without technology, the damage to the Indian economy would be multiple times it is now.
Imagine employees of small businesses in the current situation without technology. How would their employers pay them offline? A bank account and a mobile number is all they need now. UPI has enabled money transfer in seconds now.
Also, millions wouldn't be able to work from home without technology. The use of technology has meant you're seamlessly able to attend meetings, access your work files from home.
Online delivery of essential items like groceries, dairy products to households wouldn't have been possible without technology.
Technology is at the forefront in fight the Covid-19 virus too. It has enabled 3D printed masks to be mass-produced. Massive amounts of data is collected from Covid-19 patients all over the world. This data will help in getting a vaccine out as fast as possible.
--- Advertisement ---
3 Stocks for Potentially Massive Gains

COVID-19 has triggered a fundamental shift in the global economic and geopolitical map.

This reshuffling of the geopolitical map is just ONE of the forces fuelling the great Indian revival.

A revival that will restore the power, wealth, and influence we once enjoyed.

And, those who invest in the companies at the heart of this revival could turn a small stake into generational wealth.

Our co-head of research, Tanushree Banerjee, has narrowed down on 3 specific stocks.

She strongly believes, these 3 "revival stocks" could potentially offer massive gains.

Click here to learn more about this mega opportunity
------------------------------
We will come out of this crisis sooner or later. What will stay is the impact of technology. I strongly believe it will be permanent. The lockdown has shown the importance of technology in day-to-day lives.
Eventually, its impact will show up in the stock markets too. We are already seeing that in developed countries. 'FAANG' (Facebook, Amazon, Apple, Netflix and Google) stocks dominate the US stock market. These 5 stocks now account for around 45% of the NASDAQ index.
In fact, the top 4 companies in the world by value are all technology stocks.
Soon, we'll be seeing the same in the Indian stock market too. FMCG and Financials currently dominate the Indian indices. My strong belief is this dominance is likely to end soon.
Technology stocks will likely come to the fore in a post covid-19 world.
Revealed: 3 "Revival Stocks" for Potentially Massive Gains
Is your stock part of the daily lives of the Indian consumer? Think of the current lockdown. People are hooked to their screens watching online shows, movies most times. Does your stock cater to this group?
Healthcare will be given even more importance in a post covid-19 world. Does your tech stock cater to this field?
The coming years will see technology play a huge role in our lives. We will see this reflected in the Indian share market too.
I believe if we pick the right technology businesses, the wealth creating opportunities can be huge.
In fact, Tanushree Banerjee, our Co-head of research, has identified a tech stock which ticks all the boxes.
Looking at the potential upside in the stock, over a period of five to ten years, investors could become a One Stock Crorepati.
Warm regards,



Girish Shetty
Research Analyst, Hidden Treasure
Equitymaster Agora Research Private Limited (Research Analyst)
PS: Find out more about this exciting stock here.
Recent Articles