3 Investing Rules Made this 96-year Old Exceedingly Wealthy
May 21, 2018
On the surface, there was nothing extraordinary about Sylvia Bloom and the way she lived her life.
A legal secretary by profession, she worked for the same law firm for 67 years until her retirement at 96.
On the personal front, she was a picture of complete frugality.
Nothing exemplified this better than when the twin towers crashed a few blocks away from her office on 9/11, she took a city bus - not a taxi - home.
Which is why when she became the single largest donor to a social service group shortly after her death in 2016, no one close to her could believe their ears.
Turns out, while Sylvia was living a life of thrift, she was discreetly cultivating wealth, a lot of it in fact.
Her modus operandi was simple. Follow the investments her bosses were making and make a small purchase of her own in the exact same stocks.
And this is how she ended up donating a whopping US$ 6.24 million to a New York city based philanthropy, the largest gift from an individual in the charity's 125-year history.
--- Advertisement ---


High-quality small cap stocks for dirt-cheap?

A rare event in the investing arena could potentially send the prices of some high-quality small caps stocks crashing down and make them available dirt-cheap to investors.

To know all about this rare event…

And how one could use the same to maximize his small cap gains…

Click here for full details on this time-sensitive opportunity
------------------------------
I see the following Warren Buffett quote as having a hand in Ms Bloom's rags to riches story.
Saving early is more important than IQ.
It is entirely possible Ms. Bloom may have started saving late in life.
But the fact that she went to live till 96 still gave her a long runway on which to fly her compounding plane. And boy, did the plane soar.........amassing her a personal net worth in excess of 9 million dollars.
Look around and this template keeps cropping up every now and then.
Unassuming, generous millionaires that live a life of near complete frugality and amass fortunes worth millions of dollars.
What explains their success?
I could think of three things acting in near perfect harmony.
Small, consistent investments over a very long-term period
Having a bulk of investments in the best performing asset class like stocks or real estate and
Not hurting the process of compounding by incurring frequent losses
That's it. That's the formula for making great long-term wealth, right there.
Tell you what, even Warren Buffett operates from the same playbook. What often gets unnoticed in the din of his brilliant stock picking and the strength of his business model is the role longevity has played in his unparalleled success.
To give you a perspective, it is believed that a whopping 99% of his wealth has accrued to Buffett after the age of 50.
Yes, that's true. Had the genial billionaire hung up his investing hat right after he turned 50, chances are we wouldn't have even heard of him. However, like Sylvia in the story above, he stuck to the three rules above and the power of compounding took care of the rest.
A re-creation of Buffett's investing life will look like the chart below.
Buffett started investing at the age of 11. So, a corpus of Rs 1,000 increasing every year by 5% and compounding at 15% per annum would have made someone worth a whopping Rs 471 m at Buffett's current age. And just like Buffett, more than 99% of the gentleman's wealth would have accrued to him after the age of 50.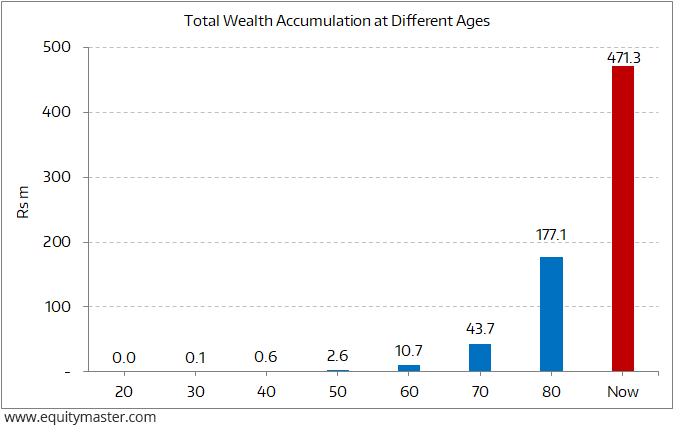 Why most investors use all sorts of complex methods - but not these three simple rules - can be summed up brilliantly by none other than the Oracle of Omaha himself.
The word has it that when Jeff Bezos asked Warren Buffett on why everyone doesn't just copy the latter's investment thesis because it is so simple, Buffett simply said, 'Because nobody wants to get rich slow.'
I couldn't have said it better.
Good Investing,


Rahul Shah (Research Analyst)
Editor, Profit Hunter
PS: If you live long enough you will end up wealthy... if you make the right investing decisions, you will actually be able to enjoy that wealth while you are still young. Want to retire early and wealthy? Read our report here.
Recent Articles