Stocks to Buy When the Rupee Falls
May 23, 2018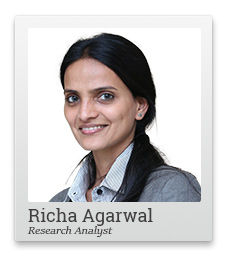 When I logged into my system yesterday morning, the first thing that caught my eye was an email from Ankit, the Insider at Equitymaster.
This is what he wrote...
Hi guys, just a general discussion on textile exports since we have some textile exporters in Hidden Treasure...

It appears that the depreciating rupee has not helped them much.

The worry is that Indian textile exporters are losing their cost competitiveness. My question is: Is this a temporary issue because of the lack of export benefits under GST resulting in cash crunch and higher working capital needs?

Or is this a structural change wherein India is losing out to low cost competitors from countries like Vietnam, Bangladesh, Myanmar, Ethiopia, etc?

Curious to know your views...
Over the last few months, I have met managements of several textile companies. A few of these have made it to our recommendations.
Before I share my takeaways from these meetings, I want to take you back to an event that turned out to be the biggest blowout in the textile industry.
In August 2016, Welspun India Ltd, the largest home textile company in India, found itself in the eye of a storm. One of its biggest US based client had aborted a business deal worth over US$ 90 million. Reason - Welspun India Ltd had not been using the quality of cotton it claimed to use.
Warren Buffett once said:
It takes 20 years to build a reputation and five minutes to ruin it. If you think about that, you'll do things differently.
If only Welspun had paid heed to this.
--- Advertisement ---


How one could potentially profit from the coming Small Cap Firesale…

We believe we could soon see a Small Cap Firesale, in which several high-quality small companies could be available for dirt-cheap to regular investors.

Why is this firesale happening? And how could one get the maximum out of it?

Click here for full details on this time-sensitive opportunity…
------------------------------
In case you are wondering, the cost of putting its own and the client's reputation at stake was Rs 56 billion.
That was the market cap erosion for Welspun India when the news got out. It did not help then that it was the biggest. Or had the best clients out there. The company is yet to recover from this blow.
This event had a ripple effect on the entire sector.
The US importers woke up to the risk of being hoodwinked by the Indian suppliers. A few more contracts were cancelled on the slightest pretext. And there were some innocent casualties as well.
It did not help that Murphy's Law worked overtime for the textile sector in FY18.
Note ban, GST, delayed refunds of levies, destocking in US, some shift in business from brick and mortar model to ecommerce in US, unfavourable exchange rates, and high cotton prices...
Whatever could go wrong, did.
Result - there has been a massive correction in the stock prices of some textile companies.
Coming back to Ankit's query...
From the meetings that I have had, I see that things are getting better.
Cotton price has stabilized, the destocking phase is almost over and the rupee's rise bodes well for the exports. Some players are upgrading their processes and plants to meet stricter standards demanded by the US clients.
That said, competition, especially from China, has intensified.
The big question is:
Amid this macro backdrop and at these valuations, do these textile companies look attractive enough?
Is the worst priced in? Or has the textile sector become a value trap?
To be honest, improvement in the macro factors will never be the basis of my recommendation in textile segment.
For me, what matters most is whether a company has the capacity to suffer when macros remain unfavorable, and grow when the cycle turns.
4 criteria to pick the right stocks:
Are the products and processes of a company unique and strong enough that clients stick to it irrespective of what happens to the cotton prices, rupee movement and most importantly, competition?
Can I trust the management?
Is the balance sheet strong enough, in case the downcycle stretches?
Are the valuations attractive enough?
My latest Hidden Treasure recommendation answers 'Yes' to all these questions.
In the highly competitive and legacy-ridden textile sector, this company is all about technology and reinvention. Further, its management passes the true test of integrity - doing the right thing, even when no one is watching.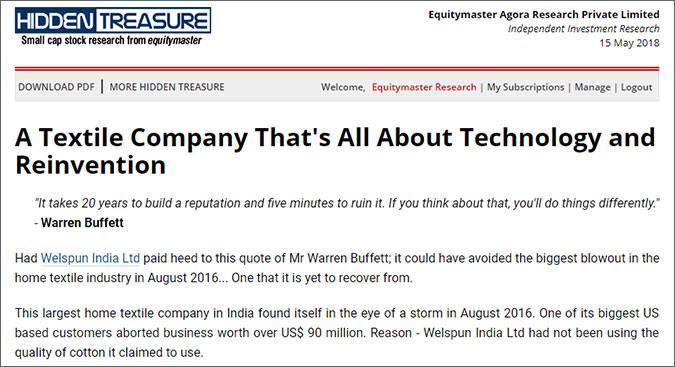 You see, well before the Welspun India blowout, this company was focusing on ways to be more credible and transparent. It was the first to bring to market a technology (patented with exclusive rights) that allows clients to verify authenticity of cotton at different stages of manufacturing.
This move reflects well not just on management's values, but their foresight as well. But that's not the only reason why I like this company. (I won't get into the details here, but if you want to know more, check the latest Hidden Treasure report.)
Anyways, so back to the falling rupee, rising crude oil price, and countless such macro factors...
Should you invest in these circumstances, and if so, how?
My straight answer: Stop fretting about known 'unknowns.'
Focus instead on good businesses at sound valuations. If you can do that - stay steady while the world teeters - your wealth will grow steadily, peacefully.
Regards,


Richa Agarwal (Research Analyst)
Editor, Hidden Treasure
PS: Richa has an uncanny knack for picking small cap stocks that are on the verge of growing immensely. And now, thanks to a new mutual fund regulation, opportunities are going to come pouring in. Make sure you sign up to get Richa's recommendations today.
Recent Articles