Indian Banking, Telecom and Agriculture will be Revolutionised by this New Technology
May 24, 2018
Editor's Note: As investors we know that we need to avoid bubbles and yet, somehow, get in on long-term trends before they catch on. The only way to do that is to stay alert, stay informed. Today, I am sending you this piece to alert you that a big change - and therefore a big opportunity - is on the horizon.
---
Recently, Prime Minister Narendra Modi advocated the use of blockchain in agriculture.
Now, for those of you who have been reading my letters regularly, you will know that I am bullish on blockchain - the technology behind Bitcoin and cryptocurrencies.
While bitcoin and cryptocurrencies are the hot topic today - both in India as well as globally - it is the revolutionary technology behind it - the blockchain, that has attracted interest from all quarters.
In fact, I will be attending a full day blockchain conference at the Taj Mahal Palace here in Mumbai, tomorrow.
The event will be covering the real life applications of blockchains in India as well as globally. What's more, there's also a panel discussion on the legal aspects of blockchain and cryptos in India - I'll be sure to ask a lot of questions in this one.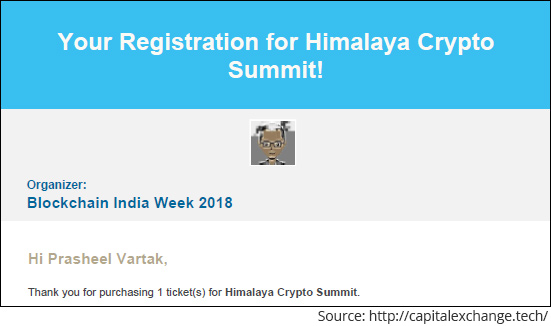 I plan to share all the learnings with you, when I write to you next week. Stay tuned...
In India, the government and regulators seem to have taken a dismissive view of bitcoin and related cryptos in general, and are putting in curbs for their use.
However, they have both expressed willingness to use and implement the underlying blockchain technology.
It has been said that blockchain will do for transactions what the Internet did for information. What that means is that it allows increased trust and efficiency in the exchange of almost anything.
--- Advertisement ---


How one could potentially profit from the coming Small Cap Firesale…

We believe we could soon see a Small Cap Firesale, in which several high-quality small companies could be available for dirt-cheap to regular investors.

Why is this firesale happening? And how could one get the maximum out of it?

Click here for full details on this time-sensitive opportunity…
------------------------------
Blockchain can profoundly change how the world works.
And the people in power know this.
Noting that the agriculture sector is the principal source of income for over 58% of rural households, PM Modi highlighted agriculture as a possible use case for blockchain technology.
Highlighting the opaqueness in the sector, low quality of seeds and fertilizers which finally leads to low productivity, Modi said this:
With blockchain technology, this problem can be controlled. Through a real-time monitoring of the supply chain, the technology can bring in transparency in the agricultural trade - starting from the production process to making it available for the farmers as products can be examined at every stage.

This will have a complete network comprising farmers, processing units, regulatory authorities and consumers. Because one affiliated to this chain can keep an eye on this, therefore, the scope of corruption will also be reduced. Most importantly, this will check the mischievous acts of the middlemen and the harvest will not go wasted.
Embracing AI and Block Chain Technology would be beneficial for our agriculture sector. pic.twitter.com/hUVeGIscin

— Narendra Modi (@narendramodi) May 19, 2018
This is another addition to the list of blockchain endorsements by top government officials and regulators.
But it's not all just hype and government rhetoric.
Real, actual corporations - yes even the listed ones - have begun implementing blockchain based technologies and platforms.
Just last week, it was reported that India's biggest telecom companies, Vodafone India, Bharti Airtel and Reliance Jio are evaluating blockchain -based platforms for optimizing and lowering operational costs among other things.
Vodafone is already at the proof of concept (POC) stage, and Airtel is undertaking initial trials.
Meanwhile, Jio has set up a team to work to develop new use-cases and applications of blockchain technology.
Indian banks are already in on the game.
Several Indian banks - SBI and 27 other banks - joined hands to form BankChain - that harnesses the blockchain technology - to enable smart contracts and store KYC details.
Axis Bank, IndusInd Bank, and Yes Bank have already partnered with Ripple, a blockchain-based company with a cryptocurrency of the same name, which provides solutions for cross-border transactions and remittances.
ICICI Bank has been doing similar cross border blockchain pilots for a while.
In addition, Kotak Mahindra Bank did a test trade finance blockchain transaction, way back in May 2017.
As you can see, this is just the beginning. Companies and governments all around the world are adopting blockchain tech in their everyday businesses as well as to find out new and innovative revenue streams.
2018 is the year when blockchain adoption moves from pilots and tests to full scale adoption.
That's why it's vital that you learn to understand this technology.
It will offer countless investing opportunities in the years ahead... and it will play a central role in future years in how you (and, without question, your children) work, do business, play, and operate in society.
However, with the Indian government and regulators looking at cryptos in a dim light, it will put blockchain innovation on the backburner.
As this would paint the whole sector in a negative light, and people will lose interest.
Note that blockchain burst on to the scene only because of the massive interest surrounding cryptocurrencies like bitcoin.
Only after a massive adoption of cryptos did the corporations and governments take notice of the technology.
Curbing cryptos domestically, will mean that people would lose interest and eventually India will be left behind in blockchain and crypto innovation.
In addition, while it is possible to build blockchains without a cryptocurrency attached to it, it won't be enough. All blockchains cannot function optimally without a crypto token element.
For example, Japan's biggest and the world's fifth largest bank - MUFG - is planning to move its operations on the blockchain by 2020.
For smooth operations, the bank is planning to test its own cryptocurrency for use in its blockchain the in the months to come.
The government's 'bitcoin is bad, blockchain is good' rhetoric is difficult to sustain in the long run as with effectively curbing the use of cryptos, the government will indirectly stifle blockchain innovation too.
India's government needs to welcome this opportunity with open arms and usher in the blockchain revolution. Because, whether the government likes it or not, the blockchain revolution is already happening.
Warm regards,

Prasheel Vartak, CBP (Certified Bitcoin Professional)
Editor, Crypto Confidential
PS: Several Indian companies, and thus their stocks, will be unavoidably affected as the blockchain story unfolds. Those who are ahead of the game stand to gain big time. To be prepared to catch the profits from this revolution, click here.
Recent Articles