Fidelity to Build its Own Crypto Exchange
Jun 8, 2018
Editor's Note: After a month of flying high, cryptos are seeing red again. The biggest reason for the slump seems to be a criminal investigation into the crypto market by the US Justice Department. Prasheel, however, insists it's a good thing for cryptos. Confused? So, am I. Read on for his insights.
---
One of the biggest investment managers in the world - Fidelity - is planning to build its own crypto exchange, according to Business Insider.
The firm, which manages over US$ 2.5 trillion in assets, and provides retirement products to Americans, can have a huge impact on the crypto market if it does launch its own exchange.
Right now - after a blockbuster April, where the total crypto market capitalization rose by a whopping 62% - cryptos are back where they were before the April rally.
One of the biggest reasons I see for the lull in the crypto market could be the US Justice Department's launch of a criminal investigation - a probe at this stage - into bitcoin and cryptocurrency market manipulation.
One area of the investigation targets so-called 'spoofing' - a technique used in traditional financial markets to affect price movements by making large volumes of fake orders.
--- Advertisement ---


A Proven Way To Potentially Make Money Even In Sluggish Markets

We often come across phases where there's not much happening in the stock market.

Most investors would take such phases in their stride thinking that sluggish and down phases are a part and parcel of the stock market.

But research analyst Apurva Sheth found that banks and insurance companies were using a secret method that enabled them to generate solid gains even when the markets (or individual stocks) were doing almost nothing.

Yes! To find out all about that secret method, just click here...
------------------------------
And at the moment, the focus seems to be particularly on the trading side of things, and the Justice Department is working with prosecutors and folks from the Commodities and Futures Trading Commission (CFTC), who regulate bitcoin futures contracts.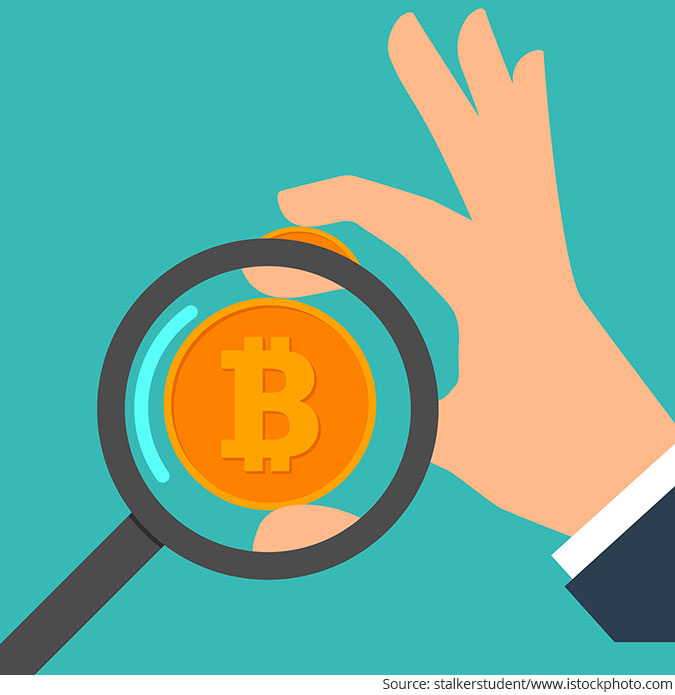 Now, this is seen by many as a negative thing, and obviously the bitcoin price has crashed.
But, this is in fact a positive development because the industry is going to get regulated and all stakeholders - and those waiting on the sidelines - want to see a clean and wholesome and ultimately, regulated, crypto trading industry.
Right now, the crypto world is basically chaos.
Exchanges themselves wash a huge amount of trading volume, ie, they simply put in fake orders, fake back and forth buy-sell orders on their own exchange to generate the appearance of liquidity and entice people to come and trade.
The 'liquidity' then vanishes as soon as people put orders in.
Chinese exchanges, in particular, are terrible for this.
On top of that, there's a huge amount of spoofing and placing fake orders, pulling them, and the kind of general behavior that isn't really tolerated in the equity market anymore.
Now, this isn't really surprising.
We have seen banks - some of the most highly regulated industries in the world - rigging Libor and FX fixings.
So, naturally, you should expect some bad actors in an unregulated industry like crypto where there is an increasingly large amount of money at stake.
So, the bottom line is, regulation is a good thing.
Regulation Will Invite Big Players to the Crypto Space
A clean, fraud, and manipulation-free crypto trading environment will entice the big players, who are cautiously but steadily getting in on the crypto bandwagon.
Having trustworthy household names, like Fidelity, behind a crypto exchange would open the floodgates for investors, including corporations and individuals on the fence.
Now, a trusted firm like Fidelity wouldn't just jump into an unregulated market beset with fraud and manipulation.
And that's why the regulatory crackdown - while painful in the short term - is only going to prove beneficial in the long term.
So, what next...
The next month is going to be important for cryptos, both domestically, and globally.
In India, the Supreme Court is set to decide the fate of cryptos on 20 July. It is set to hear the petitions of various crypto exchanges in the country against the Reserve Bank of India's (RBI's) order to its regulated entities to stop doing business with those dealing in cryptos.
Worldwide, we have another big regulatory announcement and that's likely going to be an agreement on a regulatory framework amongst G20 countries.
G20 is pretty much anyone who is everyone (including India) and they are clubbing together to effectively form some kind of broad consensus on what the global regulatory space should look like with regard to cryptocurrencies - in particular, tackling things like money laundering, market manipulation, stuff like that.
A coordinated, unified and balanced approach to cryptocurrency regulation - striking a balance between regulatory oversight/investor protections, and not stifling innovation - could lead to positive development in the crypto space, and would go a long way in legitimizing cryptos for the mainstream.
I will be sure to keep a track on the developments on this front.
Whether you want to watch it from the sidelines, or get in on the action, it is imperative that you stay informed about this all new asset class.
So enroll yourself before you miss the bus.
Warm regards,

Prasheel Vartak, CBP (Certified Bitcoin Professional)
Editor, Crypto Confidential
PS: Is there a future for crypto currencies? That really is the big question, isn't it? If there is, there is definitely money to be made. If there isn't, you'd just be a loser for entering it now. So where can you turn for an answer? How can you stay ahead of the game. Is it even possible? Yes - and quite easily. Simply follow crypto expert Prasheel Vartak - click here.
Recent Articles