Why Modi 2.0 Will Be Great for These 7 Stocks
Jun 10, 2019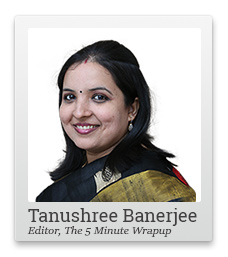 Most of us have fond memories of our school days. We remember some memories in great detail.
Back during my school days, we had a physical training class that was compulsory to attend.
Our trainer was very passionate about his course. In every class, he would drill into us the benefits of physical activity. How it benefits the mind, body, and overall well-being.
Despite this, we kids used to look at it only as break from studies. Most of us never gave 100% like we did in our normal classes.
There was a simple reason for it: There was no marks for this training class.
Even if you're the best or last in the course, it wouldn't matter in your final evaluation. There was no incentive to do well.
---

Advertisement

---

How to Find the NEXT Stock That Has the Potential to Make One A Crore… Or More

Do you ever regret missing some big opportunities in the stock market?

The opportunities which could have made one a Lakhpati…

Heck, even a Crorepati…

Opportunities like Wipro, MRF, Titan which could have made one a Crorepati had he taken timely action.

Of course, we can't go back in the past and tap into those opportunities.

But we can look for the next one.

So, how do you find the NEXT stock that has the potential to make a crore…or maybe even more?

Join my first-ever 'One Stock Crorepati' MEGA summit on 24th June for full details…

This time don't miss the opportunity of finding one stock that could make one rich.

Click Here to Claim Your FREE Pass for this MEGA Summit…

Here's another reason why you need to block your seat today…

At this MEGA Summit, Research Analyst Richa Agarwal will reveal details of what she calls a 'crorepati' stock.

Yes…a single stock that has the potential of making one a crorepati in the long term.

It's happened in the past.

And if Richa is right, this could happen again.

So, we strongly recommend you don't miss this MEGA Summit…

Click Here to Claim Your FREE Pass…
------------------------------
This is the basic mistake everyone at Dalal Street made during Modi 1.0. When talking to analysts, the complaints were common.
The auto sector is not doing well.
NBFCs are in a mess.
The fiscal deficit is getting worse day by day.
GDP growth has stagnated.
They forgot something basic.
In India, only 22 out of 1,000 people own a car. That's just 2.2% of the population!
According to a Credit Suisse report, more than 90% of India's adult population falls in the low-income bracket. That's an income of less than US $10,000 a year.
Will this 90% care about car sales going down?
Or will they prefer an affordable house, clean water, electricity, and better roads?
The government's focus was clearly on the latter.
That resulted in a thumping majority for Modi 1.0.
Now I believe Modi 2.0, will also be an extension of the same. More focus on the majority than the elite few.
Does it mean that Indian stock markets will suffer?
I don't think so.
But the stocks that will go up will be the ones that will benefit the most from these policies.
Two-wheelers will benefit from better infrastructure in villages.
Banks will benefit when accounts are opened for the poor.
Companies in the agri sector which employs around 70% of the population will also do well.
Apart from these, there are 50 irreversible trends playing out right now and will continue to do so over the next decade.
I call this transformation, the Rebirth of India.
And I've zeroed in on 7 stocks that will benefit from the Rebirth of India.
---

Advertisement

---

Right Conditions + Right Measures = Explosive Growth In Modi 2.0

We saw it happen earlier in the US, China, Japan…and many believe we could see the same happening in India now too in Modi 2.0.

Yes! In each of those countries, the right conditions combined with the right measures led to explosive multi-decade growth.

In the same way…

With the successful re-election of Modi…and with all measures he has already taken and could take in the future…many believe the stage is set for potentially explosive growth in Modi 2.0.

One that could even push the Sensex to 100,000 sooner than expected.

Now in our view, the best way for one to get the maximum out of this is by getting into companies that are best-placed to benefit from this rapid surge.

The good news is our Co-Head of Research Tanushree Banerjee has identified 7 stocks that could rise sharply from this combination of right measures and right conditions.

But these stocks won't remain in the BUY range forever.

So don't delay…

Click here for full details now...
------------------------------
I believe these stocks are in the right place at the right time. They're the best stocks to buy on the journey to Sensex 100,000.
India's wealth distribution gives us an idea of persistent income inequality.
According to a Credit Suisse report, more than 90% of India's population lie in the base tier. That is a wealth of less than US $10,000 (around Rs 7,00,000) a year.
Skewed Wealth Distribution of Indian Population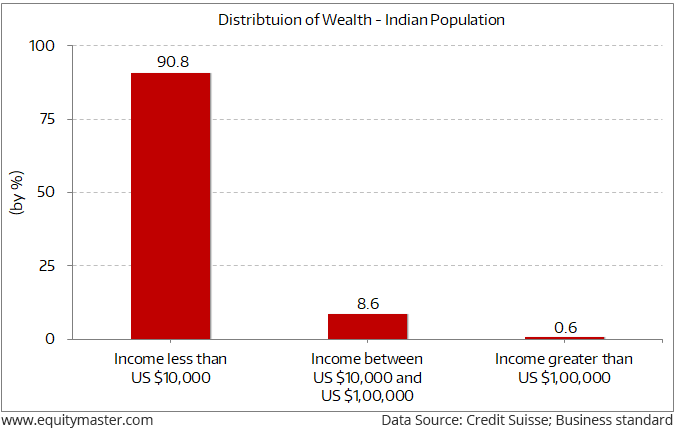 Even more startling is the median wealth in India which is US $1,295. This means half the population earns less than $1,295 (around Rs 90,000) a year.
A major reason can be attributed to India's employment in agriculture. 70% of India's population is employed in this sector.
But it contributes just 25% to the Gross Domestic Product (GDP) of India.
Going forward, the government's focus will be to shift employment from agriculture to other sectors.
This trend implies more farm mechanisation going forward. Also, setting up of manufacturing units, higher spending on infrastructure, and other employment generating sectors.
I believe these trends will play a big role in the Rebirth of India.
Warm regards,



Tanushree Banerjee
Editor and Research Analyst, The 5 Minute WrapUp
PS: Dear reader, Tanushree believes this is the right time to buy the best 7 stocks in the market before they run up. Read more about these 7 stocks here...
PPS: Dear, reader is it possible to become rich with a single stock? Before you say no, listen to Richa Agarwal, our small cap expert. She has a lot to say about this. Join Richa at the One Stock Crorepati MEGA Summit. Do not miss this opportunity. FREE registration ends shortly. Click here to sign up...
Recent Articles