Why this Small-cap Stock is Attractive After a 70% Decline
Jun 11, 2020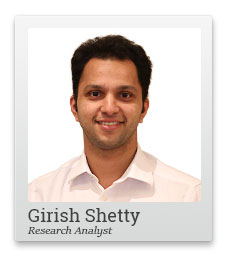 Elisabeth Kubler, in her 1969 book, On Death and Dying wrote about the five stages of grief.
I was fascinated by the message of this book and how the stock market has moved recently in a similar way.
Here are the five stages of grief from the Covid-19 prism and its impact on the Indian stock market.
Denial: We completely deny that such a thing exists. February 2020 was a denial phase. No one took Covid-19 seriously. Everyone compared it to flu and dismissed it.
Anger: Then we had the anger phase in early March 2020. The realisation this is something serious and can affect the whole world. The impact was seen in job cuts and business losses across the globe. "Why me?" was on everyone's mind during this phase.
Bargaining: Then we had the bargaining phase post the lockdown around end of March. We calmed ourselves down. We told ourselves, "Let the lockdown end and I can move on with my life."
Depression: The lockdown and its extension was what we can call a depression phase. People were stuck at home looking at an uncertain future.
Acceptance: Then finally came the acceptance phase. We've accepted Covid-19 is the new reality. There will be a phased opening of the economy. While some cities like Mumbai and Delhi are still seeing large number of cases, some cities have controlled it well.
We have seen a similar reaction in the markets as well. We saw a 40% decline in the Nifty 50 from February to March.
We can call this the rapid progression from the denial to the depression phase. Doomsday scenarios were being predicted. People were scared and stayed out of the markets.
Then the acceptance phase started slowly kicking in. Positive news of a possible vaccine by end of this year started doing the rounds. Slowly but surely the world was opening up for businesses.
This is reflected in the market's performance. From its March lows, the Nifty 50 is now up almost 35% in just over two months.
Advertisement
India's Next War
Recently, both China and Pakistan have started amping up tensions at the border.

So, now India faces a possible 2-front war scenario.

And this calls for a heavy deployment of future-ready and highly advanced weapons at our borders.

We are talking next generation tanks, guns and even high-tech equipment like drones.

Now unlike in the past where all this money was spent with foreign companies, now, it's being redirected to Indian companies.

For a few Indian defence companies...this is a mega growth opportunity.

And for investors... it's a rare opportunity to make potentially huge gains as select defence companies see their growth, and therefore stock prices, potentially shoot up.

To learn everything about this new, and huge, opportunity, Click Here to join Equitymaster's Explosive Profits Summit.

At this exclusive summit, you will also get to access details of what we call our #1 defence stock pick.

It's a potential 10x opportunity in the long term.
We are at the other end now. There is FOMO (fear of missing out) at play right now in markets.
People feel they may have missed the bus.
But have they?
There is a feeling we may never test the March lows again. If you ask me, I don't think so...
I can't say for sure if we will test March lows on Nifty or not. What I can surely say is there are opportunities to buy good businesses at attractive prices right now.
We found one for our Hidden Treasure subscribers recently.
This stock was on our radar since 2016. We liked the business then as well but we asked subscribers to wait for a correction.
This was because we were not comfortable with the valuations. The stock is now down almost 70% since then.
Normally, there are two reasons for such a steep fall.
There is a permanent damage to the business. The business might have performed poorly or might be in danger of being shutdown...or there might be corporate governance issues with the company.
The markets have switched from extreme optimism to extreme pessimism. The pessimism can be due to the sector in which the stock operates or the overall pessimism in the stock market.
We are not interested in the first category of stocks.
But if the business is steady and falls in the second category, it is definitely worth a look.
#1 Small-Cap Stock: Biggest Opportunity in the Indian FMCG Market
Our upcoming Hidden Treasure recommendation certainly falls in the second category.
In fact, in terms of sales and profit growth, the business has done way better than other companies in its sector.
While its sector has grown at 11% from 2017-19, this company has grown sales and profits at 19% and 30% respectively in the same time.
The company's fundamentals are excellent and the stock is currently valued at less than 6 times earnings.
When we were looking at it in 2016, the market valued it at 29 times earnings.
This is a steady growing business. If bought during pessimistic times, I believe it's perfect for long-term wealth creation.
Find out about more about profiting from this rebound here.
Warm regards,



Girish Shetty
Research Analyst, Hidden Treasure
Equitymaster Agora Research Private Limited (Research Analyst)
PS: Richa, our small-cap stocks expert, has identified the best profit making opportunities in this market rebound. Read more about these stocks here.
Recent Articles