There Are Trading Opportunities Beyond NBFCs
Jun 13, 2019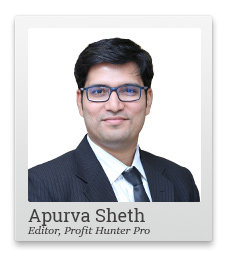 The NBFC crisis is creating a stir in the Indian stock market daily. It all began with defaults on debt obligation and moved on to impairments of debt mutual funds to penalty on rating agencies and even ban on audit firms.
Now all this has created a havoc for investors especially in the NBFC space. But it would be wrong to paint all the companies with the same brush. Back in September 2018 markets were doing the same thing with housing finance companies but some of them have proven everyone wrong and generated fabulous returns. I published a 5 must see charts note on housing finance companies first on 21st September 2018.
Recently, I have also published a note for my readers on the NBFC Crisis and why I believe it's a breeding ground of opportunities. I have published 5 must see charts note on NBFC stocks where there is an opportunity to make money in this crisis.
That's not all. I am seeing chances of trading opportunities cropping up apart from the NBFC space but which are considered equally untouchable.
---

Advertisement

---

Yet Another Reason to Get Tanushree's 7 Stocks Report Virtually FREE…

Our Senior Analyst and Co-Head of Research, Tanushree Banerjee, recently identified 7 stocks one could consider buying right now.

Now guess what?

As Modi takes steps to make India a military superpower in his second term…

And more importantly, one that's dependent on its own inbuilt weapons rather than imports…

1 of Tanushree's 7 stocks is placed to benefit greatly from a boom in India's defense sector. And by getting into that stock now, you could potentially make SUBSTANTIAL returns in the coming years.

To get Tanushree's 7 stocks report virtually FREE and find out what this stock is, just click here…
------------------------------
Last Tuesday I gauged the pulse of the market with our monthly 'sector check-up' for my Profit Hunter Pro readers. At the start of each month I look at 11 major sectors over two-time frames - six months and one month to see what is and isn't working in the Indian stock markets...
Realty and Banks stood out as the two hot favourite sectors to pick momentum trades. With markets at an all-time high, Midcap and Smallcap stocks could also participate in the uptrend.
And Auto looked the best sector for a contrarian trade. Recently I have recommended many stocks from the Auto space and have even closed them with decent gains.
Now auto isn't the only sector which could offer contrarian trading opportunities. Pharma is yet another sector which could throw up a surprise.
Seasonality and Price action both are in favour of an advance in the pharma sector just like it was for Auto sector in April.
Now let's check out both these parameters one by one. We will go ahead with seasonality.
Seasonality Chart of CNX Pharma Index for Last 10 Years
In the above seasonality chart, each bar represents each month of the year. The height of each bar is determined by the percentage of years the Nifty Pharma index has risen during that month.
You will notice the value 80 highlighted in the green box above the bars of months June and July. This means that the Pharma index has closed on a positive note in 8 out of 10 years between 2009 to 2018 in the months of June and July.
The number at the bottom of each column is the average percentage gain/loss for that month over the last 10 years. Pharma index has generated highest average gain in the month of June (3.9%) followed by July (2.9%). The returns between August to October are also positive and substantial compared to other months.
So, timewise the index has entered a positive period based on seasonality. Now let's check out price action.
The Nifty Pharma index is in a downtrend since ages. The index topped out in April 2015. It's been more than 4 years and the index continues to drag lower after giving signs of reversal occasionally.
The index dropped lower in a falling channel and showed signs of a major reversal in April 2018. The index managed to bounce back and break out of this channel. It registered gains of more than 20% from the lows.
However, it couldn't sustain and build up on these gains. The index soon moved lower by December 2018, bounced back marginally by April 2019 and slipped lower once again.
The index is currently trading close to its 5-year lows and previous support level of 8,000. The index bounced back from the same level last year.
If it manages to hold above the same levels then it could form a double bottom pattern on the weekly charts.
Apart from this the weekly RSI is also forming bullish divergence with price which suggests slowing downward momentum.
Thus, both seasonality (time) and price action suggests chances of a revival in this beaten sector could be high. Although its slightly early since we are yet to see a confirmation from price but it's worth the time and effort to keep an eye on the developments in this space.
Now I have my eyes on not only the Pharma sector but also the NBFC space. I am sure you are aware that I pick only the best fundamentally strong stocks which could offer a lucrative trading opportunity to my readers.
So, in case if you are interested in trading such stocks then you could join in thousands of my readers at Profit Hunter Pro and benefit from it.
Warm regards,

Apurva Sheth
Editor and Research Analyst, Profit Hunter Pro
PS: Decisive market movements make trading more fun and profitable. Sign up for Apurva's Profit Hunter Pro premium trading newsletter and make the most of these great opportunities. Click here to sign up now.
PPS: Dear reader, imagine making Rs 1 crore...from just one stock! Block your seat for the 'One Stock Crorepati' MEGA Summit...to find out how.
Recent Articles