The Stock Markets Are Running a Ponzi Scheme. Don't Fall for the 'False' Rebounds
Jun 16, 2020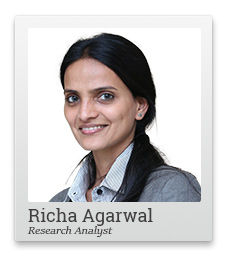 An idle mind is a devil's workshop.
And global stock markets are showing us how.
In the US stock market, Nikola Corp, an electric truck start-up went public earlier this year. It has already surged past Ford Motor Company in valuations. The other laggards include Hyundai, Maruti Suzuki, and Fiat Chrysler.
I'm not surprised if you haven't heard of it. I hadn't either, until it made news of being valued at US$ 26 billion, with ZERO revenues.
It was odd enough to see eye popping valuations for new age startups. With no revenues to show, Nikola has taken standards even higher (or lower depending on how you see it).
Here's more...
Hertz, the second largest car rental company in the US, filed for bankruptcy in May 2020, due to global crash in demand amid Coronavirus pandemic.
It caused the billionaire investor, Carl Icahn, lose over US$2 billion, as he dumped his shares in the wake of this event.
The company is making waves for a different reason in June. After filing for bankruptcy, the firm's stock price has risen 9 times!
So, what has fueled the stock price?
It's the rise of Robinhood Traders...
Wait, who?
In case you haven't heard of them, these are the amateur retail investors who have developed a taste for speculating.
--- Advertisement ---
Our Top Stock Pick for 2021

Whatever you do, don't miss out on this.

This little-known stock is behind a technology that could revolutionize the FMCG sector in India.

What's more, it has the potential to generate huge gains for investors, and is our #1 Small-Cap Stock for 2021.

You'll find all the details in this note. Make sure you read this as soon as possible today.

Continue reading...
------------------------------
Their trading is fueled by kind of brokerages that charge zero commissions and allows fractional trading. As per the reports, the number of robinhood traders in Hertz stock has jumped from 40,000 (pre bankruptcy) to 160,000.
Now that the economic activity has almost stagnated, hopes, speculations, and stories are driving the stock markets.
Another stock that deserves a mention here is Moderna, one of the front runners in claiming to develop Coronavirus vaccine.
The stock saw a 4-fold increase in the price with this claim. If the company is indeed successful, this would just be the beginning of a multibagger.
But something is fishy.
When the stock was surging on vaccine hopes, the company's insiders-its top 5 executives, were dumping the stock and cashing out.
This begs the question - Why would insiders sell if the company indeed has a solution to virus and its future could be so bright?
Well, the robinhood traders aren't asking. Moderna is one of their favorite stocks. So are Nikola and Hertz.
These traders are at the forefront of the US stock market rally. They are disconnected from the economic ground realities.
What's driving them is a heady cocktail of lockdown, lack of entertainment, and liquidity sloshing around, and of course, the initial momentum of their success, which reminds me of a Ponzi scheme, and will have a sad ending.
Backhome, things are not much different.
Before the sobering correction in the recent trading sessions, the Indian stock market saw a sharp rally. Over 95% of the stocks gained sharply in barely three weeks. Some posted a triple digit gains.
What fueled this rally?
--- Advertisement ---
Top 3 Stocks for 2020 and Beyond

We've uncovered 3 high-potential tech stocks after years of research.

These 3 cutting edge tech stocks could potentially create a wave of Indian millionaires.

First one is present in the sector which is expected to GROW over 300 times by 2030.

Second one is one of the leading players in Artificial Intelligence technology.

And the third one is involved in putting up a global safety net to save the world from cyber criminals.

These 3 tech stocks have the potential to offer life-changing gains in the long run.

Click here to get the details...
------------------------------
From a macro perspective, the only thing that has changed in India is the easing of the lockdown. The Covid-19 cases and casualties are only going up. We have chosen to live with the virus as there is no other choice.
The lockdown put the economy into a deep freeze instantly. Easing it and going back to normal is an uphill task.
The GDP is likely to contract sharply this year. Many medium and small-scale businesses have been wiped out and more will follow.
Investment activity, amid lack of demand, is muted. Discretionary demand will likely take a long time before it comes back.
However, there are intervals when stock markets forget all this. We saw one such interval over the last few weeks.
The coming days and weeks could see many such short-lived waves. I hope you will not get carried away.
It would be a folly to buy stocks indiscriminately, just to participate in the rebound.
Remember, the rising market tide lifts all boats, even the fragile ones. Only when the tide is out, will the many naked swimmers be revealed.
Now I don't mean to sound grim. In fact, I believe this is once in a decade opportunity to get rich in smallcaps. But I'm not basing my views on market sentiments, or a hope rally.
I believe in being prepared for massive gains in the long term, irrespective of what markets do in the short term. Markets can be fickle, as you can see in this chart.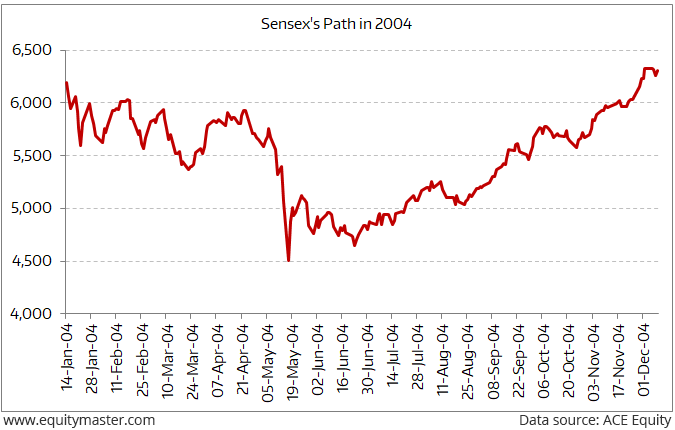 As you can see, after a sharp fall in January 2004, there were multiple false rebounds over the next two months, until April 2004. If you were just following the mood of the markets, you would have lost a lot of money by May 2004.
Now this phenomenon of false rebounds is not just limited to the 2004 correction.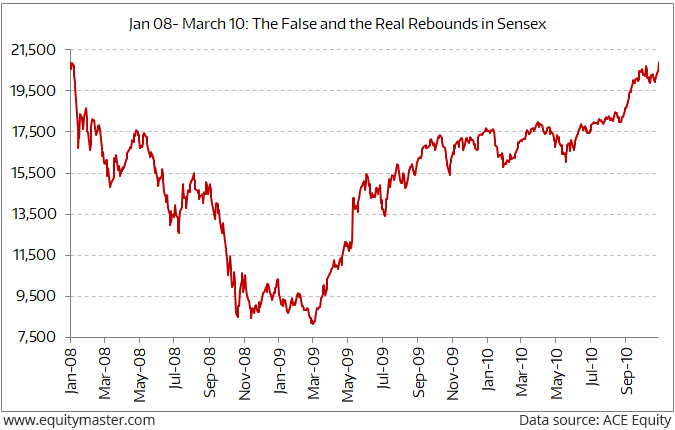 As you can see in the chart above, the journey to a real rebound is fraught with multiple false rebounds from January-November 2008, followed by sharp corrections during 2008-10.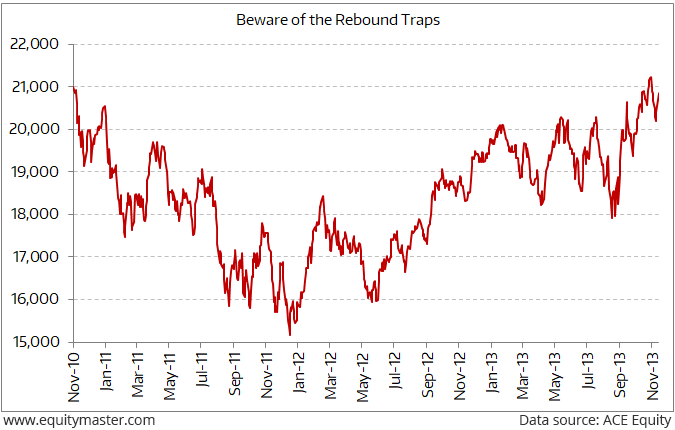 The same is true for rebounds between November 2010-January 2012.
History doesn't repeat itself, but it does rhyme.
I believe we might have false rebounds this time as well...eventually followed by a genuine rebound.
What will be different this time is that the survivors and gainers will be a few.
By the time we recover, I expect a huge consolidation across sectors and industries.
The winners are likely to be market leaders, companies with cost advantage over their peers that can afford a muted demand environment with their strong balance sheets.
So, the question to ask before getting excited by the recent rebound rally is:
Will I be comfortable holding the stock if there is a second wave of pandemic, possibly even another lockdown?
That may or may not happen. I certainly hope it doesn't. But when it comes to investing, it's best to account for the worst scenario.
In a way that allows you to make the most of the best scenario. We can't predict, but we can prepare.
In Hidden Treasure, that's the thought process behind recommending smallcap stocks.
It may or may not yield results in the short term, but in the long term, I believe it is the best process to follow.
You too should not let intermittent and false rebound rallies make you act rashly.
Unless you want to gamble your money away, be very selective about the rebound stock bets.
Warm regards,



Richa Agarwal
Editor, Hidden Treasure
Equitymaster Agora Research Private Limited (Research Analyst)
PS: Get our #1 stock recommendation of 2020 here.
Recent Articles