99.5% of Stocks Fail on this Metric but Forever Stocks Don't
Jun 16, 2021
Editor's Note: Join me online on 21 June at 5pm and I'll tell you all about Forever Stocks. These are the only 20 stocks you need to own to become extremely wealthy. Book your seat here.
---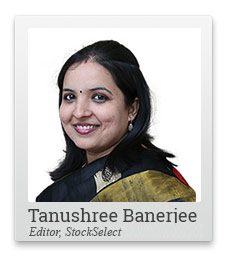 The heads of many companies are not skilled in capital allocation, and it's not surprising because most bosses rise to the top because they have excelled in an area such as marketing, production, engineering, administration or sometimes, institutional politics. - Warren Buffett
These were Buffett's words in his 1987 letter to shareholders of Berkshire Hathaway.
They had rung in my ears a decade back, when I was listening to the CFO of niche textile company I had gone to meet.
Why?
I'll tell you in a bit.
But first, let me tell you about that textile company I met.
Textiles are not the best of businesses to be in. It needs constant investment in capacities.
These companies depend on high volumes. Most have negligible pricing power. Their balance sheets are perpetually debt heavy.
--- Advertisement ---
3 "Super Smallcaps" You Didn't Know About

You may not have heard of these 3 "super smallcaps" ever before...

The mainstream press doesn't cover them... Most brokers don't know about them either...

Stocks like these 3 "super smallcaps" only come to your notice when they have rallied by hundreds or even thousands of percent... and are all over the news!

Richa revealed it all during her Super Smallcaps Summit

If you missed this event for some reason, then you can watch the special replay of this event.

Click Here to Watch the Replay...
------------------------------
But a decade back, we came across one textile company which was doing things differently.
Page Industries was newly listed. The stock had already been a 4 bagger in 4 years. The business seemed to have an impenetrable moat.
It eventually became Equitymaster's first 100-bagger recommendation.
This other textile company I was meeting seemed eerily similar.
Unlike competitors, it had consistently shown pricing power. Its niche design-oriented home textile products were in huge demand. It's balance sheet was almost debt free.
All it had to do was develop a couple of solid brands like Jockey and the company could have been the next Page Industries.
But then came the CFO's revelation.
While the promoter was focussed on niche home textiles, his children were keen to diversify into real estate.
Real estate!
The company had already drawn up a plan to invest the surplus cash into Mumbai's booming real estate market.
Those words were nothing short of a red siren for me.
I was thoroughly disappointed with the management's apathy for minority shareholders.
Equitymaster's Stock Screener: Identifying High-Potential Stocks Has Never Been this Easy
I had no doubt in my mind the company would never feature in Equitymaster recommendations ever again.
The promoter's children were excited about the new diversification strategy. In doing so, they completely ignored the basic rules of good capital allocation.
Real estate was never going to be a business that offered higher consistent returns.
Plus, like textiles, it was typically low on cash and high on debt. Clubbing one debt heavy business with another was suicidal.
True to my fear, the real estate exposure completely wiped off the company's profits and cash flows over next five years.
Finally, Alok Industries filed for bankruptcy in 2017.
The urge to show growth during bull markets is often the biggest reason for poor capital allocation.
The managements of most listed companies become a victim of the greed for growth. When I say majority, I mean 99.5%.
At some point or the other they end up investing in new ventures that yield them lesser shareholder returns.
The greed to grow market share, expand geographies, launch products can be suicidal if not done keeping capital allocation in mind.
--- Advertisement ---
REVEALED: Multibagger Stock Ideas for The Next 10 Years...

Electric vehicles...

Renewable energy...

E-commerce...

From where will the biggest winners of the next decade come from?

The Answer Will Surprise You
------------------------------
Reckon this...
Tata Steel spent Rs 580 bn on acquisitions when its net worth was Rs 45 bn in March 2004. The acquisitions overloaded its balance sheet with debt.
Moreover, Tata Steel earned an average return on capital of just 9.4% post acquisition compared to an average of 36.9% in the five preceding years.
Such poor capital allocation is not unique to certain manufacturing business or specific sectors. There are bad capital allocators across market caps and sectors.
Videocon, UB Group, Jaiprakash Associates, Lanco Infratech... the laundry list of such companies goes on and on.
But there are a handful of companies, like Page Industries, that exploit good capital allocation to become Forever Stocks.
They generate generational wealth over decades.
My biggest research project ever is to discover such Forever Stocks.
I'm happy to report that I've shortlisted some of them...and I will recommend 20 Forever Stocks.
If you would like to know more about these stocks, join me on Monday, 21 June, at my Forever Stocks web summit.
I'll show you how to unlock the secret to extreme wealth.
Warm regards,

Tanushree Banerjee
Editor, StockSelect
Equitymaster Agora Research Private Limited (Research Analyst)
PS: Join me online on 21 June at 5pm and I'll tell you all about Forever Stocks. These are the only 20 stocks you need to own to become extremely wealthy. Book your seat here.
Recent Articles