Grab Stocks Flat 50% Off This Monsoon
Jun 22, 2018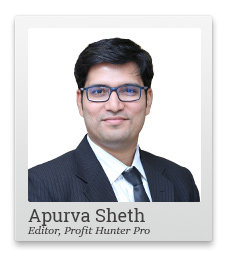 The monsoons have finally hit Mumbai after a long wait. The unbearable heat and humidity has given way to cool showers and lower temperatures.
Monsoon is my favourite season despite the troubles it brings. Waterlogging, traffic jams, delays and ruined shoes are common in the rains.
But so is a long drive to Lonavala, eating bhuttas and bhajiyas along with garam chai.
Lonavala, Mumbai-Pune Expressway during Monsoon
And that's not all. There is one more thing common about the monsoons every year - monsoon offers, discounts and sales.
Shops offer discounts every year during the monsoons which range anywhere between 50-70%. Malls, which would otherwise remain empty, are jam packed with shoppers.
--- Advertisement ---


10 BUY Recommendations: Pay Just Rs 99 to Get Instant Access…

If you're looking for stocks you could consider buying in this fluctuating market…

Then, we have something extremely exciting for you.

Right now, you have an opportunity to join Smart Money Secrets through a Special 30-Day Trial Invitation by paying JUST Rs 99… And you will get Instant Access to 10 Guru Based Stocks we have recommended in the past which are still within their BUY limits.

But please note that this is a rare limited period offer that will expire very soon.

So, do not delay…Click here for full details…
------------------------------
Wouldn't it be great if you could buy not just clothes but also stocks for flat 50% off?
I'm sure your answer is an overwhelming yes.
Malls offer such discounts once or twice in a year.
But the markets offer such discounts all throughout the year. You can make good profits trading such stocks.
Today, I will show you how to hunt such bargain stocks the way I show my Profit Hunter Pro subscribers daily.
Stocks do not move up in a straight line. They always move in a zig-zag fashion.
Even when a stock is in a strong uptrend, it often pulls back before it resumes its advance.
But how do we know how much a stock will retreat before it advances again?
There are several popular tools and techniques which can help you figure this out, like moving averages and trendlines.
But today I will show a completely different technique which could complement these.
Two Steps Forward, One Step Back
As I said, stocks move in a zig-zag fashion. Even when they are in a strong uptrend they may move 2 steps forward, and one step back.
For a trader, the best place to enter a stock is when it is completing this one step back move. I'll explain this to you with an illustration.
Buying on 50% Retracement
In the above illustration, the stock has moved from a level of 80 to 100. This is a move of 20 rupees. Now 50% of this move would be 10 rupees. So, traders can look for instances of stocks which have retreated by 50% of their recent upmoves.
In this case, the entry level would be 90 rupees which is 50% of the up move from 80 to 100.
Normally, 50% retracements work as good entry levels for stocks.
These retracements are your opportunity to get in to the stock at 50% discounts and ride the next wave up.
As shoppers wait for discounts to buy clothes at better prices; short-term traders look for 50% retracements. The risk reward is generally in favour of the trader at these levels.
The 50% retracement shakes out many weaker hands out of the stock. This shake-out offers fresh entry opportunities for buyers.
Now it's not a hard and fast rule that every stock will move up after retracing to the 50% level.
But it's just that chances of an upside increase after a retracement up to this level.
The probability of a stock resuming its uptrend increases if the 50% retracement level is closer to a support or resistance level.
(Support is a price level where there is a lot of demand for a stock and resistance is a price level where there is excessive supply of a stock. To know more read this.)
I have recently recommended to my Profit Hunter Pro subscribers a stock using exactly this combination of 50% retracement level along with supports and resistances.
This stock has been recommended by me twice before as well. Once, we closed the stock with gains of 20% and second with 12.12% in 72 days and 21 days respectively.
This - the third time I recommended the stock after spotting a reversal from the 50% retracement level - it moved up more than 10% immediately within five days.
In good news, the stock is trending lower for the last six sessions and could once again find support around the 50% retracement levels which acted as resistance on two occasions - once in January and later in March 2018.
If it trades around the same levels again then this could be a good entry opportunity for short term traders.
This hasn't been the only stock on my radar. A number of pharma stocks moved up substantially last week. You know that stocks do not move up in a straight line. There will be corrections and consolidations along the way for sure.
I have spotted 50% retracement levels for a number of these stocks and set alerts already on my charts so I don't miss any of the retracements.
And you should do the same. This strategy works like a charm! This, is your 50% off sale.
I will be recommending them to my Profit Hunter Pro subscribers the moment any of these stocks hits my levels. You can join us too.
Stay tuned...



Apurva Sheth (Research Analyst)
Editor, Profit Hunter Pro
PS: Speaking of discounts, you can get a whopping 71% off on Apurva's incredibly successful trading newsletter, Profit Hunter Pro. Claim your discount now - click here.
Recent Articles