The Next Batch of 100-Baggers On My Radar
Jun 27, 2018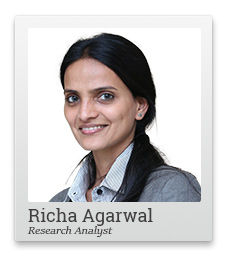 'Find us the next Page Industries, Richa!'
Over the last few days, I received hundreds of emails from my subscribers - I had asked them for feedback and queries.
First, I want to thank all of you who wrote to me. I want you to know that your encouragement means the world to me.
Especially subscriber WR who gave me the best compliment I have ever got in my researching career, saying...
'You are brilliant. Researching the soul of the companies.'
That is exactly what I feel like I do - digging through the exterior to the very core of a company and its potential.
Today, then, I would like to use this platform to address one of the most common questions/themes from your mails.
--- Advertisement ---


Top Investing Ideas For Less Than Rs 100…

Today, you have an opportunity to get INSTANT ACCESS to solid actionable investing ideas derived straight from the ACTUAL investments of India's Top 40+ Investing Gurus.

And all that you have to pay for this access is Just Rs 99.

In fact, not just Instant Access to these ideas…you will get Full 30-Day unrestricted access to ALL the 12 Guru-based stocks we have recommended so far.

So, don't miss this rare opportunity and…

Click here for full details…
------------------------------
I have realized that you, dear subscriber, are waiting for me to recommend the next Page Industries in Hidden Treasure.
A stock that the Hidden Treasure team recommended in 2009, Page Industries is still an open position, up 9,132% - just 10% shy of becoming a 100-bagger!
These gains can't be attributed just to stock selection. I believe a major factor has been having the conviction to hold the stock for more than 9 years.
And let me tell you, the journey to 100-bagger was not always smooth.
The stock had its fair share of roller coaster movements...including a 16% correction within the year of recommendation...and an over 41% correction in less than 12 months (in 2015-16).
Page Industries : The Bumps In the Journey of a Multibagger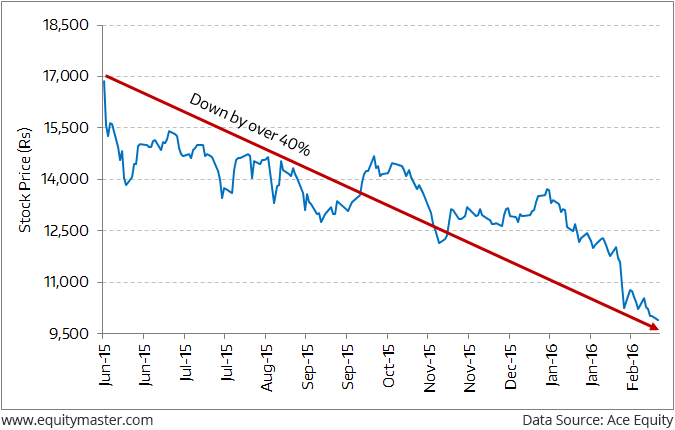 Trying Times for Long Term Value Investors
Yet, we held on to it - even when it fell from Rs 16,860 to Rs 9,892.
And the discipline and patience paid off. The stock, currently priced at Rs 27,714, is excitingly close, as I mentioned to becoming a 100 bagger.
As the smallcap index is in a correction phase, taking down with it some solid stocks in the small cap space, I hope you will keep this chart in mind and avoid selling the good stocks that seem out of favour in the short term.
So, coming to the next Page Industries...
To be honest, at the time of recommendation, my team did not know that Page Industries would be our first 100 bagger.
Our initial target price was a modest Rs 630 for a three to four-year period. And it was met within one year of recommending the stock.
It's by continuous monitoring and a after a series of management meetings that we developed the insights and conviction to keep holding on to it.
So, about the next Page Industries, I can only say that my team and I will keep recommending the right kind of stocks.
And we will keep monitoring them diligently...so that we have the conviction to hold them (if long term fundamentals remain strong) irrespective of what broader markets suggest in the short term.
And that should work well in picking the future winners, stocks with 100% plus returns.
But I have to be honest - aiming for over 1000% returns from the typical small space is now over ambitious.
You see, when Page Industries was recommended, the small cap universe was a different space.
The index was valued at 3,410. It was a highly ignored and undervalued space. And it was easy to get into solid businesses at dirt cheap prices.
Since then, the small cap index has gained 385%.
Far from ignored, it has become a ground for speculation now, with all kind of players - big and small, muddling this space.
Take a look.
Small Cap Space: Not So Ignored Anymore...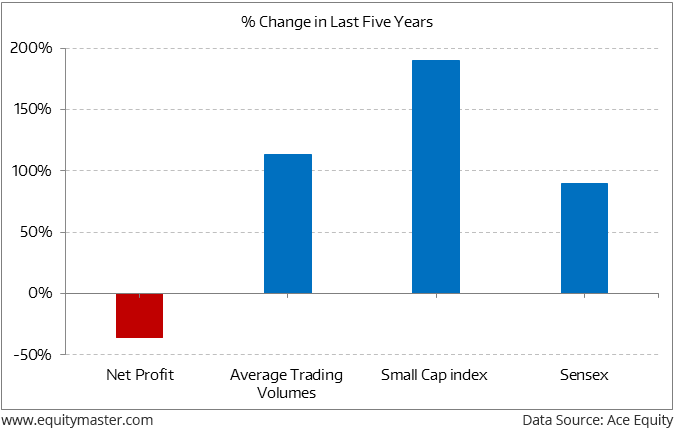 In the last five years, the combined net profits of the companies in the small cap index is down by over 36%. And yet, the index is up 190%. The average trading volumes in the small cap index are up 113%.
Which means that despite the recent correction, the small cap index, and a lot of companies in it, remain expensive.
With our bottom up research, we believe we can still grab stocks that could give a few hundred percent gains.
But promising over 1000% plus returns in the typical small cap space would be a tall claim.
But that's not to say that these gains are not possible. They are. It just needs something else.
I believe one needs to look beyond typical small caps to make 1,000%+ returns.
That is where - the 'Secret Universe' that I have been working on for the last two years, comes into the picture.
Now this space is for those who are willing to face a little more volatility and have the DNA of a long-term value investor - which is why I have made it available to only some of my subscribers.
I believe this is the space from where the next batch of hundred baggers will emerge.
But even if you are not a Hidden Treasure subscriber (in which case you should subscribe right away - you are missing a lot) - in my next few letters, I will tell you more about this incredible opportunity I have discovered.
So, watch this space for my next letter to you...
Regards,


Richa Agarwal (Research Analyst)
Editor, Hidden Treasure
PS: If you want to venture into the small cap world, you will find no better guide than traveling analyst Richa Agarwal. Join her by subscribing here.
Recent Articles