No! Nifty Isn't Touching 12,345 in July
Jun 28, 2019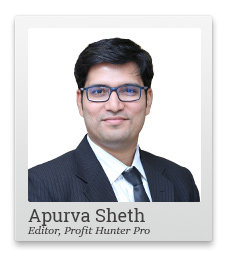 WhatsApp has transformed the way we communicate.
It has brought long lost friends, cousins, distant relatives closer. It keeps on getting better with broadcasts, group chats and the latest of them all group video calls.
But like every coin has two sides, WhatsApp also has two sides. It has not only enabled super quick communication. It's also used to spread fake news, rumours, as well as incorrect and misleading information.
A misleading message about Nifty is circulating on WhatsApp over the last 3-4 days. A friend fell victim to it.
I am sure many of my readers may have also received the same message. So, I would like to clear the air and present a true picture today.
---

Advertisement

---
Nearly 2,000 Folks Have Grabbed This Hardbound Book Already!
This hardbound book reveals how to potentially profit from a once-in-2000 years economic phenomenon.

And it's retailing for Rs 1,950 on Amazon right now.

But nearly 2,000 folks have grabbed a copy of it for virtually FREE.

And now, YOU too can do the same if you act fast.

To find out how, just click here…
------------------------------
But before I do that here's how our conversation went yesterday...
Me: Hey Wassup. How are you?
Him: I am good. I am looking out for investment opportunities in the market immediately.
Me: Ok. Be patient and wait for the right opportunity.
Him: I can't. I want to invest the money before the market shoots up in July.
Me: Why are you in such a hurry to invest? Markets aren't racing higher right away.
Him: No, they are. Didn't you see that WhatsApp forward which says Nifty could touch 12,345 in July?
Me: No, what are you talking about?
Him: Wait, I'll send them to you.
WhatsApp Forwards on Nifty's Performance in July
The first image is circulating on WhatsApp for quite some time. Here the percentage change from June lows to July highs is calculated since 1995.
You can notice that the percentage change is positive throughout the last 24 years. The second image is the newest one to join the rounds.
The image includes same data with a few reasons that could trigger an upmove in July. They are a good monsoon, positive outcome of G20 meeting, Fed rate cut, Union Budget, resolution of US-China trade war.
Now it's quite easy for anyone who's new to the market to fall prey to such arm twisting of data. My gullible friend couldn't see the facts hidden behind this.
But I don't let my readers fall prey to it.
Here's why I believe the above data is misleading...
Nobody can predict the highs and lows of any month in advance with certainty. I am yet to find a human who can predict the exact highs and lows. So, it's wrong to calculate percentage gains from the lows to the highs and expect you could repeat them.
Predicting the highs and lows is difficult but trading them is even more difficult. It would be next to impossible to enter at the lows and exit at the highs.
It's silly to look at percentage change from previous months low to current months high. This data is always positive for all the 12 months for last 24 years. Check out the table below and you will know what I am talking about. The percentage gains can be negative only in cases when the Nifty opens a month with a gap down and fails to cross the previous months lows in the current month.
Nifty % Returns from Previous Month Low to Current Month high
In the above table, you can notice that the average gains for all the months over the last 24 years is in the range of 10-13%. All the months have ended on a positive note in the above calculation.
But you know reality is far too different from this.
So how do you check whether July is a good month for markets? For that matter, how do you know if any other month is generally good or bad for the markets?
Here's the right way to look at data...
Nifty Monthly % Returns on Closing Basis
I have calculated this table by considering the monthly percentage change of Nifty on closing basis over the last 24 years.
The green boxes are months when Nifty closed above the previous month and red boxes are the ones where it closed below the previous month.
You can notice a series of green boxes in the last column which is for December. Nifty has closed December on a positive note in 18 out of last 24 years. The average gains in December over the years are 3.61% which is highest across all the months.
July follows next with positive closing in 16 out of the last 24 years. The average gains are 1.62% over these years.
So that's the right way to look at data. I am sure none of my readers can be misled with the information floating around on social media networks anymore.
If you want to gain regular insights like these then you could join thousands of my Profit Hunter Pro readers. I share my views and insights on everything that's happening in the markets and could be beneficial to my readers.
And that's not all...
I also share high potential Techno-Funda trading opportunities. For example, two weeks ago I wrote to you why Pharma sector could be on the verge of a reversal.
Last week I found a contrarian trading opportunity in Lupin. I recommended the stock to my Profit Hunter Pro readers immediately.
I am happy to inform you I closed the recommendation with gains of 7.85% in 6 days.
Now if you are interested in such gains and trading insights as well then Profit Hunter Pro is the place to be.
Warm regards,

Apurva Sheth
Editor and Research Analyst, Profit Hunter Pro
PS: Decisive market movements make trading fun and profitable. By signing up for Apurva Sheth's Profit Hunter Pro - a premium trading newsletter - you can make the most of these great opportunities. To sign up now just click here.
Recent Articles