This is the Market Segment You Must Bet on for a Big Rebound
Jun 30, 2020
Editor's Note: Watch Rahul Shah talk about his top 10 stocks at the Rapid Profits Summit here...
---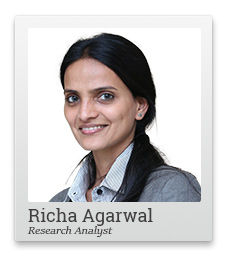 'It was the best of times, it was the worst of times, it was the age of wisdom, it was the age of foolishness, it was the epoch of belief, it was the epoch of incredulity, it was the season of Light, it was the season of Darkness, it was the spring of hope, it was the winter of despair, we had everything before us, we had nothing before us, we were all going direct to Heaven, we were all going direct the other way.'
Investors would relate to half of the lines from this classic from Charles Dickens.
A few days ago, I wrote to you about the growing dichotomy between the state of the economy and the stock markets
We've seen the rise of robinhood traders, which quite a few professionals are watching grudgingly.
It's not just in the US the stock of a company straight after filing bankruptcy has risen nine times, or that a company with zero revenues dislodged stalwarts like Ford and Hyundai on the market cap charts.
Back home, we have instances like Ruchi Soya rising from Rs 65 in March 20 to Rs 1,444 now.
We have gone from Coronavirus driven fear psychosis to fear of missing out.
This is perhaps the fastest we've have seen a change in market sentiments. These are the kind of times that go down in history as 'once in a lifetime'.
The Sensex is up 34% from the lows in March 2020. At that time, it had declined by over 20%. That seemed to suggest the start of a bear market.
Meanwhile, the root cause of the crash in March- Covid-19 has become even more severe, with Covid cases rising from 500 in March to 500,000 now.
What's Driving the Markets?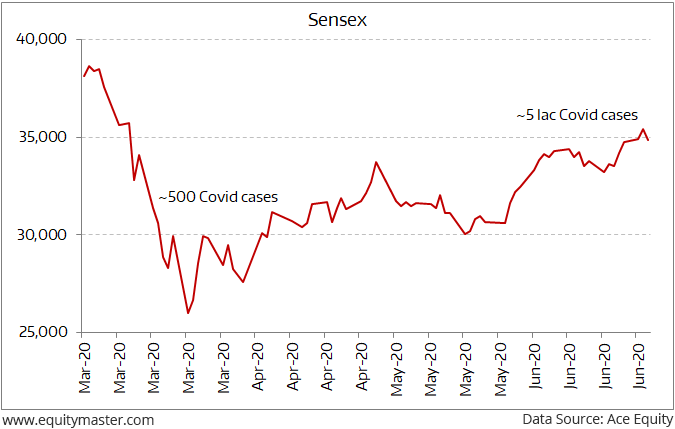 So what's driving the markets?
As the MD and CEO of the BSE suggested, people are enjoying the thrill of trading. This could trigger false rebounds, which I warned about in my previous editorials.
Another important driver of this rally is the inflow from global funds, now that the global economies have opened the liquidity tap.
The interesting part is : A lot of this money is coming to the mid and smallcap space.
I believe this is just the beginning of a strong recovery for smallcap companies.
--- Advertisement ---
India Rushes to Prepare for a 2-Front War

A 2-front war is here.

China and Pakistan seem to be acting in sync... when it comes to attacking India.

Both countries have increased their military activity in the border region like never before.

And that's exactly what India is rushing to prepare for.

In fact, the Indian government has already allocated Rs 90,048 crores for 2020-21 itself.

Plus, an additional Rs 4 lakh crore would be spent over next 5-7 years.

This money will secure our borders.  And...it will potentially trigger a mega growth opportunity for a select few Indian defence companies.

With this flood of money flowing their way... their stock prices could potentially shoot up to record highs in the coming years.

You can learn everything about this massive opportunity on November 30 at our Explosive Profits Summit.

At this summit, you will also get the details of what we believe is India #1 defence stock.

It's a potential 10x opportunity in the long term.

Click here to sign-up instantly here. It's free.
------------------------------
It's a great time to look at the potential candidates set for re-rating and sharp rebound in the smallcap space.
Here's some data and analysis that suggests the same.
I want to highlight the huge valuation anomaly in largecaps versus smallcaps. This has appeared in last two and a half years.
I have defined largecaps, midcaps, and smallcaps as per the market regulator's definition. Largecaps are top 100 companies by market capitalisation, the next top 150 are midcaps, and the rest are smallcaps.
Now I have only considered companies with a market cap of Rs 2 billion or more, since the rest are highly likely to be in the illiquid zone that most of the retail investors are not well suited to play in.
My analysis compares data from December 2017, when smallcaps were having a dream run, until June 2020.
Over this period, the combined market cap of all listed companies, large, mid or smallcaps, is down 9%.
But within this broad correction, there are some finer points.
The share of largecaps in the total marketcap has gone up from 67% in December 2017 to 77% at present.
The share of midcaps is down from 18% to 15%.
The real shocker is smallcaps, where the share in overall marketcap is down from 15% to just 8%.
What Has Changed in The Last Two Years

Like I pointed out earlier, one of the key factors behind this drastic change is the role of institutional investors. Institutional holdings have come down 2.7% for all listed companies.
But their role in influencing price movements has only become more prominent.
New: 5 Pandemic-Proof Smallcaps You Should Know About...
The institutional share of market cap is up from 32.5% in December 2017 to 35% in June 2020. Their allocation across marketcaps has been disproportionate - in favour of largecaps.
You see, 83% of institutional money is now in top 100 stocks, versus 75% in December 2017.
Midcaps now account for 12% of institutional money, as compared to 15% in December 2017.
For smallcaps, the change is even higher. Smallcaps account for just 4% of institutional holdings, as compared to 10% in December 2017.
The Shift in Institutional Allocation

But after a prolonged lull, smallcaps are back in favour with big and small investors.
This means even a small increase in allocation of institutional money, from 4% to 7% (as compared to 10% in December 2017) will see trillions of rupees flowing in to the smallcaps.
Given their low marketcap, the rebound in the smallcap stock prices could be substantial.
--- Advertisement ---
REVEALED: How India's Best Investors Are Planning For 2021 and Beyond...

Are you an active investor looking to grow and protect your wealth in 2021 and beyond?

Then you must Register for The Equitymaster Conference Right Now.

Because for the first time ever, this conference is going fully virtual.

That means you can listen to the biggest investment minds of this generation - right from the safety and comfort of your home.

So don't wait...

Grab Your Conference Ticket Right Now
------------------------------
To be sure, this money will not come to all smallcaps.
Of the 684 smallcap companies with marketcap of Rs 2 billion or more, there are only 389 smallcaps where profits have grown from December 2017 levels until December 2020.
I have avoided March since results are still pending for many companies and will be distorted due to the lockdown.
The combined marketcap of these companies, despite higher earnings, is down by 47% since December 2017. This compares to a 6% increase in combined marketcap of largecaps.
These smallcap companies are trading at a trailing 12 months price to earnings ratio (TTM P/E) of 10.7 times as compared to an average of 22.5 times P/E for profitable largecaps.
Thus smallcaps seem to be well placed on both valuation and growth criteria that most investors look for.
That said, picking the rerating candidates in the smallcap space will not be a simple task. It's definitely not limited to finding companies that are growing profits.
That's because any growth in earnings, that does not come with a return on capital which is higher than cost of capital, is destructive in nature.
One must be watchful of debt and liquidity in the firm, management quality, valuations, aspects like market share, and so on, especially now in the times of pandemic.
Betting on such smallcaps that tick these boxes will not just spare you from the false rebounds, but will set you on road to generational wealth.
Warm regards,



Richa Agarwal
Editor, Hidden Treasure
Equitymaster Agora Research Private Limited (Research Analyst)
PS: Watch Rahul Shah talk about his top 10 stocks at the Rapid Profits Summit here...
Recent Articles