Two Agri Stocks Are Likely to Outperform Even in this Market
Jul 2, 2020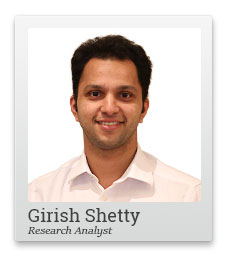 It's more than 3 months into the lockdown now.
While some states have opened up, some are still struggling with new Covid-19 cases.
You see health experts on news channels give their views daily. They assess the damage caused and how much further damage it can cause.
Then you have economists and financial experts assessing the economy. Rating agencies expect the economy to nosedive in the near future.
But there's one thing that is being largely ignored.
And that's the mental cost of the lockdown. The impact on people who have to sit inside their homes for more than 3 months is likely to be significant. It's like you are living the same day again and again.
I have noticed the same in my circle of family and friends. There is much more negativity and a sense of helplessness now than 3-4 months back.
I see the same in the markets as well. In March this year, we saw a 40% decline in major indices like the BSE Sensex.
--- Advertisement ---
[Alert] Sell These 3 Stocks Immediately

These 3 stocks are ticking time bombs in your portfolio.

It is very likely that you could be owning these 3 overvalued... fundamentally weak... ready to crash stocks... in your portfolio today.

Because many stock brokers have painted rosy pictures of these stocks.

But the reality is starkly different.

If the market crashes, then these stocks could wipe out your wealth.

You should get rid of these stocks as soon as possible.

We are going to reveal details of these 3 landmines at our upcoming special event.

You can click here to sign-up in 1-click. It's free.
------------------------------
But the fear around Covid-19 and the rapid fall meant people were too stunned to take any action. People expected a further decline in the coming months.
Then, as the market usually does, it went against the crowd. The following three months saw a bounce back in all major indices. The BSE Sensex is now up 35% from its March lows.
Still, the negativity among retail investors has not gone away.
People are expecting a crash anytime now. They cite increasing Covid-19 cases, India-China border tensions as reasons for the upcoming crash.
Are they completely wrong?
I wouldn't say so. It's possible that a crash can happen at anytime. This is the nature of markets.
But I strongly believe, there are always opportunities in every market. Taking extreme positions of getting all in or staying out completely is a gamble.
So where should you look for opportunities in this volatile market?
There are sectors that are doing well but are not being noticed in this sea of negativity.
India's Revival: A Once-in-a-Generation Wealth Making Opportunity
Stocks from these sectors will standout in terms of numbers but investors will largely ignore them in times like these.
I see this happening in the food and agriculture sector. I believe, this sector will come out of this pandemic strongly.
The monsoon so far this year has been the best in the last five years. Tractor sales for few companies have grown 50% in the months of April and May over last year.
Remember, this when companies in other sectors were shut and had negligible sales. With the above average monsoon, this number is likely to improve.
But still, people ignored the positive numbers buried under the Covid-19 news run by the 24X7 mainstream media.
This turned out to be an advantage for our Hidden Treasure subscribers. We recommended two stocks from this space one in March and the other in May.
--- Advertisement ---
[Watch Now] 3 Little-known Stocks We are Super Bullish On




Click Here to Watch Now
------------------------------
Hidden Treasure subscribers can read the March report here and the May report here.
As I'm writing this, one stock is up 10% from our recommended price, the other is up 54%.
Both these stocks still have a long way to go.
If you haven't subscribed to Hidden Treasure, you can download the reports by signing up here.
We're looking at other stocks from these sectors. Some companies have had a tough few years but are now showing promising signs of a rebound.
In fact, the signs are there for all to see. It's clearly visible when we ignore the negativity surrounding us and look clearly at what is actually happening.
Warm regards,



Girish Shetty
Research Analyst, Hidden Treasure
Equitymaster Agora Research Private Limited (Research Analyst)
PS: Watch Rahul Shah talk about his top 10 stocks at the Rapid Profits Summit here...
Recent Articles