Mere Paas HRITHIK Hai... The Mother of All Trading Stocks
Jul 18, 2018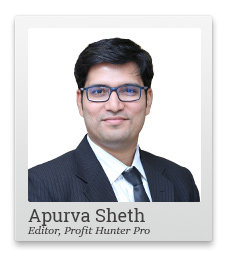 You have definitely heard the following dialogue from the classic 1975 movie, Deewar.
Vijay (Amitabh Bachchan): Aaj mere paas paisa hai, bangla hai, gaadi hai, naukar hai, bank balance hai, aur tumhare paas kya hai?
Ravi (Shashi Kapoor): Mere paas maa hai!
Amitabh, who plays the role of a crook, reminds his brother of his many worldly possessions.
But Shashi Kapoor makes him speechless with the four words that have gone down in Indian film history...
'Mere Paas Maa Hai' - indicates the invaluable importance of a mother as compared to all material possessions.
Now why am I in such a filmy mood today?
Because I am watching this scene playing out in the Indian stock markets right now.
Just Imagine the Sensex - which has only 30 stocks in the index - as the younger brother Shashi, and the Smallcap or Midcap Index - which have hundreds of stocks - as the elder brother Amitabh.
What would their conversation sound like?
Midcap/Smallcap: Aaj mere paas itne saare stocks hai, multibaggers hai, high growth hai, new technology hai, new markets aur products hai, aur tumhare paas kya hai?
Sensex: Mere Paas HRITHIK Hai.
--- Advertisement ---


A System That's Extremely Easy To Implement Even For Beginners…

Most beginners are terrified of short-term trading because they feel there are too many things to learn.

But with Apurva Sheth's proprietary system, you don't have to learn anything if you don't want to.

One just has to consider following Apurva's instructions to the tee, and he could potentially profit from this system effortlessly.

To know more about Apurva's system, just click here…
------------------------------
'Who on earth is HRITHIK.' You ask?
HRITHIK stands for these eight stocks...
I: Infosys
T: TCS
H: HUL
Just like 'Maa' is far more valuable than all the wealth in the world; HRITHIK is the mother of all stocks.
Over the last one year the total market capitalisation of all the stocks listed on the BSE increased by approximately 22 trillion rupees.
Of this, nearly 9 trillion (41%) came only from these eight HRITHIK stocks in the index.
A major portion of the wealth in the Indian stock markets was created only from these eight stocks over the last one year.
If you don't own any of these stocks in your portfolio then chances are that you would be left speechless, just like Amitabh.
But at Profit Hunter Pro, I don't let my readers stay in that situation.
My job here is to share the insights and market research which will help you become the best trader you can be.
So, here's what to do...
Focus on the HRITHIKs

One of the simple rules in trading is to do more of what works and avoid what isn't working.

I do a 'sector check-up' every month simply to find what's working in the markets. This gives us a deeper understanding of the markets and helps us find trading opportunities.

Right now, only the HRITHIKs are moving the Sensex higher while the rest of the market is in a down trend. So it makes sense to focus on these stocks to trade the markets.

At Profit Hunter Pro, I have focused on these stocks and even identified trading opportunities in some of them.

We closed our trade in Infosys on Monday with gains of 13.02%.

Another trade in one of the HRITHIK stocks is already up more than 6%.

But Avoid the ROSHANs

For every HRITHIK in the market, there are many ROSHAN's as well.

ROSHANs are the beaten down stocks like Reliance Communication, ONGC, Suzlon, HCC, Aban and NDTV.

Hundreds more dud stocks can be added to this list but at least these to begin with...

It can be tempting to trade beaten down stocks after such massive falls. Who among us hasn't given in to the temptation, thinking, 'how much lower can they go, right?'

Well, they can go all the way to zero.

So it's best to stay away from them. If one wants to trade anyways then do so only in the very best of stocks which show definite signs of reversal on the charts.

Stay in Cash

Even though Sensex and Nifty are trading at an all-time high there are very few trading opportunities available in the market right now.

It may sound counter-intuitive but it's okay to stay in cash for a while.

Sitting on cash is better than trading just for the sake of it, especially when the risk reward ratio isn't favouring taking trades. Market breadth has remained weak over the last few days which means chances of a stock moving higher are small, except maybe from the HRITHIK basket.

Stop being an unintentional investor

The divergence in the performance of the HRITHIKs and the rest of the stocks is glaring. Such markets have created a different set of investors.

The famous trader of all times Jesse Livermore called them - 'The Involuntary Investor'.

An involuntary investor gets in and out of profitable stock positions in the short term when the markets are moving in their favour. But they hold on to stocks for the long term when the markets go against them. They harvest bitter crops of small profits and large losses which is the exact opposite of what an ideal trader should aim to achieve. Don't do that.

Exit from the stock which isn't moving in your favour or hits its stoploss without fail.
Now that you have HRITHIK on your mind, I'm happy to think you are on the right track. If you want to find the best trading opportunities and also ensure you stay safe, then you should join other Profit Hunter Pro readers.

Apurva Sheth (Research Analyst)
Editor, Profit Hunter Pro
PS: Apurva's trading newsletter is one of the best in the subject we have ever seen. His knowledge on the subject is enormous, his experience is admirable, and if anyone can make trading safe, it is him. If you haven't already - give Profit Hunter Pro a try and see what we are talking about. Subscribe here.
Recent Articles